FRIDAY, August 17
This weekend, it feels like things are winding down, but not without about eleventy free see-ya-summer concerts. There are so many, in fact, we couldn't list them all! Check the schedule at Mountain Town Music's website; they're responsible for programming so many of them and have created opportunities for hundreds of our community members to enjoy so much music throughout our gorgeous summer days and nights.
This weekend, we're enjoying our free time to the fullest as we say a bittersweet goodbye to summer. We know, we keep saying it and it's pretty uncool. But we need to face it eventually – school starts next week!
CELEBRATE COMMUNITY →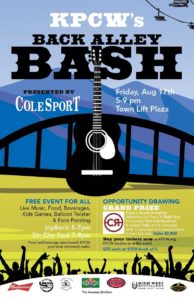 KPCW's Back Alley Bash
5 – 9 PM @ Town Lift Plaza 
TONIGHT: Cole Sport presents the annual KPCW Back Alley Bash, from 5 – 9 p.m. at the Town Lift Plaza. This free event has live music, games, and activities for the kiddos. There's also food and beverages available for purchase, and all sales benefit KPCW, our local nonprofit, community radio station. PLUS – there's an opportunity drawing, the winner of which will get a Grand Glamping Adventure for four: a 3-night stay in a luxury tent at Conestoga Ranch + breakfast & dinner each day! Tickets are $25 each or 5 for $100.
SEE →
Neil Simon's "Biloxi Blues"
8 PM @ The Egyptian Theatre
This Tony-award-winning show is presented by the Neil Simon Festival and is the second in Neil Simon's semi-autobiographical comedy trilogy. The show focuses on Eugene Jerome, a young army recruit during World War II, stationed in Biloxi, Mississippi in 1943. There he will meet a diverse assortment of soldiers,l learn about life, love, and some harsh lessons while in boot camp. Some adult language and situations. "Biloxi Blues" will play the Egyptian Theatre through August 19th.
---
SATURDAY, August 18
MOVE →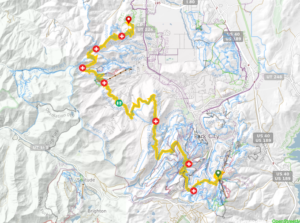 Mid-Mountain Marathon
7 AM @ Silver Lake, Deer Valley 
No surprise to us! This trail marathon has been voted the best in Utah – and the course rolls right through The Colony! It begins bright and early – 7 AM – at Deer Valley, and follows the iconic Mid-Mountain Trail for nearly 20 miles. The last bit of the course takes runners through the Utah Olympic Park trail system, with an exciting finish at the base of the 120-meter Olympic Nordic jump.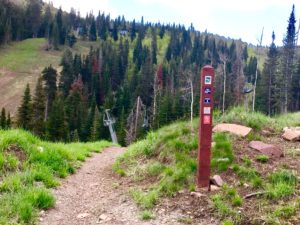 The course winds across the Wasatch Back at an average elevation of 8,200′ and is largely shaded single track, and also serves as a fundraiser for our community Mountain Trails Foundation, which builds, maintains, and protects Park City's 400-plus miles of trails.
~
Saturday Morning Nature Walk
Saturdays: 8:30 AM @ Swaner Nature Preserve and EcoCenter
Explore the Swaner Preserve wetlands with a guide to learn about the wonders of wetlands, native plant and animal species and the history of the Preserve. Through September 30.
~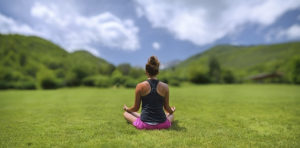 Yoga on the Patio
Saturdays @ 10:30 AM
Park City Library
Join the complimentary community yoga classes on the patio outside the Park City Library! Held each Saturday at 10 a.m., through August 25, the class provides an opportunity to start your weekend off on the right foot – and to connect with your Park City neighbors. Bring your yoga mat; classes move inside if it rains.
CREATE →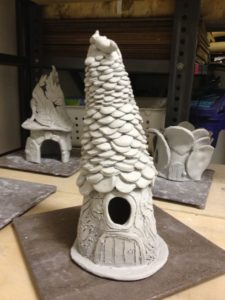 Build Your Gnome Home 
10 AM @ Kimball Art Center
Calling all kids! You guy probably already know this, but everyone needs a home for their garden gnome! Or a fairy garden. Or a terrarium. Whatever you want to call your creation, you can make one Saturday at Kimball Art Center!
Guidance on building the craft is provided, along with materials: large clay slabs, felt, yarn, popsicle sticks, and other supplies. Once the gnome home is constructed, kids will paint their houses with colorful underglazes. Due to drying and firing times, pottery will be ready for pick up 10-12 days after the class has ended. Adults are required to register with children; no more than two children per adult. $50 per child/adult pair ($25 for each extra student),
HEAR & SEE →
Jim Gill
1:30 – 2:30 PM  &  3 – 4 PM
Park City Library 
This is a fun one: you're instructed to "get ready to sing, clap, dance and sneeze along during this visit" – sounds like a winner, for sure. Jim Gill is an award-winning musician and author, and his music play creates the spirit of a family room in the concert hall. It's an invitation to children, parents, and grandparents to sing and play together! 
~
Miners Park Free Concert
IRIS / memoryfield @ 1:3o PM
This eclectic and highly accomplished trio, consisting of vocalist IRIS, guitarist/vocalist Billy R. Preston and Juliet Gamero on keyboards/vocals have been writing and recording together since their early beginnings in Austin, Texas.

~
Miners Park Free Concert
Brother Run @ 3:30 PM 

This duo is, as its name suggests, a brother band collab. Austin and Skylar Stoddard say they're musically inspired by their surroundings and life journeys. They share their talents with one another to compose art that is inspirational and joyful to their audience.
~
Canyons Village Concert
Magic Giant @ 6 PM
Just a few more concerts left in this free series! Catch Magic Giant this week on the Canyons Village Stage. As always, you're encouraged to utilize alternative transportation (like Park City's incredible free transportation, or use the Summit County/Park City e-bike share program!) The shows are programmed by Mountain Town Music; here's the rest of this season's schedule:
Aug. 23rd – Zander
Aug. 30th – Big Blue Ox
Sept. 1st – Marc Broussard
---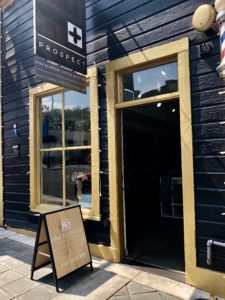 SUNDAY, August 19
BUT FIRST, COFFEE →
Pink Elephant Coffee Roasters is a local business located on Historic Main Street. The tiny space brews a cup of coffee with HUGE taste.
HEAR & SEE →
Free Concert @ Park City Mountain 
4 PM @ Legends
OF NOTE  →
Park Silly Sunday Market is OFF on Sunday, August 19. It will return on Sunday, August 26, 10 a.m. – 5 p.m. on Historic Main Street.
---
DURING THE WEEK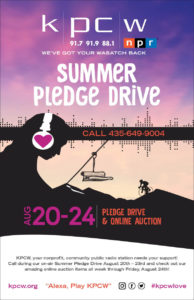 KPCW → SUMMER PLEDGE DRIVE
Monday, August 20 – Friday, August 24
435-649-9004 
This bi-annual event serves as one of KPCW's largest fundraising efforts, All week long, our community can call in, log in, or bid to donate money to KPCW. Volunteers pack the tiny station to answer phones, and nonprofits and local businesses are guests to be on-air to talk about the good work they do with and for our community. There are three ways to donate:
1) Call into  → 435-649-9004
2) Log on and donate online at kpcw.org 
3) Bid in the online auction (this one is the most fun, in our opinion)
Read more about the work KPCW does in our community HERE.
~
Women's Road Rides
Mondays: 5:45 – 7:30 PM
Through August 27
Start at Jans on Park Ave, then hit the road with a tribe of ladies for a couple of hours. Bring rain protection, energy good and plenty of water, plus your flat repair kit. Bikes are available to rent ($15, based on availability), but the event is free!
~
Throwback Tuesdays: "Honey, I Shrunk the Kids"
Park City Film Series
7 PM @ Park City Library

LAST SHOW ALERT! Movies and popcorn are provided free of charge and are shown in the Jim Santy Auditorium in the Park City Library. This is the very last Throwback Tuesday movie this month! It starts at 7 p.m.
~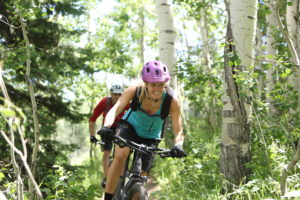 Women's Mountain Bike Rides
Tuesdays: 6-8 PM
Through August 28
Another women-only option during the week is the Tuesday night mountain bike rides with White Pine Touring. The rides are led by Team Sugar guides, and the group is divided up based on your skill and comfort level. Meet at White Pine Touring at 6 p.m., then explore new trails and meet new friends for two fun-filled hours. This experience is also free.
~
Twilight Ride Series
Wednesdays: 4 – 8 PM
Through August 22
Enjoy the mountain at dusk with the Twilight Ride Series at Deer Valley on Wednesdays. From 4 until 8 p.m. on Wednesdays, take advantage of lift-served mountain biking (Silver Lake Express and Sterling Express chairlifts). DV operations stay open to serve riders for the Twilight Rides (through August 22).
~
First Day of School
Park City School District
Thursday, August 23 



Be aware of the little ones out and about as you are driving around Thursday!
~
Group Mountain Bike Rides
Thursdays: 6-8 PM
Through August 30
One more crew to hit the trails with – the Thursday night group mountain bike rides! Also at White Pine Touring, this one is open to everyone, with three groups to choose from based on ride intensity. The rides are led by White Pines Touring Racing powered by jans.com mountain bike team members and guides. And on the last Thursday of each month, there's a free BBQ and adult beverages, provided by local vendors, at the end of the ride.
~
Park City Mountain Farmers Market
Wednesdays: 12 – 5 PM (rain, snow, or shine)
Through October 10  
The Park City Farmers Market is at the base of Park City Mountain Resort this year! The seasonal market is open for business each Wednesday and features a large selection of fresh, local goods. Stop by and stock up on just-picked produce, freshly-baked bread, and arts & crafts from local producers and vendors.
~
Grand Valley Bank Community Concert Series
Wednesday, Aug. 22: Live PC Give PC Community Jam Session
Show @ 5:30 PM (rain or shine)
Gates Open @ 4 PM
LAST SHOW ALERT! Mountain Town Music's annual Live PC Give PC Community Jam Session brings local musicians together to celebrate the end of summer! They'll play a super jam (inspired by The Band's The Last Waltz). These complimentary concerts are truly the midweek treat for residents and visitors alike, and are programmed by Mountain Town Music. Grab your cooler full of snacks and beverages, your camp chairs and blankets, and trek up to the lawn at Deer Valley to enjoy terrific music and our wonderful community.
---
The Colony at White Pine Canyon is the largest gated ski-in, ski-out community in the United States. Our land spans 4600 acres, and approximately 90% of it will always be preserved as open space.
In winter, enjoy exclusive ski and snowboard access to one of America's largest mountain resorts, Park City. In spring, the snow melts to reveal an amazing network of hiking, biking, and horseback riding trails, connecting to more than 400 miles of single-track trails throughout the surrounding area.
The Colony is just 35 minutes from Salt Lake International Airport and minutes to Park City's historic Main Street, home to the Sundance Film Festival and world-class dining and shopping.