Nonprofit Highlight: KPCW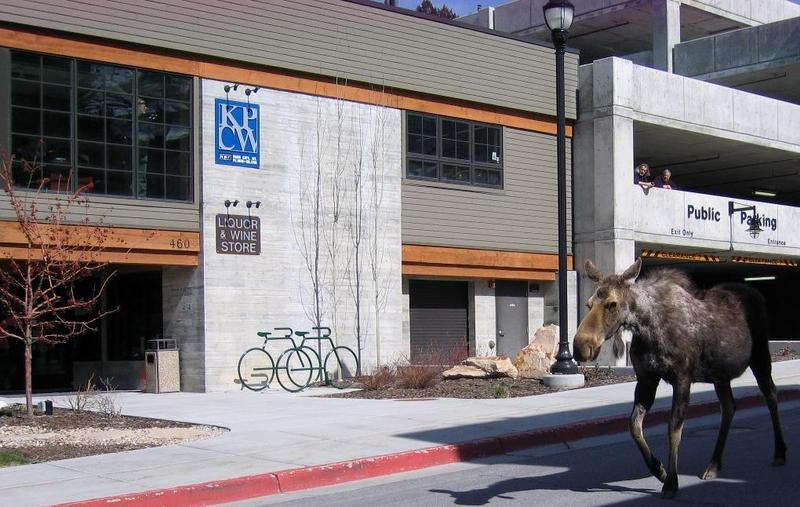 Life in Park City is different – in a good way – for so many reasons. We're nestled in the mountains, surrounded by the world's best ski resorts and more than 400 miles of award-winning trails… it goes on and on. Near the top of that list is the fact that we have three extremely dedicated, hyper-local news services, which provide our community with news, information, and events. We're lucky to have KPCW, the Park Record, and Park City TV,  in our ears, at our fingertips and within eyeball-distance whenever we need them.

The nonprofit entity among these gems is KPCW, the local NPR affiliate located right here on Swede Alley in Park City. It's an unassuming building, located right above a liquor store, as afternoon host of The Local View (and Park City institution) Randy Barton likes to point out and joke about during broadcasts. All we're saying is, if he knows you and you go in there during his broadcast, you might have a whole listening audience learning about it.
You can see the studio from the street, and it looks especially cozy with its warm lights burning bright in the early morning hours, when Leslie Thatcher is manning the booth for Local News Hour, or when our small town is coated in a thick layer of snow under storm clouds. And while the station's coverage is familiar – it's definitely taken a harder-edged approach as it works to provide the most, best news to the community.
MISSION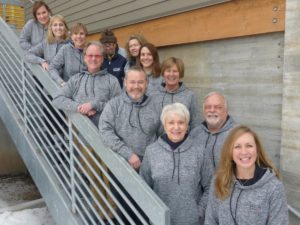 On its website, KPCW lists its mission as "to serve Summit and Wasatch Counties with local news, information, entertainment and emergency alerts through its broadcast signal and digital media platforms." And here's the reason we like KPCW so very much: the station is also committed to using its power help other nonprofit organizations in our community succeed. And do that – it does. KPCW provides interviews and airs more than 26,000 (yes, 26 THOUSAND) free public service announcements each year to promote nonprofit events and programming.
KPCW first hit the airways on July 2 of 1980, and you can find it on your dial at 91.7 FM. The station also live streams its programs to listeners – who listen on six out of seven continents. Can't stream live or tune in? KPCW has been upping its website coverage (reporters post full story and interview transcriptions now!) social media game. Find them on Facebook, Instagram, and Twitter to find content similar to their on-air services: news, information, and entertainment.
PROGRAMMING
Each day, KPCW programs five hours of in-depth local news and interviews – and works relentlessly to bring you, specifically, reports from city and county government meetings. Of course, everyone knows, too, to turn on KPCW for up-to-the minute broadcasts and information on local emergencies, road conditions and weather. You can find the daily schedule HERE.
The schedule also includes National Public Radio programming. You'll hear NPR's Morning Edition, Weekend Edition, Wait Wait… Don't Tell Me! and TED Radio Hour, along with World News Service from the British Broadcasting Corporation (overnight through 5 a.m.).
And throughout the rest of the day, an expanded music rotation features thousands of songs from the 1970's through today. These songs are spun by *more than **50** volunteer DJ's, some who have been with the station for more than 30 years. KPCW calls its music format "SOSNSCSB: Something Old, Something New, Something Covered, Something Blues." Ha.
SERVICES
KPCW Underwriters – These are the local businesses who understand the importance of local public radio and support KPCW in significant ways. The Colony is proud to support KPCW as an underwriter of the station!*
Public Service Announcements (PSAs) – Community programs and events put on by local non-profits. Any and all 501(c)3 non-profits may have up to three (3) PSAs run at a time for free. Each PSA will be read by our DJs and news hosts for up to two weeks.
Lost & Found – Submit your lost or found item to be read on air for free. Entries will run for 7 days, or when you let us know of the reunion, whichever comes first. (These are our personal favorites. Nothing beats hearing Randy do the lost-and-founds each afternoon.
Event Calendar – Events submitted by non-profits from around town. Free to submit.
*We pulled this info directly from the website – couldn't have put it better ourselves.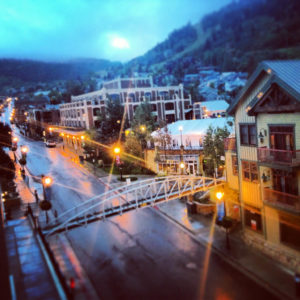 EVENTS & SUPPORT 
This Friday, KPCW is kicking off its Summer 2018 Pledge Drive with a complimentary community event called Cole Sport Back Alley Bash. Held at Park City's iconic Town Lift Plaza off of Historic Main Street, adjacent to The Bridge Café, KPCW brings in live entertainment for adults *and* kiddos, plus food and beverages available for purchase. All proceeds, of course, are invested directly back into the station.
The event is a fun one each summer, warm-but-usually-not-too-hot, catching up with old friends while enjoying whiskey lemonades from High West Whiskey, and watching the kids and puppies run around at the base of the Town Lift Bridge. Oh, and we buried the lede: KPCW will announce the winner for an opportunity drawing. The grand prize this year is practically an all-expenses-paid vacation: three nights for FOUR people of glamping in a luxury tent at Conestoga Ranch at Bear Lake, including breakfast and dinner each day. You can buy tickets for the drawing and discover more information about the event here.
SUMMER PLEDGE DRIVE & ONLINE AUCTION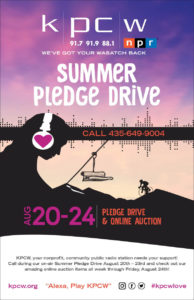 The Back Alley Bash brings us directly to the Summer Pledge Drive. The drive is a bi-annual occurrence, one is held in winter, too, and a superhuman undertaking. The station is loaded to the gills with volunteers and special guests in-studio and the air reverberates from 7 a.m. to 6 p.m. with ringing phones, a cowbell, and, for the really big donations, a gong.
It's a blast to participate in, and it's the way KPCW raises most of its funding for the year. To donate, call 435-649-9004, or donate online. Personally, our favorite way to donate is through the online auction. These are items donated by community businesses, and all proceeds raised go to KPCW. As of this writing, there are nearly 100 items up for bid, including things like two Epic Local Passes, an adorable aqua cruiser bike from Storm Cycles, and those ever-so-popular 3-night lodging deals from Dog in Haus.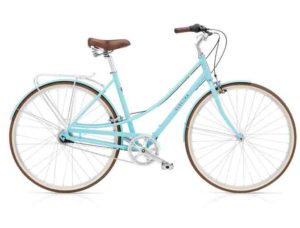 Another (but not the final!) way to support, year-round, is to join the Broadcasters Club. Benefits of this group include fabulous branded gear, exclusive member events (ski days, golf outings, social VIP affairs, etc.) and provide a way for you to ensure KPCW remains firmly anchored in our Park City community.
A huge thank you to KPCW for the myriad services you provide to our community and the work you do to lift up and support our vast nonprofit and local business network!
---
The Colony at White Pine Canyon is the largest gated ski-in, ski-out community in the United States. Our land spans 4600 acres, and approximately 90% of the land will always be preserved as open space.
In winter, enjoy exclusive ski and snowboard access to one of America's largest mountain resorts, Park City. In spring, the snow melts to reveal an amazing network of hiking, biking, and horseback riding trails, connecting to more than 400 miles of single-track trails throughout the surrounding area.
The Colony is just 35 minutes from Salt Lake International Airport and minutes to Park City's historic Main Street, home to the Sundance Film Festival and world-class dining and shopping.