Park City Event Guide: August 3-5 –> Kimball Arts Festival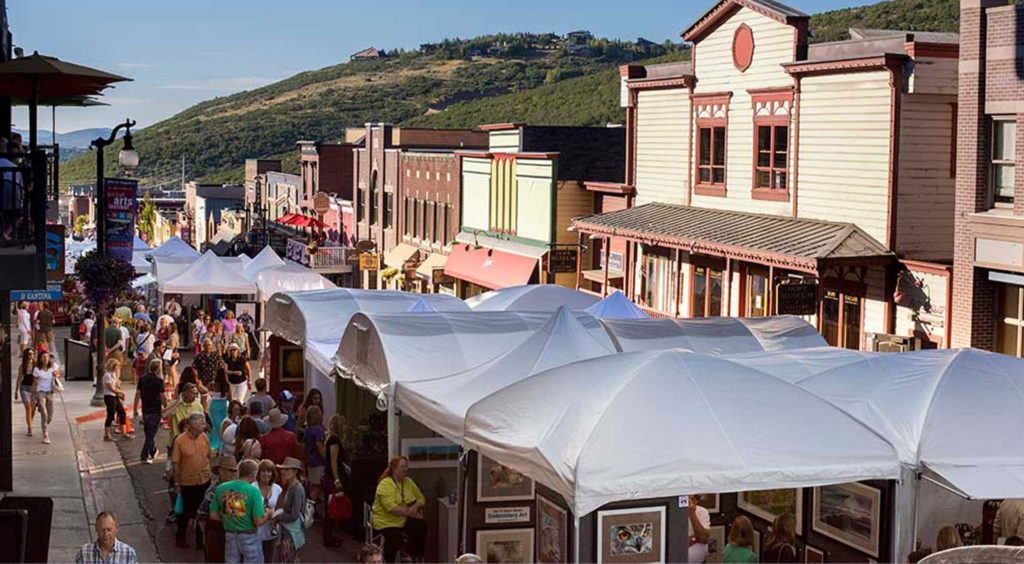 Kimball Arts Festival weekend is already upon us! The Arts Fest is in its 49th year – and is one of the top-ranked art festivals in the entire country. The three-day event brings THOUSANDS of visitors to Park City (pack your patience if you head out in your car – and plan to use public transportation or your bike whenever possible!) and features 225 artists (photo courtesy: Historic Main Street Alliance).
The event also serves as Kimball Art Center's largest fundraiser. Money raised from the Arts Fest funds things like art education and curriculum in our public schools, after-school arts programs, scholarships for low-income children to participate in art classes and camps, and complimentary access for our community to experience gallery exhibitions.
Food Trucks, Artisan Tasting, & Beer Garden
Food truck options have expanded this year! You'll find Banh Mi Time, Black's Sliders, Brugesmobile, Fatty Tuna Sushi & Rame, and Kona Ice at the top of Main Street. More food will be lined up along Heber Avenue – these are the Artisan Tastings, which feature products from local producers. Burton's Maplewood Farm, C&C's Candies, JulieAnn Caramels, and Wasatch Creamery Ice Cream, Co will all be selling their wares.
Don't forget about the beverages! Three beer and wine gardens will be scattered throughout the Festival, along with six locations for soda, teas, flavored waters, and other beverages.
---
SCHEDULE
Friday, August 3 → 5 – 9 p.m. (free entry for Summit County locals with proof of residency)

Saturday, August 4th → 10 a.m. – 8 p.m.

Sunday, August 5th → 10 a.m. – 6 p.m.
---
EVENTS & ACTIVITIES
Studio on Main
Interactive, hands-on activities geared toward teens 13 years and up – and adults! You can create things like clay bowls, unique prints, Park City postcards, contemporary embroidery, tiny paintings, and wire sculptures! It's just $5 dollars to participate – and you get to take your masterpiece home with you.
Kids' Art Area
Speaking of masterpieces, there are plenty of art options for the little ones, too! Free face painting for all, along with fun $3 activities (4 for $10!) like creating with clay, figures in felt, and a festival scavenger hunt, are available to take care of any complaints of boredome. These activities could keep the kids crafting all day long!
Gallery Stroll
10 galleries along Main Street will have special exhibitions, food, and refreshments to supplement the action outside. Pop in and cool off at galleries like Earthlight Galleries, Bret Webster Images, Park City Fine Art, and Art Elevated.
Live Music
More than 30 musical acts are scheduled to perform over the three-day event, across three stages: the Kimball Stage, Miner's Stage, and the Food Truck Stage. No matter where you are on Main Street, you'll be able to bop along to music from acts like Motherlode Canyon Band, Streetcorner Boogie, Courtney Spalding, Kings of 88, Mountain Boogaloo, and Brothers Brimm.
Festival After Dark
Some of the most fun during Arts Fest weekend happens after dark, of course. There are a number of options to stay and play – see Aiko at OP Rockwell TONIGHT, or hit up the Deer Valley Music Festival if that's more your speed. Saturday night, the Sundance Institute will host a free Sundance screening in City Park (make sure you bring a blanket!). The movie, "Red Dog: True Blue" is family-friendly, and begins at dusk. And the fun doesn't end there! On Sunday night, show your Arts Festival wristband to receive two-for-one lawn seats to see Lucia Micarelli! Show begins at City Park at 6 p.m.
---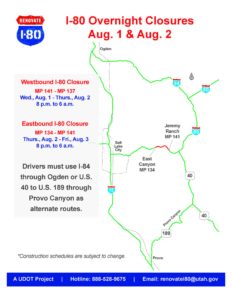 CLOSURES
Park City Library is closed all weekend, and, for obvious reasons, no Park Silly Sunday Market will be held. But – please be aware of this huge one – the construction work on I-80 will CONTINUE this evening. This means – I-80 EB will be COMPLETELY CLOSED to all traffic starting at 8 p.m. So if you're out and about in Park City this evening and need to head back down the canyon to get home – you'll need to use I-84 through Ogden or U.S. 40 to U.S. 189 through Provo Canyon. So please be aware of timing to avoid any travel headaches!
---
The Colony at White Pine Canyon is the largest gated ski-in, ski-out community in the United States.
In winter, enjoy exclusive ski and snowboard access to one of America's largest mountain resorts, Park City. In spring, the snow melts to reveal an amazing network of hiking, biking, and horseback riding trails, connecting to more than 400 miles of single-track trails throughout the surrounding area.
The Colony is just 35 minutes from Salt Lake International Airport and minutes to Park City's historic Main Street, home to the Sundance Film Festival and world-class dining and shopping.