FRIDAY JULY 20
"Affirmations" Exhibition
Local Artists Reception
Gallery MAR @ 6PM
Connect with local artists Ron Russon and Cristall Harper at the "Affirmations" local artists reception. (Photo courtesy: Gallery MAR. The work is, "I am Encircled, in oil, by Cristall Harper.)
Cristall Harper has a studio in American Fork, and says she paints the way "a glass artist works: with lots of little shapes of color." A critic once described her work as "…personal version of abstraction… beautifully rooted in reality." Her themes are delineated as florals, dogs, and seascapes.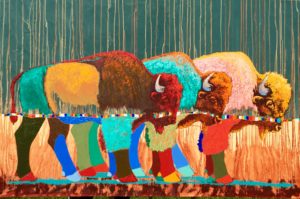 Ron Russon was born and raised outside of Lehi and his work focuses on wildlife, landscapes, and prairie & farm. He describes himself as "a farmer who paints," and paints in rural life in a contemporary style.
Meet both artists – and view their work – on Friday night at Gallery MAR.
~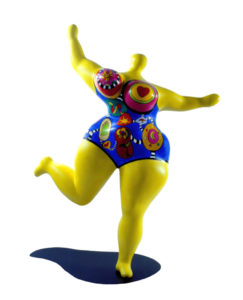 Niki de Saint Phalle: Freedom Would Be Mine
Community Opening @ 6 PM
Kimball Art Center
Niki de Saint Phalle is considered one of the foremost women artists of the 20th century. Her works as a sculptor, painter, and filmmaker from the 1950s – early 2000s range from intimate to monumental. Her career started with provocative, angry works, with bullseyes over collages, and knives and razor blades embedded in plaster. Over time, though, her work evolved to become joyful, bright sculptures of women. This exhibit, Freedom Would Be Mine, "explores the artist's radical redefinition of women's roles and women's bodies and unveils Saint Phalle's continual quest for freedom." Her work will be on display at the Kimball Art Center from July 21 – September 16.
~
Deer Valley Music Festival
Rick Springfield with the Utah Symphony
Gates open @ 5:30 PM | Show @ 7:30 PM
When you think of the Deer Valley Music Festival, you may think of it like we do – BD and AD (before dancing and after dancing). Our favorite moment at each concert is the one where the night cracks open and people hit the dance floor … er, grass. We have a feeling that the dancing is going to start *really* early when  GRAMMY®-winning singer/songwriter Rick Springfield joins the Utah Symphony. Wear comfy shoes (or not, maybe just flip your shoes off when you're ready to dance) and start gearing up for "Jessie's Girl," along with his other hits.
---
SATURDAY, JULY 21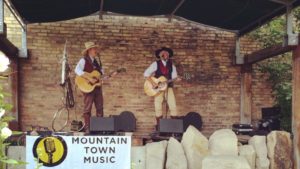 Miner's Plaza Concerts
Shows begin @ 1:30 PM
A few Saturdays this summer, Mountain Town Music has programmed complimentary concerts in Miner's Park, a pocket-sized park in the center of Historic Main Street. Bask in the music and then hop into the bustle of Main Street, cause you're *right there.* Chapter 3, a multi-instrumental duo w/ harmonizing vocals, kicks off the shows on Saturday at 1:30 p.m., followed by the Fab Folk, which does folk renditions of Beatles songs, at 3:30 p.m. Free Concerts at Miner's Plaza are also scheduled for July 28 and August 18.
~
Canyons Village Concert Series
Polyrhythmics
Canyons Village @ 6 PM
An eight-piece instrumental band with rich, bold brass and percussion. The sound is described as a "blend of funk, soul, progressive jazz, and psychedelic rock."
~
Deer Valley Music Festival
Sutton Foster with the Utah Symphony
Gates open @ 5:30 PM | Show @ 7:30 PM
Broadway star and Tony-Award-winner Sutton Foster joins the Utah Symphony on Saturday night to bring you an evening packed with incredible music. One of the Great White Way's most versatile leads, Foster has starred in Thoroughly Modern Millie, Anything Goes, Little Women, Shrek the Musical, and Violet, and is now a lead in the show Younger on TVLand. You can buy tickets online, or on-site
~

Saturday Morning Nature Walk
Swaner Nature Preserve and EcoCenter@ 8:30 AM

Explore the Swaner Preserve wetlands with a guide. You'll learn about the wonders of the wetlands, native plant and animal species, and the history of the Swaner Preserve. Keep your eyes peeled for an abundance of birds, elk or even nesting sandhill cranes.
~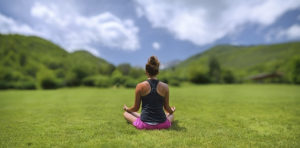 Yoga on the Patio
Saturdays @ 10:30 AM
Park City Library
Join the complimentary community yoga classes on the patio outside the Park City Library! Held each Saturday at 10 a.m., through August 25, the class provides an opportunity to start your weekend off on the right foot – and to connect with your Park City neighbors. Bring your yoga mat — classes move inside if it rains.
~
Author Workshop 
Bobbie Pyron @ 2 PM 
Park City Library 
Local author Bobbie Pyron, author of 5 books for children and young adults, will discuss her life and writing. She will also lead participants in writing exercises.
~
Wine Tasting Class 
Silver Baron Lodge @ 6 PM 
A casual, fun wine tasting class with wines selected based on a topic for each weekend. Each class is designed to give both the beginner and the expert wine lover a glimpse into stories, facts, and the history of the world of wine. This class is conducted by the Fox School of Wine.
~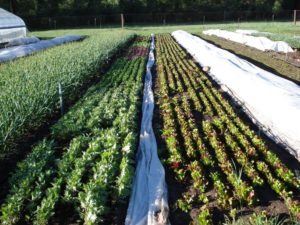 Copper Moose Farm Stand
Saturdays @ 9 AM 
Copper Moose Farm Stand is tucked away on Old Ranch Road and sells organic produce and stunning flowers, all grown on the farm. During the summer months, you can find arugula, asparagus, beets, beet greens, broccoli, leeks, micro greens, onions, stir fry greens and more. The stand is open Tuesdays and Thursdays from 12-6 p.m., and Saturdays from 9 a.m.-3 p.m. now through October. The Copper Moose Farm Stand can be found at 1285 Old Ranch Road. 
---
SUNDAY, JULY 22
Swaner's Craft Sunday
Swaner Preserve and EcoCenter @ 11 AM 
Bring your kiddos to the Eco Center to enjoy a nature-themed craft midday Sunday! All ages are welcome at this free event.
~
Author Meet & Greet
Dolly's Bookstore @ 1 PM 
Local author Beverly Hurwitz will be at Dolly's on Sunday to celebrate her new book, Park City Hiking Guide. Dr. Hurwitz will sign copies of her book. The book outlines many of the trails that make up Park City's diverse terrain, with maps and directions for 45 hiking routes around the town, suburbs, parks and ski resorts.
Dr. Hurwitz was born in Brooklyn, NY, and first came to Park City to ski in 1973. After several return trips, she became a full-time resident in 1990. Her medical career includes training in physical medicine, pediatrics, neurology, and acupuncture.

~
Park Silly Sunday Market
Sunday, July 1 → 10 AM – 5 PM
Historic Main Street
This event is equal parts eco-friendly open-air market and street festival – and Sunday Funday party! Stroll Historic Main Street to shop for local arts, crafts, products, antiques, and gourmet food while you enjoy live music, and the best booze tent in town.
---
DURING THE WEEK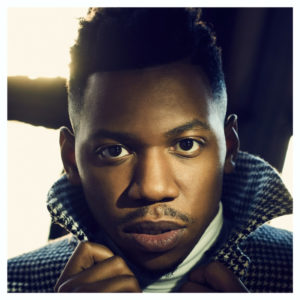 Chris Blue
St. Regis Big Stars, Bright Nights
Monday, July 23 @  6 PM
R&B pop artist Chris Blue is the winner of 2017's Season 12 of The Voice and delivers music inspired by soul, funk, and gospel. He's known for his "stunning voice and charisma," and "explosive performance style," Blu was coached by Alicia Keys on The Voice, and will take the stage with a mix of originals and cover.
Park City Institute is the presenter of the St. Regis Big Stars, Bright Nights, now in its 15th consecutive season. This year, it's being held in a pop-up format, at Quinn's Junction Sports Complex.  Learn more about these pop-ups and PCI HERE. To buy tickets, click HERE.
~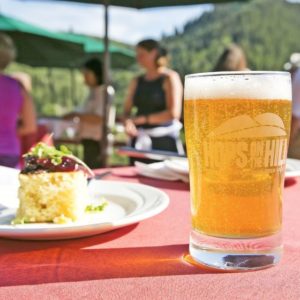 Hops on the Hill
Tuesdays @ 6 PM
Stein Eriksen Lodge
Hops on the Hill is a weekly craft beer and food tasting event, accompanied by live music at the Stein. The local beer selection and the music switch weekly, so every week is a new experience. This event does sell out, so advance reservations are highly recommended; reserve your spots by calling 435.645.6455. This week, the beer will be from Park City Brewery and Shades of Pale, with music by Gary Tada. (The cost is $20 for food and $20 for the beer tasting.)
~
Women's Road Rides
Mondays → 5:45 – 7:30 PM
Through August 27
Start at Jans on Park Ave, then hit the road with a tribe of ladies for a couple of hours. Bring rain protection, energy good and plenty of water, plus your flat repair kit. Bikes are available to rent ($15, based on availability), but the event is free!
~
Women's Mountain Bike Rides
Tuesdays → 6-8 PM
Through August 28
Another women-only option during the week is the Tuesday night mountain bike rides with White Pine Touring. The rides are led by Team Sugar guides, and the group is divided up based on your skill and comfort level. Meet at White Pine Touring at 6 p.m., then explore new trails and meet new friends for two fun-filled hours. This experience is also free.
~
Twilight Ride Series
Wednesdays → 4 – 8 PM
Deer Valley Resort
Enjoy the mountain at dusk with the Twilight Ride Series on Wednesdays. From 4 until 8 p.m. on Wednesdays, take advantage of lift-served mountain biking (Silver Lake Express and Sterling Express chairlifts). DV operations stay open to serve riders for the Twilight Rides (through August 22).
~
Group Mountain Bike Rides
Thursdays → 6-8 PM
Through August 30
One more crew to hit the trails with – the Thursday night group mountain bike rides! Also at White Pine Touring, this one is open to everyone, with three groups to choose from based on ride intensity. The rides are led by White Pines Touring Racing powered by jans.com mountain bike team members and guides. And on the last Thursday of each month, there's a free BBQ and adult beverages, provided by local vendors, at the end of the ride.
~
Park City Mountain Farmers Market
Wednesdays → 12 – 5 PM (rain, snow, or shine)
June 13 – October 10, 2018  
The Park City Farmers Market moves to the base of Park City Mountain Resort this year! The seasonal market is open for business each Wednesday and features a large selection of fresh, local goods. Stop by and stock up on just-picked produce, freshly-baked bread, and arts & crafts from local producers and vendors.
~
Grand Valley Bank Community Concert Series
Troubadour 77
July 25 → 5:30 – 8 PM – RAIN OR SHINE
Gates Open @ 4 PM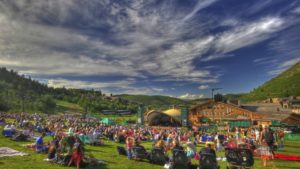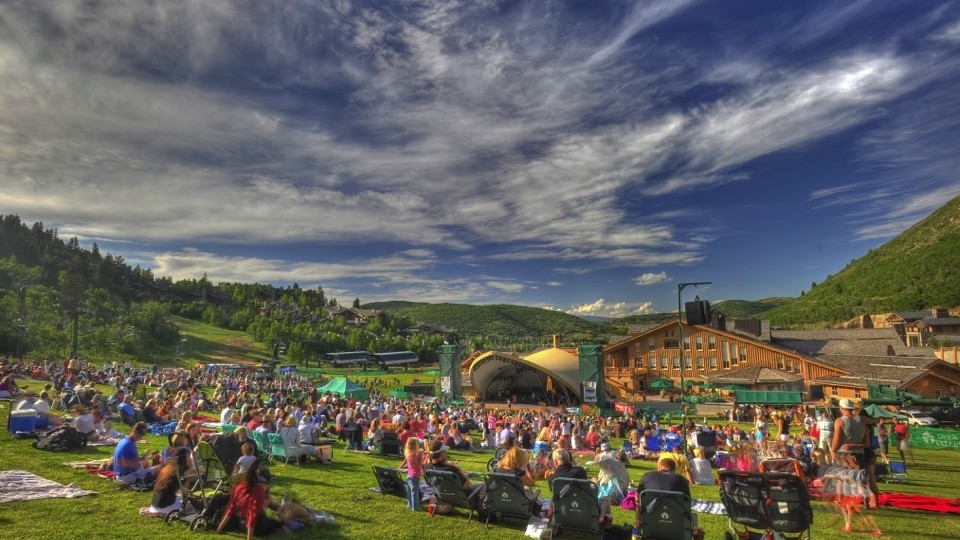 Grammy award-winning songwriters and husband-wife duo Anna Wilson and Monty Powell, formerly of Nashville, have written a dozen #1 songs, and countless album cuts featured on over 70 million records (!) worldwide. They are award-winning SESAC and ASCAP songwriters for collaborations with Keith Urban, Lady Antebellum, and others, and penned the international theme song for Habitat for Humanity. See them and their bandmates in Troubadour 77's show on Wednesday – buy tickets HERE.
---