PARK CITY INSTITUTE
Park City Institute, originally known as the Park City Performing Arts Foundation, was founded in 1998, to bring world-class performances and new ideas to the Park City community (photo courtesy: Park City Institute). This year is its 20th year of doing just that – it finds incredibly thought-provoking speakers and delightful performers and puts them in front of our community at the George S. and Dolores Doré Eccles Center stage.
PCI's concert series, now in its 15th consecutive year, was a study in problem-solving after Deer Valley threw a huge curveball this spring. After 14 years of holding its events at the Snow Park Outdoor Amphitheatre, DV informed Park City Institute its  St. Regis Big Stars, Bright Night Concerts Series would need to find a new home – just months before the 15th season was to begin.
An orderly scramble ensued, and a solution was manifested: pop-up concert events! The rest of this season's shows will be held at the Quinn's Junction Recreation Complex* (Grace Potter was held at City Park). The challenges didn't stop there, however, as the location didn't have parking – or any nearby concession options. PCI kept leaping those hurdles and came up with free luxury shuttles for those who park at the Eccles Center at Park City High School and Richardson Flat. And, for the ever-important food, they coordinated their brilliant Food Truck Court. (*UPDATE: On Friday, July 27, Park City City Council approved the request to move all remaining summer concerts to City Park; all other details remain the same.)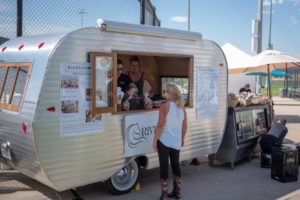 FOOD TRUCK COURT
If you ask us, the quality of the selection at the Food Truck Court alone is a draw to attend these PCI pop-ups! Check out who parks at each party:
Riverhorse Provisions
You can pre-order picnics for the Big Stars, Bright Nights events from Riverhorse Provisions' adorable food truck (well, really, for any occasion, but you can pick them up on-site at PCI's pop-ups). Choose from the Southern Basket with fried chicken and creamy macaroni salad, the Falafel Box with falafel and tabbouleh, the Seafood Pack with shrimp cocktail and pasta salad – we could go on and on, but don't make us because seriously, we're getting hungry.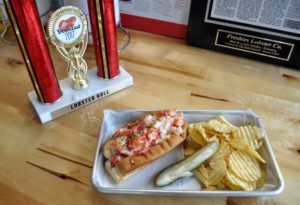 Freshie's Lobster Co.
Park-City born-and-based Freshie's is the home of the best lobster roll in the world, and those lobster rolls are up for grabs at each Big Stars, Bright Nights concert! The rolls come in three sizes, the Tourist, for those who only want 2 oz of fresh Maine lobster (just curious whether that size has ever been sold…), the Real Mainah, with 4 oz., and the XL, with 5 oz. of the good stuff. Ayuh.
Spencer's Smokin' Grill
Now, if you're more in the mood for BBQ – head on over to Spencer's. Pulled Pork, Pulled Chicken, BBQ Beans, Dirty Rice, Tri-Tip, and, of course, Cornbread can be found here. Few things could be more fun than a full rack at a concert.
Praise Cheezus Gourmet Grilled Cheese
This one is pretty self-explanatory – toasty, gooey, delicious grilled cheese! From savory cheezus choices (The Old Testament concoction has gouda, cheddar, swiss, and garlic cream cheese spread), to sweet cheezus (The Trinity has brie, triple berry compote, and wild honey) – these grilled cheese sandwiches are practically a spiritual experience.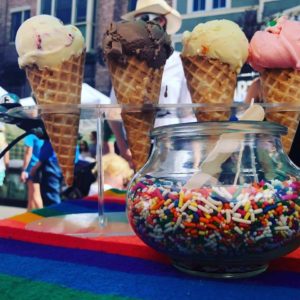 Wasatch Creamery Ice Cream Company
Speaking of spiritual experiences, whatever you do while you're at the events, *do not* miss the Wasatch Creamery ice cream bike. Flavors like Salted Oreo (do not even come near us with that because we cannot stop eating it), Lavender Blueberry, Peaches-n-Buttermilk, Peaches-n-Bourbon, Summer Strawberry (the most fresh thing we've ever tasted in our entire life), and Mango Sorbet, along with TONS of others, with more constantly being beta tested, are available at this station while supplies last.
Of course, attendees are always welcome to pack picnics, snacks, and beverages (you're asked to avoid glassware for safety reasons), but with these world-class options *right there,* why bother?
THE SHOWS
Upcoming shows include Monday's Chris Blue concert, Corinne Bailey Rae, and The Wallflowers. If you'd like to attend any of these upcoming events, you can buy tickets online, call or visit the Eccles Center Box Office (435-655-3114), or buy tickets at the on-site box office on the afternoon of the event.
SUPPORT
Mission Statement: To enrich the community by providing innovative experiences that entertain, educate and illuminate.
To accomplish this goal, PCI depends on membership and donations. Learn more about membership opportunities HERE. Each level of membership includes advance ticket purchase options, invitations to special events and Members Only events, and recognition in Eccles Center Main Stage Playbills. Some memberships include tickets to events, early event entry, and parking passes.
---