One of the local Park City businesses we enjoy is Ellie's Chefs | Catering | Cafe. Ellie's Catering frequently provides services for us right here in The Colony, and Ellie has recently opened a brand-new cafe in the Kimball Art Center. Ellie's goal is to provide clean, creative cuisine; here's a look at all the ways you can enjoy it!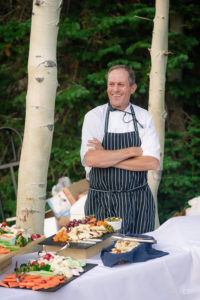 Services
Ellie's provides everything in its name: (private) Chefs, Catering, Cafe – and more: you can also have meals dropped off at your door (pick-up is an option, too). The meals are ready to roll – all you have to do is heat according to the included instructions.
The New Cafe
Natural, seasonal ingredients inform the menu, which changes based on availability, as most local, clean menus do. You can grab breakfast, lunch, and snacks from the Cafe, and (leashed) pups are welcome on the patio. The breakfast menu will usually include items like breakfast tacos, veggie frittata, and breakfast breads (come here on your carb cheat day!). For lunch, there are sandwiches served with chips and a pickle, but the signature bowls are not to be missed. Enjoy a Kale & Quinoa Bowl, Asian Salmon Bowl or a Mediterranean Bowl. Yum.
Ellie's Cafe is open Monday through Friday, 9 a.m. to 5 p.m., and Saturdays from 11 a.m. to 5 p.m.
Community Involvement
The food is fabulous, but one of the things we like most about Ellie's is how committed the company is to providing support for our local community. Ellie's contributes to a number of local nonprofits, like the National Ability Center, Recycle Utah – Park City, EATS (Eat Awesome Things At School), Park City Community Foundation, Adopt-A-Native-Elder, Peace House, and Summit Community Gardens.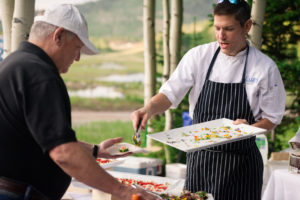 One of our favorite reasons to shop locally is that more of the money we spend stays in our community – it pays local wages, it is spent at *other* local stores to purchase supplies and goods, and most of all, some of it is donated to local nonprofits. As it says on Ellie's website, "when you hire Ellie's, you are also supporting … organizations…who help make our lives so much better." Any effort to build up and support our community is one we can get behind here at The Colony.
---
The Colony at White Pine Canyon is the largest gated ski-in, ski-out community in the United States.
In winter, enjoy exclusive ski and snowboard access to one of America's largest mountain resorts, Park City. In spring, the snow melts to reveal an amazing network of hiking, biking, and horseback riding trails, connecting to more than 400 miles of single-track trails throughout the surrounding area.
The Colony is just 35 minutes from Salt Lake International Airport and minutes to Park City's historic Main Street, home to the Sundance Film Festival and world-class dining and shopping.