Fall is officially HERE – or at least, it will be on Saturday. Ring it in with Brunch at Altitude, then zip over to make your own stuffed guy for the annual Scarecrow Festival. As usual, there's no shortage of activities to be found here in Park City, Utah, as the countdown to snow (by which we mean ski season) begins.
FRIDAY, SEPTEMBER 21

SEE →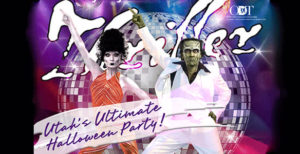 Thriller Odyssey Dance Theatre
Egyptian Theatre
QUICK – get your tickets for this one – it sells out each and every year. If Thriller at Egyptian Theatre isn't already your family's Halloween tradition, it's time to make it so.
What could be more fun than Odyssey Dance Theatre's Thriller, dancing monsters and raging maniacs? The only thing we can think of is reduce pricing – which is in effect this weekend only. Because of the content of the show, it's recommended for children 12 and up. Most shows are at 7:30 p.m.; Sunday shows begin at 6. The show runs through October 7.
~
Three Identical Strangers
8 PM @ Jim Santy Auditorium 
Park City Film Series

Our jaws dropped during this documentary more times than we can count on two hands – it's no wonder it was the winner of the Grand Jury Documentary Prize at this year's Sundance Film Festival. "Three Identical Strangers" follows the unbelievable true story of three young men who are reunited by astonishing coincidence after being born identical triplets, separated at birth, and adopted by three different families. Believe us – that's just the beginning… 
Catch this screening at the Jim Santy this weekend – we promise you're going to want to discuss it after! More information and tickets HERE.
SATURDAY, SEPTEMBER 22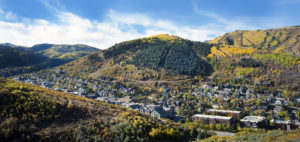 MOVE →

Saturday Morning Nature Walk
8:30 AM @ Swaner Nature Preserve and EcoCenter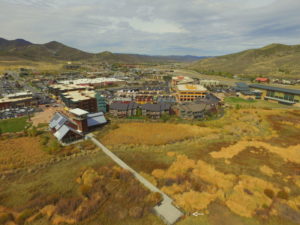 We are nearing the end of this seasonal Saturday walk. Grab a coffee and join the guided group to explore the wetlands at Swaner Preserve. The guide comes armed with information about the wetlands, native plants, and all the animal species you'll see as you walk through the Preserve. This weekly event ends September 30.
~
The North Face Endurance Challenge
September 22 & 23
North Face isn't joking when they call this an Endurance Challenge. This specific race starts at the highest elevation within the North America series – at 7,000 feet – but it also CLIMBS to the highest elevation of 10,000 feet. The race doesn't pull any punches – after you crest the first HUGE hill, which begins immediately, by the way, you'll make your way along the Wasatch Back while you navigate a mix of single- and double-track trails, ski runs, and various dirt roads at Park City Mountain.
~

Human Curling
 5 – 6:30 PM @ Park City Ice Arena
In normal curling, you slide stones across the ice and onto a target. In HUMAN curling – you slide… what else – yourself! And if that doesn't sound good enough – this event is FREE. You can register online or by calling 435.615.5707. Wear warm clothing, a helmet, and rubber-soled shoes – you must be at least 12 years old to participate.
CREATE →
Scarecrow Festival
2 – 4 PM @ McPolin Farm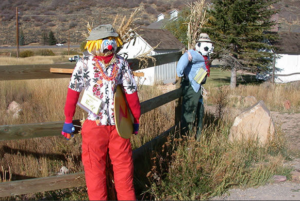 Did you know you can create a scarecrow to be featured at the festival? Join the fun at McPolin Farm to build your very own scarecrow – which will be on display through October 19th.
The event includes pumpkin painting, face painting, stuffing for your scarecrow (along with the cross to hang it upon), games, and cookies.
You do need to bring all the items to build your scarecrow – including a head, clothing, safety pins, shoes, props, scissors and any other accessories you think you'll need.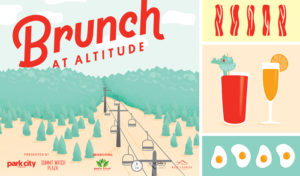 EAT & DRINK →
Brunch at Altitude
11 AM – 2 PM @ Summit Watch Plaza 
The inaugural Brunch at Altitude at Summit Watch Plaza, hosted by Park City Magazine, is said to be a "celebration of the season and our favorite meal: brunch!"
A $35 ticket will grant you entry to the event, along with brunch samples, the "spirit" garden, live entertainment, breakfast in bed photo booth, yard games and silent auction access (benefits Peace House). VIP tickets ($75) gets you an extra VIP-attendees-only hour from 10 – 11 a.m., gifts, swag, and VIP-only promotions. More details and tickets here.
EXPLORE →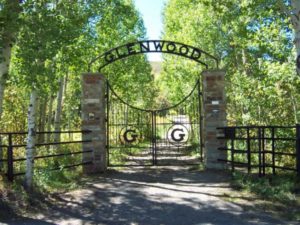 Historic Glenwood Cemetary Tour
10:45 AM – 2 PM 
Glenwood Cemetary (Silver King Drive)
Re-enactors will bring Park City history to life as they stand at various gravesites to discuss life and death in our historic mining town. Creepy, yet fun! Hosted by The Park City Museum and the Glenwood Cemetery Association.
~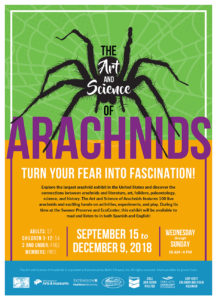 The Art and Science of Arachnids
Swaner Preserve & EcoCenter 
Wednesdays – Sundays: 10 AM – 4 PM 
The largest arachnid exhibit in the United States is right here in our backyard through December!
The exhibit guides visitors to explore connections between arachnids and literature, art, folklore, paleontology, science, and history. You'll see 100 live arachnids (!) and experience hands-on activities – hopefully, the live arachnids are not the hands-on activities, but you'll have to go see it in order to find out.
This exhibit is available to read and listen to in both Spanish and English, and is free for members; for pricing and further event details, click here.
SUNDAY, SEPTEMBER 23
SEE →

The Big Bad Fox and Other Tales
3:30 PM @ Jim Santy Auditorium
Park City Film Series 

This graphic novel adaptation is the recipient of no fewer than SIX film festival awards. And it's no wonder – underneath the three "delightful" interconnected stories (which feel like those classic Looney Tunes shorts), you'll find themes of family and the anxieties of modern life. Tickets are $5 dollars – popcorn is free.
SHOP →
Park Silly Sunday Market
Sunday: 10 AM – 5 PM
LAST EVENT ALERT!
Say it ain't so – Park Silly Summer Market is ENDING! If you haven't made it over there yet, hop on the bus or your bike to experience this open-air market filled with local wares, artisan food, and the best booze tent in town.
SEE & HEAR →
Music @ Park Silly Sunday Market
Main Stage: 11 AM & 2 PM

Last chance for live music at the Park Silly Market!
Catch Teresa Eggertsen Cooke from 1 – 2 p.m. at the Farmers Market stage (5th and Main).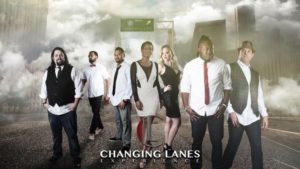 And, in true last-show-of-the-season fashion, you'll be able to catch the Changing Lanes Experience from 3 – 4 p.m., on the Main Stage at 9th and Main. This band started with weddings and has since evolved to be featured live on NBC, CBS, and, of course, Park City TV!
CREATE →
Swaner Craft Sunday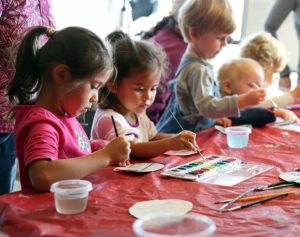 11 AM – 1 PM 
Swaner Preserve & EcoCenter will offer a nature-themed craft every Sunday from 11 a.m. to 1 p.m. All ages are welcome! For more information go to www.swanerecocenter.org.
SEE →
Art Exhibit
Patricia Smith

Patricia Smith is a local artist whose work we get to enjoy each year – in the form of her Olympic banners along Main Street. Through November 30th, you'll get to take a look at other pieces at the Park City Library. Smith's watercolors and oil landscapes are inspired by the places she has lived.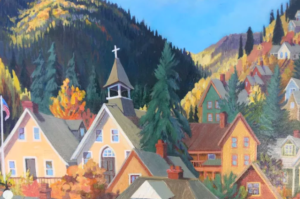 THIS WEEK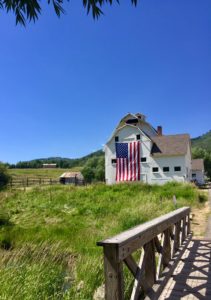 Tuesday, September 25
National Voter Registration Day

If you're a first-time voter, recently moved, turned 18, or changed your name, take this opportunity to update your voter registration at . Or – zip over to Park City Library, which will have in-person stations available today to make the whole process a piece of cake. You can also register to vote at O'Shucks Pinebrook from 5 – 8 p.m. Find Utah election information HERE.
~
Park City Mountain Farmers Market
Wednesdays: 12 – 5 PM (rain, snow, or shine)
Through October 10  
The Park City Farmers Market is at the base of Park City Mountain Resort this year! The seasonal market is open for business each Wednesday and features a large selection of fresh, local goods. Stop by and stock up on just-picked produce, freshly-baked bread, and arts & crafts from local producers and vendors.
---
The Colony at White Pine Canyon is the largest gated ski-in, ski-out community in the United States. Our land spans 4600 acres, and approximately 90% of it will always be preserved as open space.
In winter, enjoy exclusive ski and snowboard access to one of America's largest mountain resorts, Park City. In spring, the snow melts to reveal an amazing network of hiking, biking, and horseback riding trails, connecting to more than 400 miles of single-track trails throughout the surrounding area.
The Colony is just 35 minutes from Salt Lake International Airport and minutes to Park City's historic Main Street, home to the Sundance Film Festival and world-class dining and shopping.