Small Business Highlight: Mountain Town Olive Oil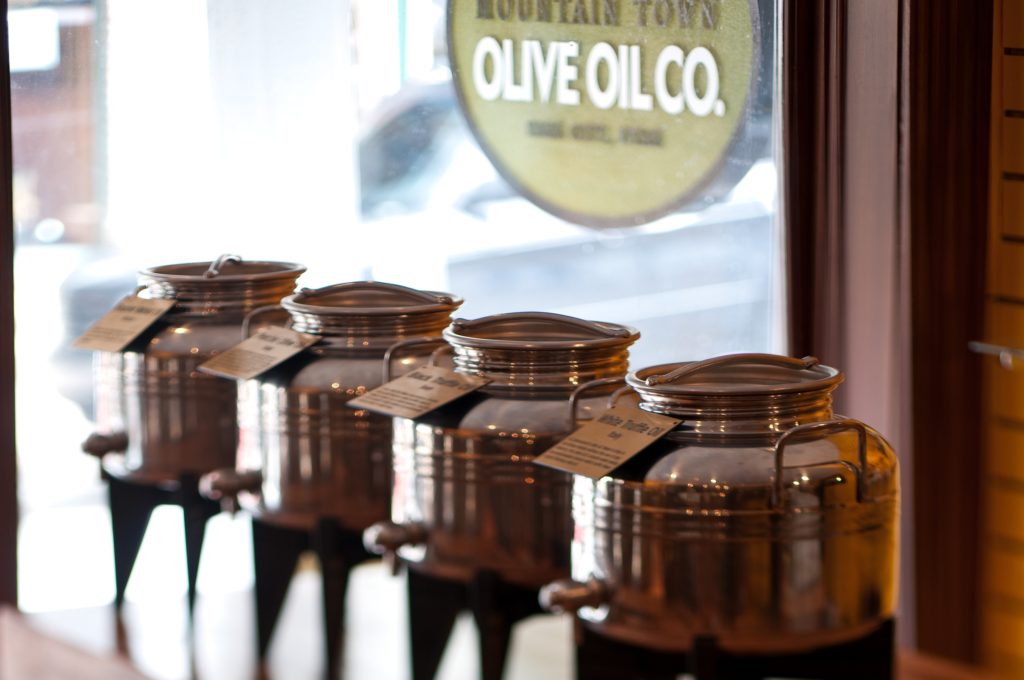 No matter the weather, when you step up the stairs and into Mountain Town Olive Oil's new space on Historic Main Street, it feels like walking into a cozy home on a blustery day, and you can't help but want to relax and stay a spell.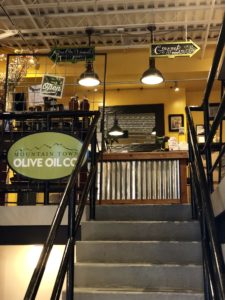 Wherever the walls aren't coated in a cheerful yellow, you'll see warm, exposed brick, with accents of rough-hewn wood and metallic industrial touches throughout the store.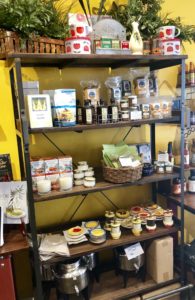 Most surfaces are pleasantly cluttered with Mountain Town Olive Oil (MTOO) offerings and accoutrements, select local products like Park City Granola Co., V's Bees pure raw honey, and more.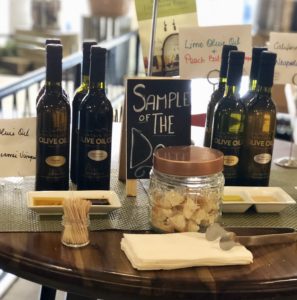 As you make your way across the store, do yourself a favor and stop for the sample of the day. Owner Jessica McCleary loves providing these as part of the olive oil experience. "People can engage with it before they buy and know that they love the product they are taking home."
Adjacent to the samples, you'll find row after row of olive oil and vinegar selections. Olive oils range from traditional to flavor-infused; the vinegars, from dark to fruity – to white.
The olive oil and vinegar products are stored in shiny tankards called "fustis." The fusti system not only cuts back on storage space, allowing Jessica to dedicate her back area to community education (more on that later), it also keeps the business green. Reusable packaging is used at every opportunity, and customers who bring bottles in to refill from the fustis are offered a special discount.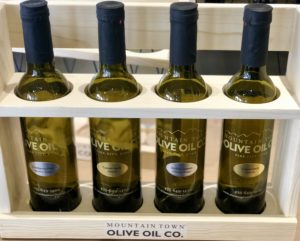 MTOO is in the process of joining Recycle Utah's green program, which guides local businesses working to craft sustainability plans and to help them increase existing green endeavors.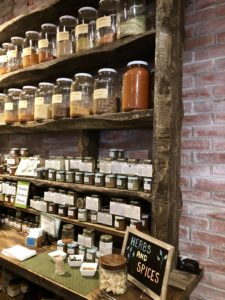 Along the back brick wall is where the spices are kept – there are notecards with descriptions, and if you are looking for guidance for a specific flavor or dish, don't hesitate to ask for help!
RECIPES & COMMUNITY EDUCATION
Mountain Town Olive Oil's mission is "…to provide our customers with the best olive oils and vinegars the planet has to offer," but the service doesn't stop there.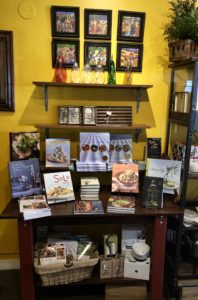 Not only are there cookbooks available inside the store, there are myriad recipes posted on the website. Appetizers, breakfast, brunch, dessert, gluten-free, marinades, vegan, sides, and so on. If you're anything like we are, you'll be clicking on the recipe for that fall favorite – pumpkin bread!
The Fresh Drizzle Blog takes MTOO awareness a step further, with posts like foods to eat to hydrate skin, to five things to know when purchasing olive oil, even a cautionary post about how to make sure you're getting real olive oil!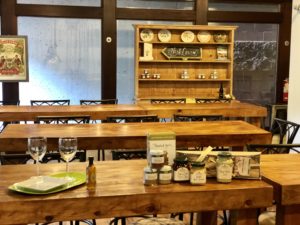 Jessica feels very strongly about also providing face-to-face education about how to create food using MTOO's products – but not because it's so complicated. Just the opposite, in fact – the classes, from Olive Oil 101 class to the Next Course series, help people understand that it can be incredibly simple to put a healthy, flavorful meal together, whether you're cooking for one or a dozen.
Classes and gatherings are held in the back of the store, where high-top tables and chairs, along with a demo cooking space, create a comfy, intimate area in which to enjoy learning about the subject at hand.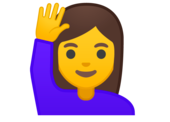 The learning space, however, can be what you make of it. Jessica tells us she's fond of hosting private wine tasting events — and would love to have a regular yoga-and-champagne-tastings. (If you have an idea for an event or want to book one we've mentioned here, either pop into the store, email jessica@mountaintownoliveoil.com. or call 435.649.1400.)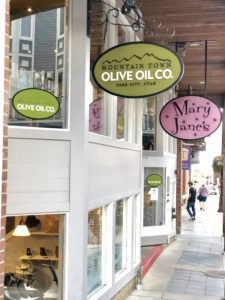 HOURS & LOCATION 
Mountain Town Olive Oil relocated to Historic Main Streed in July. You'll find the store and the community class space upstairs at 613 Main Street. Hours vary seasonally, but you can usually find them open from 11 a.m. – 6 p.m. Monday through Saturday, and 12 – 5 p.m. on Sunday.
Jessica is proud of the consistency of experience customers have at MTOO; she loves that clients come in, have a great time, and that visitors often make the store a destination during their vacations. It is, she says, an honor to be part of that.
---
The Colony at White Pine Canyon is the largest gated ski-in, ski-out community in the United States. Our land spans 4600 acres, and approximately 90% of it will always be preserved as open space.
In winter, enjoy exclusive ski and snowboard access to one of America's largest mountain resorts, Park City. In spring, the snow melts to reveal an amazing network of hiking, biking, and horseback riding trails, connecting to more than 400 miles of single-track trails throughout the surrounding area.
The Colony is just 35 minutes from Salt Lake International Airport and minutes to Park City's historic Main Street, home to the Sundance Film Festival and world-class dining and shopping.