Small Business Highlight: Ritual Chocolate & Cafe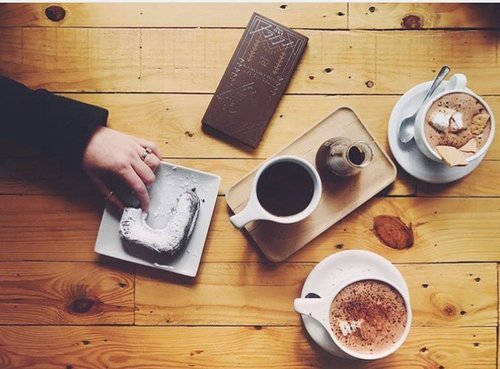 Park City and the Chocolate Factory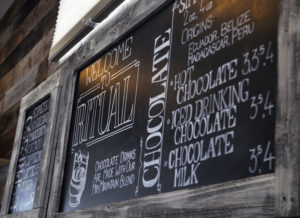 With more awards than you can count on both hands (including 9 of them this year at the Academy of Chocolate – if anyone would know, it's them, right?), Ritual Chocolate is already a winner in the eyes of professional-chocolate-judge-people (technical term). Its products are also winners with a totally different crowd – Park City residents and visitors.
Located in the heart of the Iron Horse District in Park City, the Ritual Chocolate Cafe (which also houses its chocolate factory – yes, you heard me, Park City has its very own chocolate factory!) is a magnet for locals all day long. The heavy brick exterior of the building juxtaposes the clean, light, and bright interior, which has a smattering of tables and a wall of shelves filled with, what else, Ritual chocolate bars! And, best of all, in front of each bar available, you'll find a little pot with complimentary samples. This may or may not be one of our main reasons for visiting.
The Sourcing
While you're exploring, you'll see massive windows into the chocolate factory, where you can actually peek in on the process of creating chocolate, which verges on a spiritual experience for some people. The chocolate is not just *any* chocolate – most bars are made with just two ingredients: cacao and cane sugar. And because cacao grows best when its forest is healthy, Ritual works hard to source only from farms which practice organic methods or who are certified organic. Not only that – the owners of Ritual ensure the growers are compensated well above world pricing.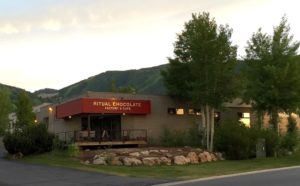 With that cacao, Ritual Chocolate handcrafts small batch, bean-to-bar chocolate in a mix of classic European methods and modern American style. It was founded 2010 by Robbie Stout and Anna Davies, with the mission to revive the focus on quality. Another motto is to "improve the quality of life through chocolate." And they're not just talking about making consumers happy – as you read above, they aim to do this by supporting the people who grow the raw ingredients they use.
How to Enjoy
You'll find the cafe & factory at 1105 Iron Horse Drive in Park City – locals are familiar with the area, but visitors may have to GPS it. There's also a chocolate and coffee bar inside the Park City Whole Foods location – which is a bit easier to locate. Wherever you go to enjoy it, you'll find coffee from another local purveyor, Pink Elephant Coffee Roasters, and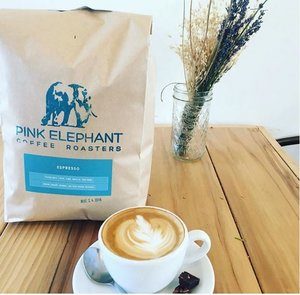 options on the menu for drinks made with chocolate! Trust us, this chocolate milk is unlike any you can buy in a grocery store.
The Cafe has a small shop where you can buy chocolate (of course) but also a branded camp mug and some cool (really!) branded t-shirts. You can also shop for most products online.
It's Sunday – and this is one of our favorite small businesses in Park City – so go and grab a cup of coffee, sit and relax on their outdoor patio, and enjoy some simple, authentic and well-sourced chocolate! Sunday Funday, indeed.
---
---
The Colony at White Pine Canyon is the largest gated ski-in, ski-out community in the United States.
In winter, enjoy exclusive ski and snowboard access to one of America's largest mountain resorts, Park City. In spring, the snow melts to reveal an amazing network of hiking, biking, and horseback riding trails, connecting to more than 400 miles of single-track trails throughout the surrounding area.
The Colony is just 35 minutes from Salt Lake International Airport and minutes to Park City's historic Main Street, home to the Sundance Film Festival and world-class dining and shopping.