Small Business Highlight: Pink Elephant Coffee Roasters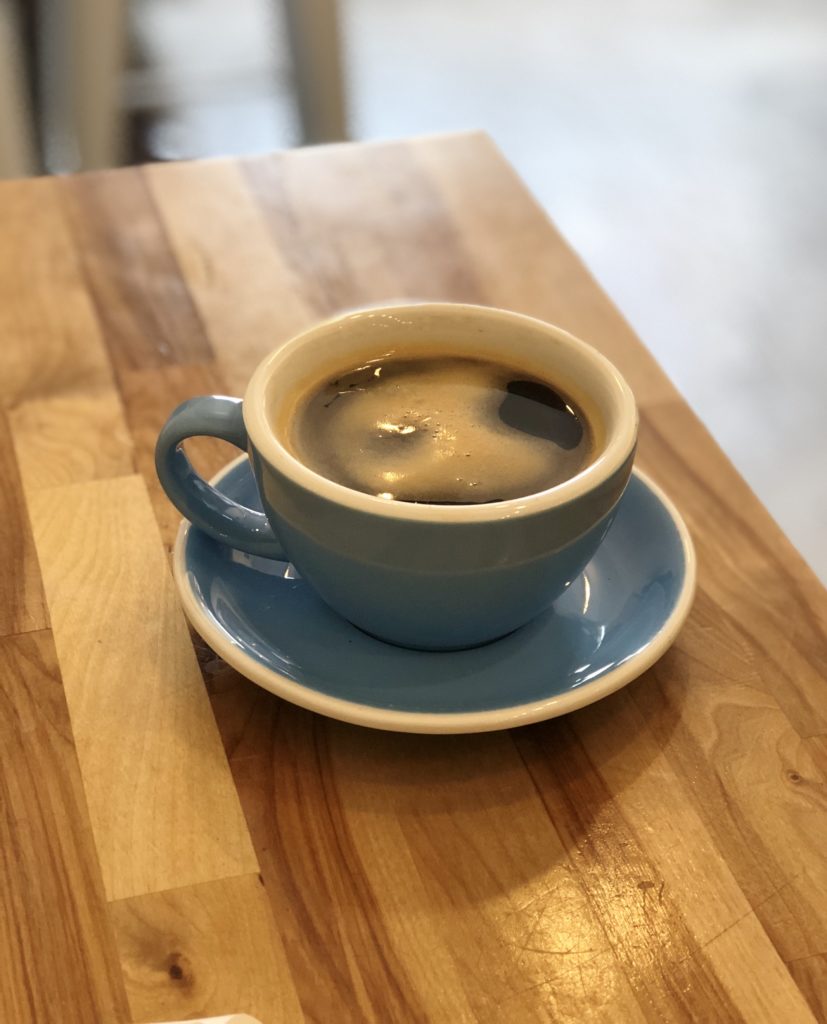 Sunday morning (hopefully) means you get to enjoy a lazy cup of coffee or three before the activities begin! If you're looking for a spot to enjoy just that, on a beautiful morning like this one on Historic Main Street in Park City, look no further than Pink Elephant Coffee Shop.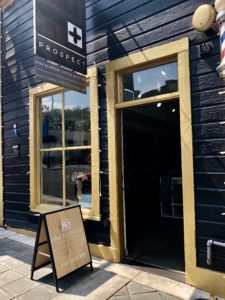 This shop, which serves small-batch artisan coffee, roasted in Utah, is located on the 2nd floor of 509 Main Street. The building is structured like a true local business collective. Walk into the Prospect store (Billy's Barbershop is in there, too!) and go directly up the stairs.
The coffee shop upstairs is cozy, clean, and bright, with a fridge full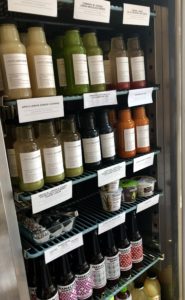 of Land Juicery juices (Pink Elephant partners with them and they share the space), items from a local bakery, Ritual Chocolate on the shelves, two high-top tables at which you can relax and sip your coffee, and a good old-fashioned coffee counter, replete with those fabulous blue mugs.
It turns out we're not the only ones who love the blue mugs. The (wonderfully friendly) barista was quite used to people snapping multiple pictures of the mugs for Instagram purposes and had his answer ready when we asked where we could get our hands on them: "Acme & Co., but the color is back ordered."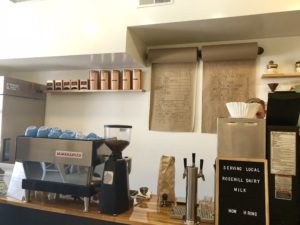 Pink Elephant serves single-origin green coffee beans, roasts them in small batches and makes them into drinks with meticulous attention to detail. This is no exaggeration – we ordered a decaf Americano and the simple drink was *perfectly* executed; the shot was weighed, and the conscientious crafting was all done with a friendly smile and engaging conversation.
So what's with that name? Here's how they explain on their website:
"The great author Jack London writes about seeing pink elephants when one has over-imbibed. Referred to as delirium tremens (Latin for the "trembling madness"), we feel this way when we've had too much coffee … or too little."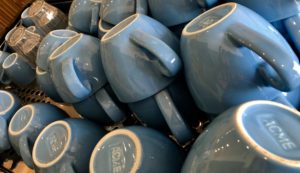 As if that's not enough to adore them, here's why we really love this local business – it sources fresh, high-quality single-origin coffee from farms in the coffee-growing world. The owners choose green coffees from estates, small farms, responsible cooperatives, micro-lots, or from growers who are certified organic or Fair Trade, and in so doing, provide a sustainable livelihood for growers and their communities. Not only that, a portion of Pink Elephant Coffee sales goes to preserving and protecting wildlife and open lands in the west. It's a pleasure to support a local business which does everything it can to support its own network.
---
The Colony at White Pine Canyon is the largest gated ski-in, ski-out community in the United States. Our land spans 4600 acres, and approximately 90% of it will always be preserved as open space.
In winter, enjoy exclusive ski and snowboard access to one of America's largest mountain resorts, Park City. In spring, the snow melts to reveal an amazing network of hiking, biking, and horseback riding trails, connecting to more than 400 miles of single-track trails throughout the surrounding area.
The Colony is just 35 minutes from Salt Lake International Airport and minutes to Park City's historic Main Street, home to the Sundance Film Festival and world-class dining and shopping.