Park City Event Guide: December 7 – 9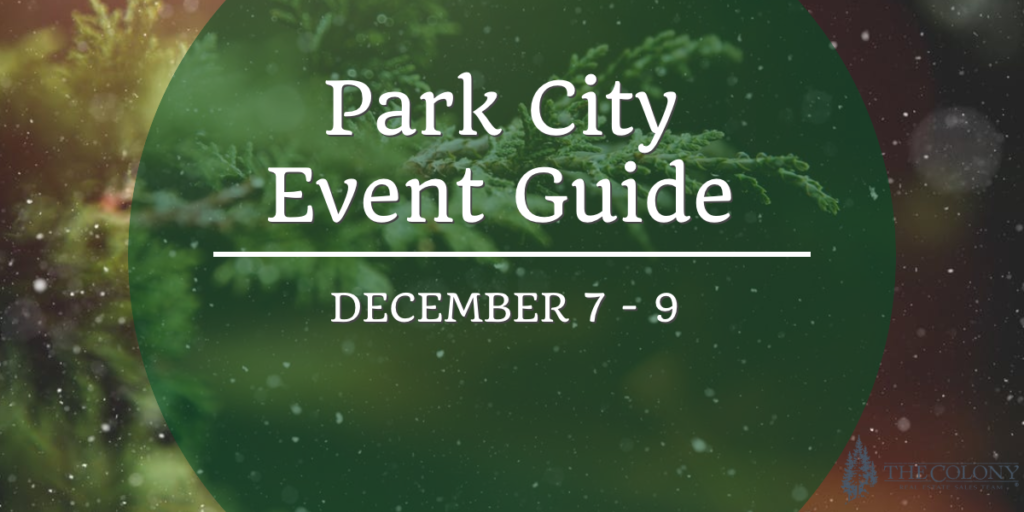 Our pick of the week is happening *tonight* – the first-ever, First Friday fireworks at Park City Resort's Canyons Village.
FRIDAY, DECEMBER 7
FIRST FRIDAY →
First Friday Fireworks 
2:30 PM – Activities Begin
5 PM – Fireworks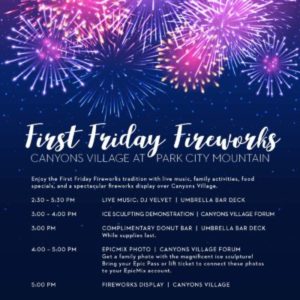 New this year – on the first Friday of each month (December – March), head over to Canyons Village for live music, family fun, food, and FIREWORKS. Maybe the best thing about this is that you only have to wait until 5 PM to enjoy the fireworks – and then you can head on home to get the little ones to bed.
Schedule of Events:
2:30 pm – 5:30 pm: Live music with DJ Velvet
3:00 pm – 4:00 pm: Ice Sculpting Demonstration
3:00 pm: Complimentary Donut Bar at Umbrella Bar. Donuts galore! Grab a donut (or three) and deck them out with your favorite toppings (while supplies last)
4:00 pm – 5:30 pm: EpicMix Photo Opportunity: pose with your family and the beautiful Park City Mountain ice sculpture while the resort's EpicMix Photographers capture the moment
5:00 pm: Fireworks Display
MEET & GREET →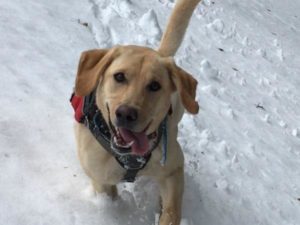 Avalanche Dogs Meet & Greet
4:30 PM @ Ski Beach (Canyons Village)

What could be better than an apés with avalanche puppies?! They are out for a meet-and-greet each and every Friday this season at the Ski Beach. Be sure to bring your Epic Pass — the resort photographers will be on-hand to take pictures.

HOLIDAY HAPPENINGS →
Park Silly Holiday Bazaar
5 – 9 PM @ Park City Marriott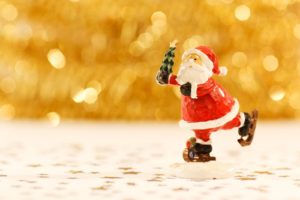 It's already Park Silly Holiday Bazaar weekend! Head over to the Park City Marriott in Prospector and enjoy Park Silly in a warm, cozy, decked-out-for-the-holiday atmosphere. Oh, and did we mention – Sanat will be there! Saturday and Sunday hours are 10 a.m. – 5 p.m. Entry is free.
~
North Pole Christmas Express Train
Heber Valley Railroad

A fun holiday tradition to enjoy – or to begin! – is a ride to the North Pole. The train ride, which is 90 minutes round-trip, includes hot cocoa and chocolate chip cookies. Families will get to sing along to Christmas songs and enjoy entertainment from the elves and the hosts.
Dates and Departure Times:
December 8th at 11:30 am, 2 pm, 5 pm & 7:30 pm

December 10th thru December 14th at 5 pm & 7:30 pm

December 15th at 11:30 am, 2 pm, 5 pm, & 7:30 pm

December 17th thru December 20th at 5 pm & 7:30 pm

December 21st and December 22nd at 11:30 am, 2 pm, 5 pm & 7:30 pm
WATCH →
James and the Giant Peach, Jr.
7 PM @ The Egyptian Theatre
This show is based on the classic, quirky Roald Dahl story "James and the Giant Peach." This version boasts a terrific score and focuses on courage and self-discovery. Even better – it's presented by Egyptian Theatre's Youtheatre, which features actors in 5th grade and up. Grab tickets HERE.  Two shows tomorrow, at 2 and 7 p.m. Sunday, you can catch it at 2 p.m.
~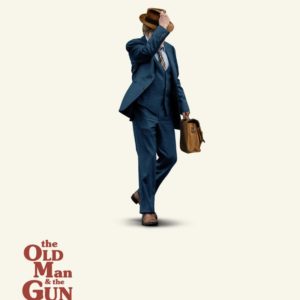 Park City Film: "The Old Man & The Gun"
8 PM @ Jim Santy Auditorium 

This film, reportedly Robert Redford's very last as an actor, is based on the true story of Forrest Tucker. From the Park City Film website:
"…from his escape from San Quentin at the age of 70 – to an unprecedented string of heists that confounded authorities and enchanted the public.
Wrapped up in the pursuit are a detective who becomes captivated with Forrest's commitment to his craft, and a woman who loves him in spite of his chosen profession. Starring Robert Redford, Sissy Spacek, and Casey Affleck." Friday and Saturday, 8 p.m.; on Sunday, the film begins at 6 p.m.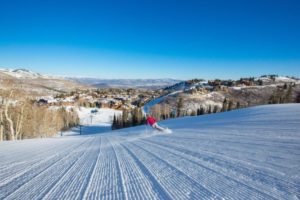 SATURDAY, DECEMBER 8
OPENING DAY →
Deer Valley Opening Day
8 AM @ Deer Valley Resort
Today is the day both of the Park City resorts and all three of our ski villages are up and running! Check out the details of Deer Valley Opening Day HERE.
You can also take a peek at what's new this season (there's a lot!) at Park City Mountain HERE.
MOVE & BE MINDFUL →

Snowshoe Tour
8:30 – 10 AM
Swaner Nature Preserve & EcoCenter

We are now officially in the Snowshoe Tour portion of our winter season!
Learn about wetland science, natural plant and animal species, and the history of the Swaner Preserve, search for and identify animal tracks and other signs of animal life. Wear sturdy, warm boots, snow pants, hats, gloves, a coat, and bring a water bottle. Snowshoes can be rented from the EcoCenter – $2.50 for members, $5 for non-members.
~
Morning of Mindfulness Retreat
9 AM – 12 PM @ Blair Education Center
Park City Hospital 
Begin your weekend with a 3-hour mindfulness retreat on Saturday morning. It's taught by Vicki Overfelt and presented by the LiVe Well Center and is perfect for both beginners and advanced students. Cost is just $35.
~
Snowshoe or Snow Hike with L.L.Bean 
4 – 7 PM @ Quinn's Junction
L.L.Bean Park City is leading a snowshoe (or snow hike) at Round Valley, at an easy to moderate activity level. Participants for this free event are encouraged to dress for the weather and to bring snowshoes if you'd like!
HOLIDAY HAPPENINGS →
The University of Utah's Lifelong Learning Program
Holiday Cookings with Alternative Flours 
9 AM @ Mindful Cuisine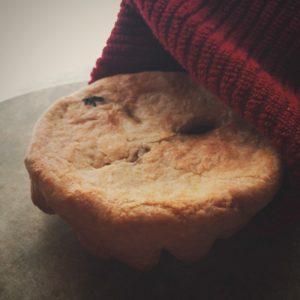 This is a class put on by the University of Utah's Lifelong Learning Program, to help you learn the flavors, techniques and proper use of a variety of alternative flours to give traditional holiday cookies a gluten-free twist.
The flours: almond, chestnut, kinako, sorghum, and oat, among others. You'll make, sample, and take home 5 varieties of cookies, including Bourbon-Chocolate Pecan Pie Bars, Fresh Ginger Cookies, Italian Quince and Orange Filled Chestnut Cookies, Almond Joy, and Pecan Biscotti with Hibiscus Pears.
Make sure you wear comfy clothes and flat shoes – and bring some food to get you through lunch!
~
Horse-Drawn Sleigh Rides with Santa
Homestead Resort & Soldier Hollow 
A unique experience in a horse-drawn sleigh ride — along with a stop at the North Pole to spend some time with Santa! There are a couple of options for a sleigh ride experience (run by Rocky Mountain Outfitters), one at the Homestead Resort and the other at Soldier Hollow. 
Homestead Resort:
Hop on this horse-drawn buggy or sleigh ride around one of Utah's oldest running resorts. Homestead is nestled in Heber Valley, just outside of Midway. From the website:
"Our beautiful teams of Clydesdales, Belgians, and spotted draft horses will pull you through a nice scenic view of Heber Valley as well as breathtaking views of the Wasatch Mountains. We have buggies, wagons, and sleighs to accommodate groups of all sizes."
Sleigh rides run from 3:15 p.m. to 8:30 p.m. Daytime sleigh rides are also available, and you're invited to call to inquire: 435-654-1655.
Soldier Hollow:
Bring your family and a bunch of friends anytime through December 22nd. This horse-drawn sleigh ride takes you right to see Santa himself! All Santa sleighs are group rides, and in the event of inclement weather or due to any lack of snow, sleighs will be swapped for horse-drawn wagons. Sleighs can seat up to 12-14 people, and run from 2:30 p.m. until 8 p.m.
~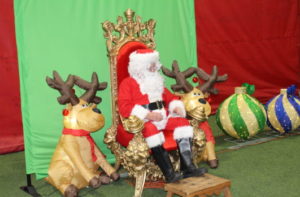 Santa at The Fieldhouse
3:3o – 6 PM @ Basin Rec 
This annual event is PACKED with plenty for the kiddoes to do. Bring a toy or some food to donate and get pictures with Santa, face painting, cookie decorating, bounce houses, games, and arts & crafts. Donated items benefit the Christian Center of Park City, entry is $5 per family for those without donations.
~
The Great Christmas Adventure
Heber City 
This is a whole new Christmas activity, put on by a local production company called Popcorn Media. It's described as a walking and riding theatrical experience. From the website: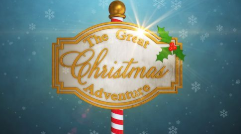 Fly on Santa's Sleigh!
Journey to the North Pole while flying on Santa's indoor sleigh ride in this immersive holiday experience designed for the whole family to enjoy together!

Experience Elf Life!
Discover the magic of Christmas through our new holiday window scavenger hunt.  Throw snowballs, build snowmen, and make it snow before entering Santa's Workshop.  
Elfer-cize, design snowflakes, and spread holiday cheer by singing loud for all to hear!  Wrap and deliver presents. Bake pretend cookies and decorate REAL cookies!
Then, eat your cookie design as Mrs. Claus and the elves share our new, favorite Christmas story with you!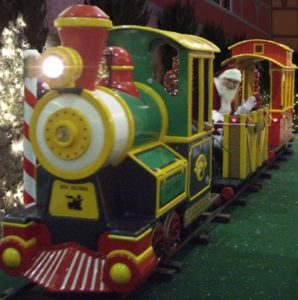 Meet Santa and Journey Home on "The Elf Express" Christmas Train
Finally, meet Santa!  Tell him what want for Christmas and take as many pictures as you'd like!  Then, climb aboard "The Elf Express," our elf-sized-indoor-train and journey back home.
The entire experience takes about an hour, and the entire experience is actually INSIDE (which means warm coats aren't necessary).
PLAY →

Trivia at Lucky Ones
3 PM @ Park City Library

Starting December 1, each and every Saturday, you can head over to Lucky Ones Coffee Shop (in the Park City Library) for trivia! The perfect aprés activity for the whole family. Be sure to have at least one smart device is needed for your team (wi-fi provided).
WATCH →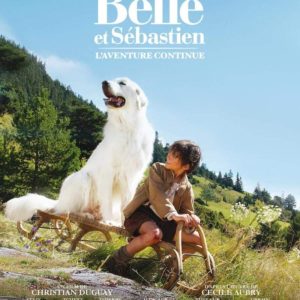 Park City Film: "Belle et Sébastien: L'aventure Continue"
4 PM @ Jim Santy Auditorium 
This screening is part of the "Foreign Cinema…For Kids!" Series. From the website:
"Sebastian and his big shaggy dog, Belle, embark on an exciting rescue mission in this beautifully photographed adventure film. World War II has ended, and Sebastian eagerly awaits the return of Angelina, who is like a mother to him. But bad news arrives—the plane Angelina was on has crashed, and there are no known survivors.
Sebastian believes she's still alive, as does his grandfather, César, who knows that to find her they will need the help of Pierre, an ill-tempered pilot who knows a secret about Sebastian's past. Although they are forbidden to do it, Sebastian and Belle stow away on Pierre's plane. After they are forced to make an emergency landing, the trio heads out on foot to search for Angelina. Joined by Sebastian's new friend, Gabriel, the group brave a forest fire, wild animals, and rugged mountain terrain, never giving up hope that they will succeed in finding the missing woman."
~
Park City Institute: "Bodytraffic"
7:30 PM @ Eccles Center (PCHS) 

From the Park City Institute website:
"Hell's Kitchen meets Los Angeles. Training from the masters—Barishynikov, Aszure Barton, Juilliard, transmitting the sheer joy of dance. The brainchild of acclaimed dancers, choreographers and directors, Lillian Barbeito and Tina Finkelman Berkett, contemporary dance company BODYTRAFFIC, was named one of "25 to Watch," by Dance Magazine, and "the Company of the future," by the Joyce Theater Foundation. They arrive on our stage with works commissioned from acclaimed choreographers Matthew Neenan, Richard Diegal and Hoffesh Schechter—for a night of kinetic storytelling." Grab tickets HERE. 
SUNDAY, DECEMBER 9
LEARN →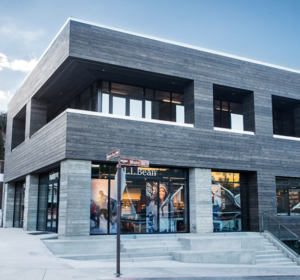 Clinic: Favorite Local Winter Sports Destinations
12 – 1 PM @ L.L.Bean
Another free community event from L.L.Bean this weekend. This one is a clinic at their Heber Avenue store and will show the best local areas to enjoy cross-country skiing, snowshoeing, sledding, and winter hiking. 
CREATE →
Swaner's Craft Sunday
11 AM @ Swaner Nature Preserve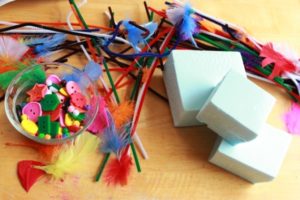 Kids of all ages are invited to enjoy the complimentary Swaner Craft Sunday! Join the fun at the Swaner Preserve and EcoCenter, and create a nature-themed craft to bring home.
~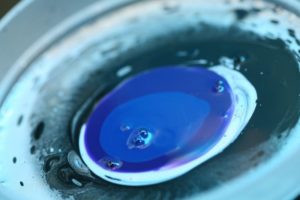 Open Studio
12 – 2 PM @ The Paint Mixer

Whether you want extra painting practice, some alone creative time – or just the chance to make a painting with no guided instruction, Open Studio is a great Sunday afternoon option. Pick any one of the paintings and follow the written instructions – or just do your own thing. Materials are provided, guidance is not. Register for the session here.
APRÉS →

S'mores at Park City Mountain
3 PM @ Fire Pits

Could there be a cozier way to aprés? Gather at the fire pits in the base village of Park City Mountain. Best of all – they're complimentary! You can also track down some free, yummy s'mores on Saturdays at the Umbrella Bar in the Canyons Village.
~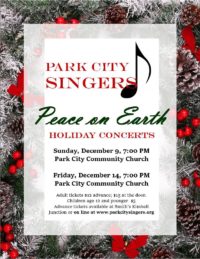 Park City Singers: Peace on Earth
7 PM @ Park City Community Church

This is a lovely way to close out the weekend! The first of two Christmas Concerts from Park City Singers happens this weekend at the Park City Community Church. Their second and final 2018 Christmas Concert Friday happens Friday, December 14th, also at the Park City Community Church. 
UPCOMING EVENTS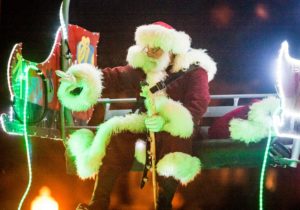 December 7 – 9 → Park Silly Holiday Bazaar @ PC Marriott
Saturday, December 8 → OPENING DAY @ Deer Valley Resort
Saturday, December 15 → Santa Comes Down Town Lift | 5:30 p.m. @ Town Lift Plaza
December 22 – January 6 → Snowfest @ Park City Mountain
Monday, December 24 → Santa visits Deer Valley
Sunday, December 30 → Deer Valley's Annual Torchlight Parade
Saturday, January 26, 2019 → Ski Utah's Learn to Ski Program @ Deer Valley
---
The Colony at White Pine Canyon is the largest gated ski-in / ski-out community in the United States. Our land spans 4600 acres, and approximately 90% of it will always be preserved as open space.
In winter, enjoy exclusive ski and snowboard access to one of North America's largest mountain resorts, Park City Mountain. In spring, the snow melts to reveal an amazing network of hiking, biking, and horseback riding trails, connecting to more than 400 miles of single-track trails throughout the surrounding area.
The Colony is just 35 minutes from Salt Lake International Airport and 5 minutes to Park City's historic Main Street, home to the Sundance Film Festival and world-class dining and shopping.