Park City Nonprofit Highlight: Christian Center of Park City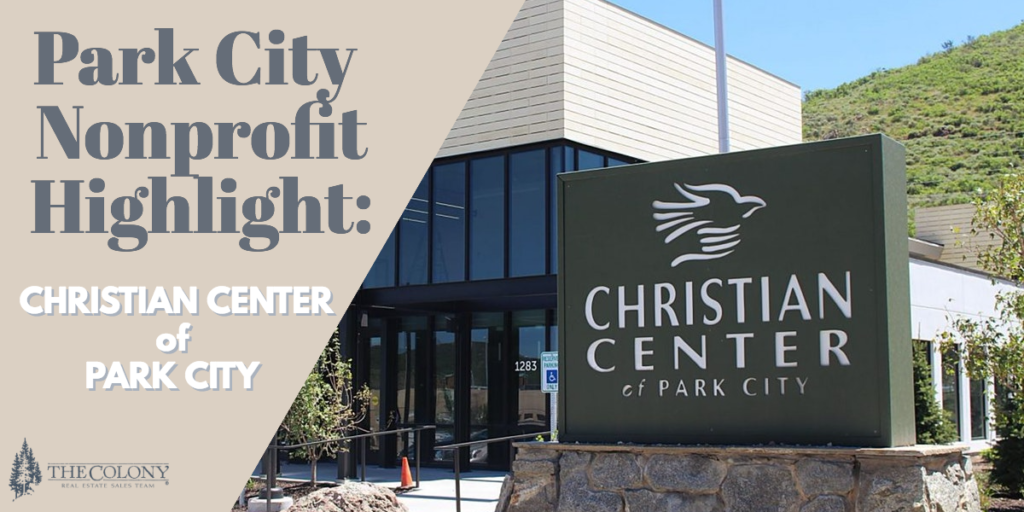 Around the holiday season, the philanthropic nerve is often struck in even the stingiest of Scrooges by an onslaught of Hallmark and Netflix Christmas movies and those fabulous Christmas songs that hit us deep in the heart. We donate to food drives, buy toys for less fortunate families and drop some change in the bell ringers red kettles. But what about the rest of the year? Working steadfastly through all of the seasons are places like the Christian Center of Park City.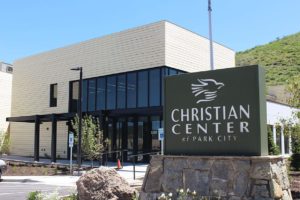 The CCPC is a humanitarian needs center aimed at meeting the physical and emotional needs of people in Summit and Wasatch counties. It runs a food pantry, offers counseling to members of the community and meets all sorts of seasonal needs, like school supplies, holiday gifts and more. A person's religion, race, gender or ethnicity does not matter. Everyone is welcome to receive –and give– help at the CCPC.
18 years ago, the center opened as a way to meet people at their point of need. It did that in one office, expanding to two – and now it operates out of a freshly built community center at the same location. After a two and a half year renovation, the new center opened just recently—doubling in size. The new space offers more office space, an expanded counseling center, and a new warehouse where donations for center's thrift shop are stored. The food pantry got an update as well.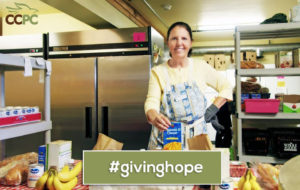 In 2014, the CCPC Food Pantry gave away more than $1.5 million in food to families throughout the county. People who need it can come get food twice a month, no strings attached. It serves the elderly, veterans, families, singles, seasonal workers and any other person trying to stay afloat. The new pantry is set up to look more like a store, empowering its patrons to make the best choices for them and their families, as opposed to just taking what is handed to them.
The pantry accepts donations of food or supplies from the community. To find out what is needed right now, you're invited to give them a call. But, because quite a bit of the food donated to food banks can go uneaten if you really want to make an impact, donate money. Your dollar goes A LOT farther with a donation directly to food organizations, because food banks are able to buy food at wholesale prices.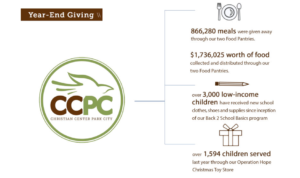 The CCPC also employs trained counselors to meet with people, regardless of ability to pay. In the new building, 20 counselors can meet with people at once, instead of the previous space, which accommodated just two.
The executive director of the center, Rob Harter, told the Park Record that expanded mental health services became even more of a priority after our community lost two 13-year-old boys to overdoses a few years ago. The counselors cover a variety of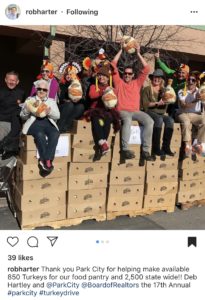 mental health needs, from marriage counseling to anxiety and depression, to eating disorders. Some of the professionals are trained in a therapy called EDMR, which is shown to have positive impacts on people with PTSD or other trauma-related stress. The center works with many insurances and also offers financial aid to people who need the service but may not be able to afford it. Some of the counselors are also bilingual.
This time of year, the center collected 850 turkeys for Thanksgiving and will continue to gather gifts for the holidays. Operation Hope allows parents to shop for holiday gifts for their children, picking out the perfect toy to open Christmas morning, as well as filling in some of those needs, like a warm winter coat. Operation Hope is in need of donations and volunteers right now.
And as the center expanded, so did the cost of the building. By the time it opened a few weeks ago, the center had gone nearly $2 million over budget. An anonymous donor has come forward, pledging $1 million if the center could also match it. So if you want to make an impact that will last throughout the year this holiday season, the Christian Center of Park City may be a good place to start.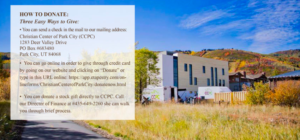 ---
The Colony at White Pine Canyon is the largest gated ski-in / ski-out community in the United States. Our land spans 4600 acres, and approximately 90% of it will always be preserved as open space.
In winter, enjoy exclusive ski and snowboard access to one of North America's largest mountain resorts, Park City Mountain. In spring, the snow melts to reveal an amazing network of hiking, biking, and horseback riding trails, connecting to more than 400 miles of single-track trails throughout the surrounding area.
The Colony is just 35 minutes from Salt Lake International Airport and 5 minutes to Park City's historic Main Street, home to the Sundance Film Festival and world-class dining and shopping.