The Colony Hosts Olympian, Billy Demong.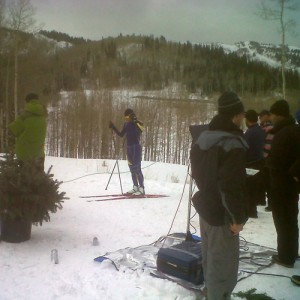 It is early winter, and Billy Demong is busy preparing for the 2014 Winter Olympics in Sochi, on this day, a television production crew is here in Park City to film a short bio that will air during the winter games featuring Billy.
Some of you may be familiar with Billy, others of you have maybe passed by him at the groocery store and not even have know he is a gold medalist.  This is, unbeknownst to most, a very common occurrence  in Park City- rubbing elbows with world class athletes that is.  Why do so many of these winter athletes call Park City Home?  For most of them, it is the same reason you do.
The most obvious…we are surrounded by mountains and open space, which make great places to get out and train in.  Then there is the close proximity to an international airport, and most importantly are the facilities they have access to, the Utah Olympic Park is the premier winter training facility in the country.  Athletes of all types can train here, Nordic ski jumpers (year around jumping), Freestyle jumping (again year around jumping, summers into the pool), luge and bobsled training, and of course there is Nordic ski training.
Billy Demong will be going after more Olympic medals this February in the sport of Nordic combined, athletes first Nordic jump and the distance of their jump determines their start position in a Nordic skate ski race.  This is an extremely fun event to watch, make sure you tune in see Billy in action.  While you are watching, you just might catch a glimpse of Billy skiing earlier this winter in the The Colony!