Deer Valley hosts a guided historical hike this weekend. (Photo courtesy: Deer Valley Resort)
~DO~
Historias de Ayer y Hoy
Community Opening @ Kimball Art Center
Friday, June 8 → 6-8PM
Historias de Ayer y Hoy (Stories of Yesterday and Today) is a free exhibition which features the work of nine Latino artists living in Utah. Painting, photography, sculpture, and installation come together to present a diverse and dynamic collection of stories about community, culture, celebration, and conversation.
The exhibit is presented in partnership with The Christian Center of Park City and accompanies the 3rd Annual Latino Arts Festival. It will be on display until July 8, 2018.
---
Plein Air "Paint-Out"
Saturday, June 9 → 3 – 6 PM
Join Gallery MAR for a Plein Air "Paint-Out" at the June Garden Stroll at Park City Nursery. Artists will set up their easels and blank canvases in the garden and begin to paint at 3 p.m. Summer refreshments from local vendors and live vocals from Nicole Paradiso will add to the ambiance as you stroll the gardens and watch the artists create their work.
---
YMCA Open House @ Camp Roger
Saturday, June 9 → 9A-2P
A free day full of family fun at Camp Roger! Enjoy horseback rides, face painting, archery, mountain biking, sports, arts & crafts, mountain biking, archery, and more. All ages are invited, and you'll have the chance to meet the 2018 summer staff. Camp Roger is a weeklong overnight summer camp which allows kids ages 6 – 17 to develop outdoor skills and to experience summer camp for the first time.  
---
~MOVE~

Park City Trail Series 5K
Saturday, June 9 → 8 AM
The Park City Trail Series is a fun (and dog-friendly!) way to be introduced to the sport of trail running. The series begins with a 5K on Saturday, with three additional (and increasing) longer races each month. All of the races are held on the Round Valley Trails, and runners are welcome to bring their pups along for the race (they begin in the final wave).
The races are scheduled as follows:
5K →  Saturday, June 9

10K →  Saturday, July 14

15K →  August 11

13.1 miles → September 15
---
Guided Historical Hike @ Deer Valley Resort
Sunday, June 10 → 8:30 AM
Enjoy the gorgeous landscape of Deer Valley Resort with a guided historical hike on Sunday morning. The three-to-four hour hike will cover about six miles of moderately strenuous terrain – all while you learn about the area's mining history. Participants should meet at the base of the Sterling Express chairlift (mid-mountain at Silver Lake Lodge). Reservations are required, along with a $10 fee. Be sure to wear sturdy shoes and proper sun protection (and bring along plenty of water and snacks!). To reserve your spot, you're asked to call 435-645-6648.
---
~SEE~
RBG @ Jim Santy Auditorium (Park City Library Building)
Friday & Saturday → 8 PM
Sunday → 6 PM (panel to follow)

At the age of 85, Ruth Bader Ginsburg has become a truly unexpected pop culture icon – all while developing a breathtaking legal legacy. RBG is a  documentary which takes you on the unique personal journey (called a "fist-bumping, crowd-pleasing doc" by Indiewire) of this quiet warrior and her rise to the nation's highest court.
On Sunday, there will be a post-film panel with Utah Supreme Court Justice Paige Peterson, University of Utah Law Professor Erika George, and ACLU of Utah Legislative and Policy Counsel Marina Lowe. KPCW News Director Leslie Thatcher will moderate.
PARK CITY FILM SERIES

The Park City Film Series is a nonprofit organization presenting the best of independent feature, documentary, world and local cinema. Our mission is to create community through film.
---
Al Jardin @ The Egyptian Theatre
Friday & Saturday → 8 PM
Sunday → 6 PM
Al Jardin's mini-tour, "From the Very First Song with a Founding Member of the Beach Boys," features songs and stories from the early days of The Beach Boys all the way through Al's most recent solo album, "A Postcard from California." He'll be joined by his son, Matt Jardine, and Jeff Alan Ross. We're told there will be lots of chances for Q & A, too!
---
Improvised Fairy Tales @ Park City Library
Saturday, June 9 → 3 – 4 PM
More family fun at Park City Library on Saturday, when Park City Improv will turn your favorite fairy tales on their head. We're excited (and a little bit nervous?) for this one.
---
~SHOP~
Native Plant Sale @ Recycle Utah
Saturday, June 9 → 9 – 11 AM 
Recycle Utah will host a native plant sale tomorrow morning, with drought-tolerant plants available for your garden. All plants are supplied by southern Utah nurseries (which specialize in xeriscaping and low-maintenance landscaping), and were brought here by Park City Nursery. Native plants conserve water with improved soil retention – and less water is required for maintenance. Learn more about all the work Recycle Utah does to improve and protect our community HERE.
---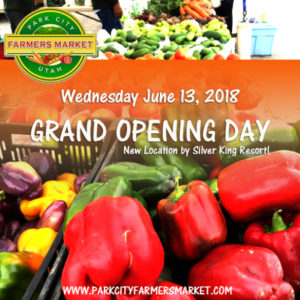 ~UPCOMING EVENTS~
Park City Mountain Farmers Market
Wednesdays → 12 – 5 PM (rain, snow, or shine)
June 13 – October 10, 2018  
The Park City Farmers Market moves to the base of Park City Mountain Resort this year! The seasonal market is open for business each Wednesday and features a large selection of fresh, local goods. Stop by and stock up on just-picked produce, freshly-baked bread, and arts & crafts from local producers and vendors.
---
If you have an event you'd like featured in our weekly roundup, please email Molly@TheColonyWPC.com.