With more than 400 miles of single-track trail in Park City, mountain biking here is among the best in the world, for any level of rider. And, if you're not a mountain biker – or are simply looking to ratchet up your rotation opportunities – you can also enjoy mile after mile of multi-use track on a road bike – or an e-bike!
And, because May is national bike month, there are a number of unique opportunities for you to pedal the Park City paths over the next few weeks. (Photo courtesy: Park City Mountain)
National Bike to Work Week is May 14 – 18
Biking gets you out into our fresh mountain air, and – bonus! – The League of American Bicyclists says commuting on your bike burns an average of 540 calories an hour. And, if you were to switch to biking to get to work on the regular, you'd save about 66 gallons of fuel per year.
Park City's Bike to School Day is May 18
On Friday, May 18, our entire community comes together for Bike to Work, School and Play Day. The main morning gathering happens at Park City High School, where there will be breakfast, a bike wash, bike safety information and even bike tune-ups.
Students riding bikes to school get police escorts, and all kids and the community are invited to enjoy activities like helmet fittings, bike safety demos, and BBQs – held throughout the day at McPolin, Parley's Park, Jeremy Ranch, and Trailside elementary schools.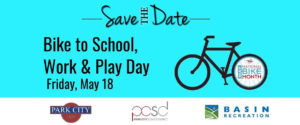 E-Biking | Summit Bike Share 
The Summit Bike Share is also inviting you to hit Park City's trails for bike month (e-bikes are permitted on all paved multi-use paths and soft-surface trails wider than 5 feet). The goal of the Bike Share, which is a joint effort between Summit County and Park City, is to offer a great 24/7 transit option for residents and visitors to explore the city. And the best news – all bikes are e-bikes. This means you still get to pedal, but electric-assist will automatically kick in on the hills. Since its inception last year, more than 35,000 miles have been biked!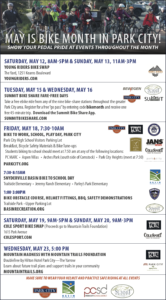 To celebrate Bike Month, you're welcome to give Bike Share a 45-minute whirl for FREE on May 15 and 16, thanks to Bewegen, Summit County, Park City, and the Park City Chamber of Commerce.
To participate, download the Summit Bike Share app.
Mountain Biking in Park City
While Park City's hundreds of miles of single-track are extremely popular, it's rare for a trail to ever be crowded (there are some exceptions, of course, but there are plenty of options for solitude). Mountain bikers of all levels can enjoy more than 20 miles of cross-country trails through Park City Mountain (including our favorite, the Mid Mountain Trail, which runs right here through The Colony at White Pine Canyon!), with some support to make logistics as easy as possible. You can buy Gondola and bike haul tickets at the Activities Center in Canyons Village, and bike rentals are available in both villages.
Park City has been named a gold-level Ride Center by the International Mountain Biking Association. According to the website, this is "IMBA's recognition of large-scale mountain bike facilities that offer something for every rider… From expert-only to family-friendly, you'll be able to ride for days and encounter the best mountain biking has to offer."
We think that description is right on the money –  and you hit one of our Park City trails, we bet you'll agree!
Road Biking in Park City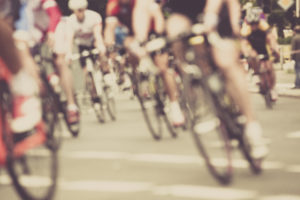 Road biking in Park City isn't limited to professional cyclists (though we can understand why it seems intimidating – the Tour of Utah does begin and end here, after all). Our town is an incredibly fun place for experts and novices alike to enjoy some road bike loops. If you need a bit of assistance getting started, White Pine Touring has you covered with rentals and guided tours.
Enjoy the Ride
Whether you prefer gliding past the white barn or white-knuckling through the Wasatch Back, there is an option that suits your needs for riding a bike in Park City. During national bike month, we sure hope you take some time to enjoy it! Be sure to share your biking pics on Instagram and Facebook using the #ParkCity and #BikeMonth hashtags.