Small Business Highlight: The Paint Mixer

We're always looking for fun things to do with friends, family or coworkers that isn't just going out to dinner; something that gets the creative juices flowing, lets you have a meaningful experience with your people… buuuut also doesn't leave your house a mess. Enter The Paint Mixer!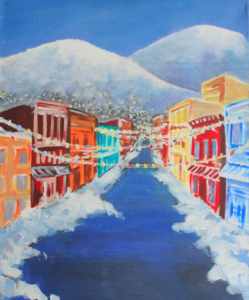 The Paint Mixer is a great way to get out of the dinner-and-a-movie rut. Here's how it works: pick a class at either the Park City or Salt Lake City location. (You can also schedule your own private class for a party or team building.) You show up and all the supplies you need to make a masterpiece are ready for you. A teacher guides you through the process, step by step, to make a piece of art you'll truly want to hang in your home! Much of the art you can choose from focuses on the beauty of Utah and the options rotate through the seasons. We love this picture of Main Street in the snow!
Before you protest that you're not an artist, owner Jill Johnson argues that no perceived talent is necessary! The goal of the studio is to help you focus on the process and when you forget about results, you'll be amazed at what you can accomplish.
In addition to owning The Paint Mixer, Jill is an art therapist. She has a private practice—Purity of Play, LLC—where she specializes in using art to help people working through trauma and PTSD.
In an interview with Verlocal about her work, Jill says, "With art, they disrupt their narratives and see alternative perspectives, ideas, and possible healing solutions."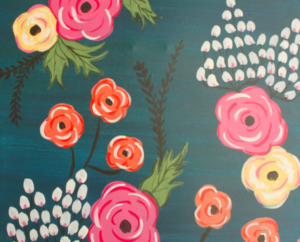 Whether you're working through trauma, trying to add a bit more meaning to your life, or looking for a way to expand your creativity – painting can provide that. In fact, The Paint Mixer breaks down the 3 reasons why everyone should paint:
First, painting has therapeutic benefits. It can help decrease stress and has a similar effect on the body as meditation (!). As you focus on just the task in front of you, you start to forget about other worries you may have, giving your mind and body time to truly relax and breathe.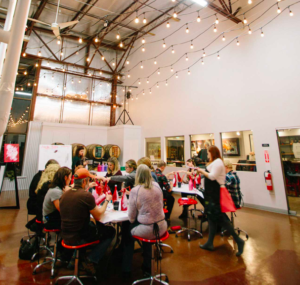 Next, it unleashes your creativity. We often don't think we are creative people or even have a need to be creative. But anyone who has arranged a carpool or set up a particularly complicated spreadsheet knows we are always looking for creative solutions to everyday problems. Painting flexes that creative muscle in a low-risk, high-reward situation. And just like a muscle, the more you use it, the stronger it gets.
And finally, painting teaches us concentration and perseverance. Painting requires you to sit down and do something, start to finish. We often are working on a million things at once. It's good to practice focusing on one task and completing it. It also teaches us to work through challenges.
Like Bob Ross always said, "There are no mistakes, just happy accidents." This mindset makes it easier to come up with creative solutions in order to see mistakes as opportunities—in painting and in life.
Here's what you need to know if you're ready to get those creative juices flowing! Each class is about 2 hours long. Some are all ages, perfect for the whole family. If you're looking for more of a night out vibe, there are also 21+ classes, where you can purchase a drink or two, sourced from local breweries and wineries.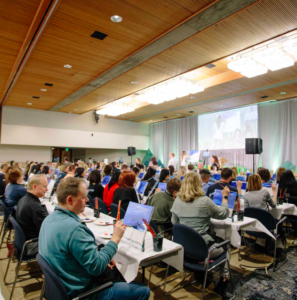 The Paint Mixer also offers private classes for a party or team building workshop. And if you can't get your whole group to one of their two locations, they'll gladly come to you in the aptly titled Van Go Mobile Studio – which can accommodate groups of up to 300 people!
If you have an idea of something you'd like to do, shoot them an email – they are extremely open to bringing your ideas to life.
We all need a way to clear our minds and channel our creative energy. What better way to do it than with some friends, a glass of wine and a beautiful painting at the end?
And – as if you need another reason to experience the fun of The Paint Mixer – the business also donates 5% of its profits to local causes. It has donated more than $10,000 – and counting! – to the community.
The Paint Mixer is located at 738 Main Street in Park City and 1327 E 2100 S in Salt Lake City. To see the schedule of classes and book your class or event, go to https://thepaintmixer.com.
---
The Colony at White Pine Canyon is the largest gated ski-in / ski-out community in the United States. Our land spans 4600 acres, and approximately 90% of it will always be preserved as open space.
In winter, enjoy exclusive ski and snowboard access to one of North America's largest mountain resorts, Park City Mountain. In spring, the snow melts to reveal an amazing network of hiking, biking, and horseback riding trails, connecting to more than 400 miles of single-track trails throughout the surrounding area.
The Colony is just 35 minutes from Salt Lake International Airport and 5 minutes to Park City's historic Main Street, home to the Sundance Film Festival and world-class dining and shopping.