Park City Event Guide: October 12 – 14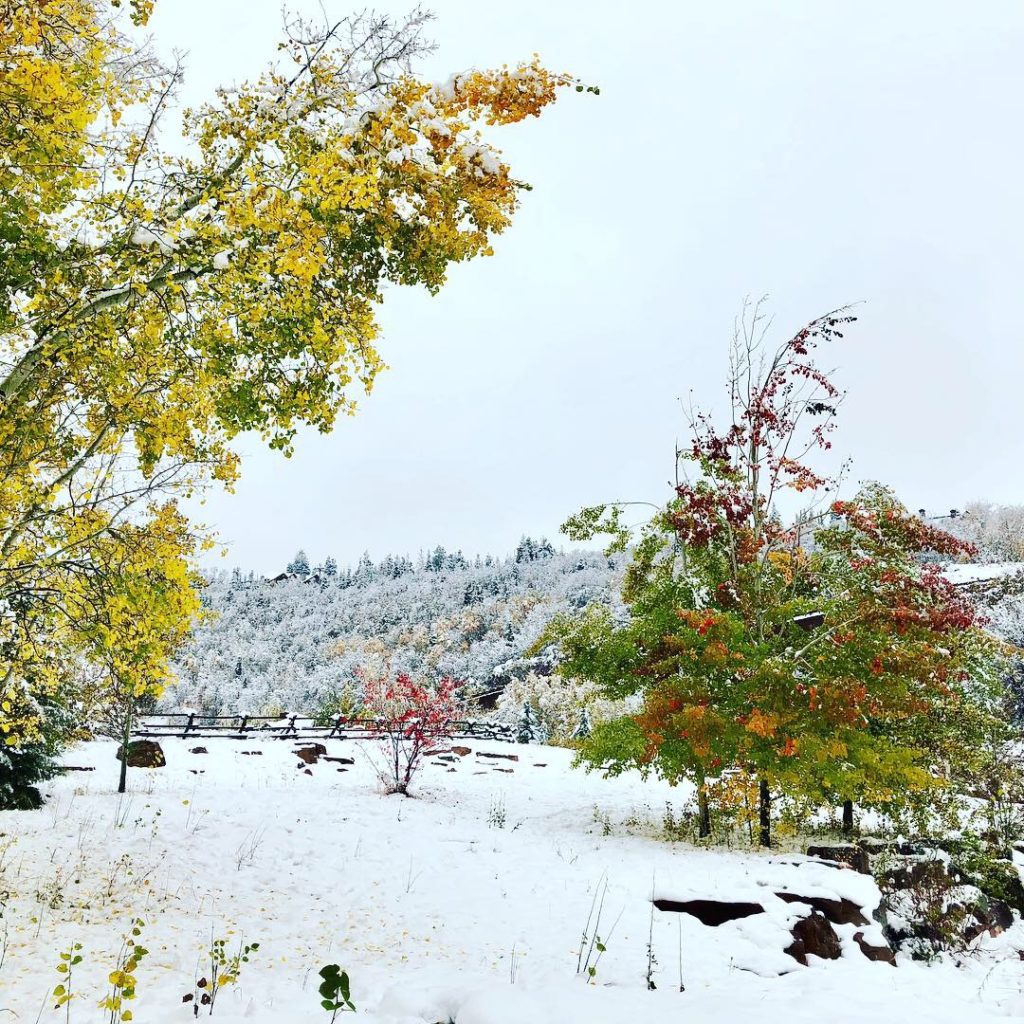 The snow paid Park City a visit this week and stayed long enough to get us all very much looking forward to ski season.
Park City Mountain → Targeted Opening Day: November 21 
Deer Valley Resort → Targeted Opening Day: December 8 
You don't need to wait a few(ish) weeks for this weekend's activities – here's a list of fun you can look forward to right this second.
Friday, October 12 

Parents' Survival Night
Fridays 6 – 9 PM
The Little Gym
The Little Gym of Park City is now open in the Iron Horse District – and hosts a Parents' Survival Night every Friday. Children ages 3 to 12-years-old get to burn energy in the gym, make crafts and eat snacks – while parents get a nice break.
SEE →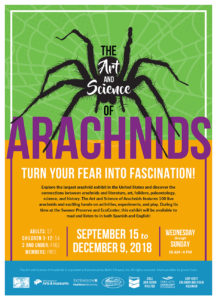 The Art and Science of Arachnids
Swaner Preserve & EcoCenter
Wednesdays – Sundays: 10 AM – 4 PM
This exhibit is seriously catching people in its net – and it just so happens to be the largest arachnid exhibit in the United States.
The exhibit guides visitors to explore connections between arachnids and literature, art, folklore, paleontology, science, and history. You'll see 100 live arachnids (!) and experience hands-on activities – hopefully, the live arachnids are not the hands-on activities, but you'll have to go see it in order to find out. INSIDER TIP: They feed the spiders on Thursdays – so that is a great time to go see some action.
This exhibit is available to read and listen to in both Spanish and English, and is free for members; for pricing and other info, click here.
~
Body and Soul
Kimball Art Center
Through November 4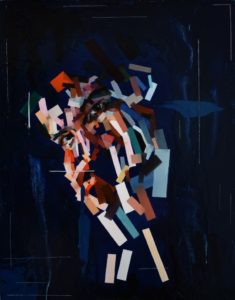 Never in history have we (ok, some of us) been more inundated with images – at least from a social media perspective. Landscapes, pictures of home design and architecture, candids (does such a thing even exist anymore?) but especially the new self-portrait – those supernumerary selfies – are shared and consumed relentlessly across social channels.
Kimball Art Center's new exhibit, Body and Soul, features 24 Utah-based artists and explores the lasting power of what you could call the "legit-art selfie" genre across contemporary painting, photography, text-based installations, and more. From the Kimball Art Center website:
"Established tropes are both embraced and reinvented, presenting diverse approaches to portraiture as a means of commemoration, reflection, and social critique. From faithful likeness to fantasy and fracture, the power of portraits is that they are about more than what we look like; they reveal who we are."
Admission is free; the exhibit will run through November 4.
~
Park City Film Series: "Puzzle"
8 PM @ Jim Santy Auditorium 
Park City Library 

From the Park City Film Series website: "Puzzle" is a portrait of a devoted wife and mother who has reached her early 40s without ever venturing far from home. She feels stuck in her mundane existence but that begins to change when she receives a jigsaw puzzle as a birthday gift. She is a puzzle wiz, which leads to a U.S. puzzle championship and an unexpected romance.

Saturday, October 13

MOVE →
Saturday Morning Guided Walk | Snowshoe Tours
8:30 – 10 AM 
Swaner Nature Preserve & EcoCenter 
Time for the winter edition of the Nature Walks – where some of the walks turn into snowshoe sessions! Learn about wetland science, natural plant and animal species, and the history of the Swaner Preserve, search for and identify animal tracks and other signs of animal life.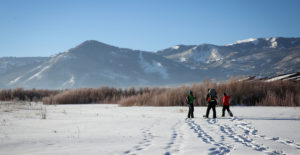 Swaner indicates that the outing is appropriate for all ages and takes place on generally flat terrain with a slight uphill grade – which could be challenging for younger children and some seniors.
Participants should wear sturdy, warm boots, snow pants, hats, gloves, a coat, and bring a water bottle. Snowshoes can be rented from the EcoCenter – $2.50 for members, $5 for non-members.
CREATE →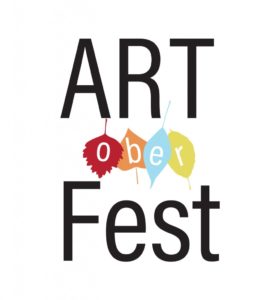 ARTober Fest
1:00pm – 5:00pm
Kimball Art Center
Head over to Kimball Art Center for an afternoon full of family-friendly, free and low-cost, fall-inspired art activities! Light refreshments and bar beverages will be available for purchase. 

Activities like paint-your-own-pumpkin-patch, leaf printmaking, trick-or-treat bag decorating, pumpkin painting, ceramics demonstrations, a beer & wine garden, live music, and more will be available.
LEARN →
The Park Record's Park City Women's Expo
9 AM – 6 PM @ The Prospector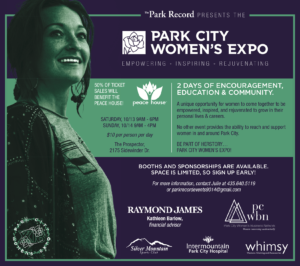 Billed as two days of education, support, and community, the Park City Women's Expo will feature booths, presentations, and "how-to" tutorials. Panel discussions; financial advice; intuitive practices for everyday life; self-defense; fitness, health, and nutrition; the importance of sleep (and how to get more!); business and career help; cooking; hair and makeup; beauty demos; fashion shows; car maintenance instruction — and more!
The expo is $10 per person each day, at The Prospector on Sidewinder Drive, with 50% of the fee going to benefit the Peace House. Sunday hours are 9 a.m. to 4 p.m.
~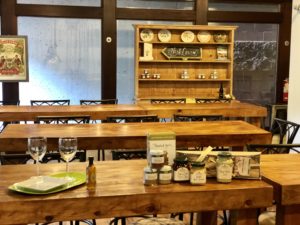 The Next Course: Game Day Munchies
11 AM – 1 PM @ Mountain Town Olive Oil
The Next Course is a weekly food and wine pairing class in the Mountain Town Olive Oil's gorgeous event space. Join in this week at the store, on Historic Main Street, for the Game Day Munchies!
Buffalo Cauliflower

Cheese Steak Flatbread

Asian Style Wings

Beef Sliders

Beer Pretzel Caramel Brownies
Class starts at 11 a.m.; to reserve your seat, call 435.649.1400. Cost is $50 per person | optional wine pairing is $15.
SET A WORLD RECORD →
3rd Annual World's Longest Shot Ski
2 PM @ Historic Main Street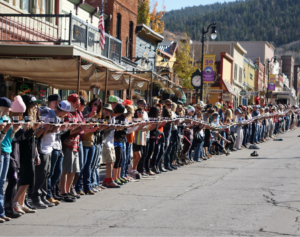 The rivalry rages on. The competition to beat Breckenridge, Colorado heats up again today — all for the glory of holding the record for the world's longest shot ski. 
All new this year, Sunrise Rotary has teamed up with High West Distillery to offer participants a shot of Rendezvous Rye whiskey (instead of the traditional shot of Wasatch beer). $25 will get you a spot on the shot ski, a souvenir glass, and a token for a High West drink at one of the afterparties. The best news – proceeds will go to the Sunrise Rotary Club's Grant Program (which benefits 20 community organizations). 
The shot ski tends to sell out, so get your tickets early  — and be a part of history.
CREATE →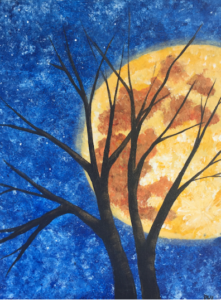 Paint & Sip
6:30 – 8:30 PM @ The Paint Mixer
The Paint Mixer, right off of Historic Main Street in Park City, makes painting accessible to literally everyone – skill & talent not required! The instructors guide participants in a step-by-step process – and the result is a beautiful painting. Tonight's picture will be "Midnight Moon" – the paintings change for each event – you can see the gallery HERE.
All materials are included – and you can purchase beverages and snacks while you enjoy the progression of your painting. (21 and over ONLY for this event.)   
SEE & HEAR →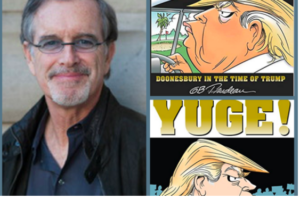 Park City Institute Presents:
Doonesbury Creator: Garry Trudeau
7:30 – 10 PM @
George S. & Dolores Dore Eccles Center Theater
Pulitzer Prize-winning "Doonesbury" creator, and social observer, Garry Trudeau, will give a talk about his view of the political landscape in his latest books," #SAD!: Doonesbury in the Time of Trump, and YUGE! 30 Years of Doonesbury on Trump" (whew!).
His insights on our current president will be accompanied by visuals from his nearly five decades of award-winning editorial cartooning. Click here to buy tickets.
~
An Evening with Judy Collins
8 PM @ Egyptian Theatre

Judy Collins has inspired audiences with her 50-album (!) body of work since the 60's, and the award-winning singer-songwriter will be on the stage at the Egyptian Theatre, performing her interpretations of traditional and contemporary folk standards, along with her own original compositions.
Sunday, October 14
MOVE →
Guided Historical Hike
8:30 AM @ Silver Lake Lodge
Deer Valley Resort
Enjoy the beauty of Deer Valley Resort with a three-to-four-hour guided hike. The hikes cover moderate terrain and are typically less than six miles long.
Participants are asked to dress for the activity and the weather – and to meet at the Sterling Express Chairlift. Hikes leave at 8:30 a.m. Reservations are required and a $10 fee applies. To make a reservation, you're asked to call 435-645-6648.
CREATE →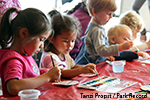 Swaner Craft Sunday 
11 AM – 1 PM 
Swaner EcoCenter

Swaner Preserve & EcoCenter offers a nature-themed craft every Sunday, from 11 a.m. to 1 p.m. All ages are welcome!
EAT →
Park City Dine About 2018
24 Park City Restaurants
Today marks your last chance to enjoy the annual Park City Dine About! 24 Park City restaurants have participated – and you have just one day left to take advantage of seasonal (hugely discounted) two-course lunches and three-course dinners at these spots. With the discount, lunches end up at about $10 or $15 per person. The three-course dinners are between $20 and $40 per person.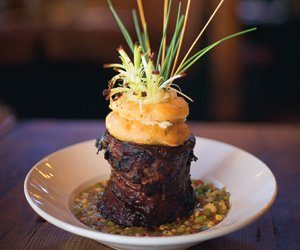 Participating restaurants: Café Terigo, Café Trio Park City, Chimayo, Deer Valley Grocery~Café, Element Kitchen & Bakery, Firewood on Main, Flanagan's on Main, Fletcher's Park City, Grappa, Handle, Purple Sage, Red Rock Junction, Red Tail Grill, Riverhorse on Main, Riverhorse Provisions, Shabu, Silver Star Café, Squatters, Sushi Blue, The Brass Tag, tupelo, Twisted Fern, Versante and Wasatch Brew Pub. The event runs through October 14.
Backroads Americana by Tom Kelly
11 AM – 6 PM @ Artique Gallery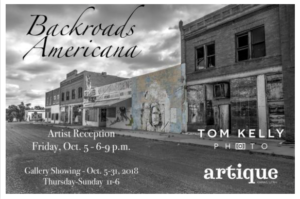 Park City's own renowned landscape photographer Tom Kelly is back with a new gallery show! This one takes a look at rural scenes discovered on back road highways. From the wide-open deserts and plains of the west to the cornfields of America's heartland, his images show the countryside we usually miss in our travels. You'll find the Artique Gallery at 283 N. Main St, Kamas. Tom's exhibit runs through October 31, 2018.
DURING THE WEEK
Utah Humanities Book Festival:
Friends of the Library Author Luncheon
Wednesday, October 17 @ 11 AM
Peter Rock, author of "My Abandonment," will discuss the book to film adaptation process. The film "Leave No Trace," was featured in last year's Sundance Festival. Lunch tickets are Tickets are $40 in advance and $50 at the door. This event is held at Silver Lake Lodge at Deer Valley.
~
Utah Humanities Book Festival:
Community Author Conversation: Camron Wright
Wednesday, October 17 @ 11 AM
As part of the Annual Utah Humanities Book Festival, you're invited to join in the free community conversation with author Camron Wright of "The Rent Collector" at the Jim Santy Auditorium. Presented by the Park City Education Foundation.
UPCOMING EVENTS 
Write these in your calendar!
Friday, October 19 

→

Stuffed Animal Sleepover @ Park City Library
Tuesday, October 30

→ last day to register to vote

online

or at your county clerk's office.

Wednesday, October 31 → Transylvania Tea Party Blood Drive | 10 a.m. – 3 p.m. @ Snow Park Lodge
Friday, November 9 → Live PC Give PC | All day long – all over Park City
Saturday, November 17  → KPCW's Main Street Music Crawl | 7:30 p.m. @ Historic Main Street
Saturday, December 15 → Santa Comes Down Town Lift | 5:30 p.m. @ Town Lift Plaza
---

This week's Park City Event Guide is sponsored by Mountain Estates Property Management. Mountain Estates is a full-service property management company which offers full-home maintenance, security checks & upgrades, snow removal, holiday light setup & takedown, ski tuning, grocery shopping, airport pickups – anything you need. The first consultation is free and the company will tailor a plan to your needs.
This year, Mountain Estates announces a brand-new offering for Colony homeowners – professional grooming of your private ski-in/ski-out. They will create a perfectly-groomed trail for you and your guests that will make starting and ending your days a breeze. They invite you to visit their Facebook page or contact the owner for details: 435-901-8170.
---
The Colony at White Pine Canyon is the largest gated ski-in / ski-out community in the United States. Our land spans 4600 acres, and approximately 90% of it will always be preserved as open space.
In winter, enjoy exclusive ski and snowboard access to one of North America's largest mountain resorts, Park City Mountain. In spring, the snow melts to reveal an amazing network of hiking, biking, and horseback riding trails, connecting to more than 400 miles of single-track trails throughout the surrounding area.
The Colony is just 35 minutes from Salt Lake International Airport and minutes to Park City's historic Main Street, home to the Sundance Film Festival and world-class dining and shopping.