Park City Event Guide: December 3 – 6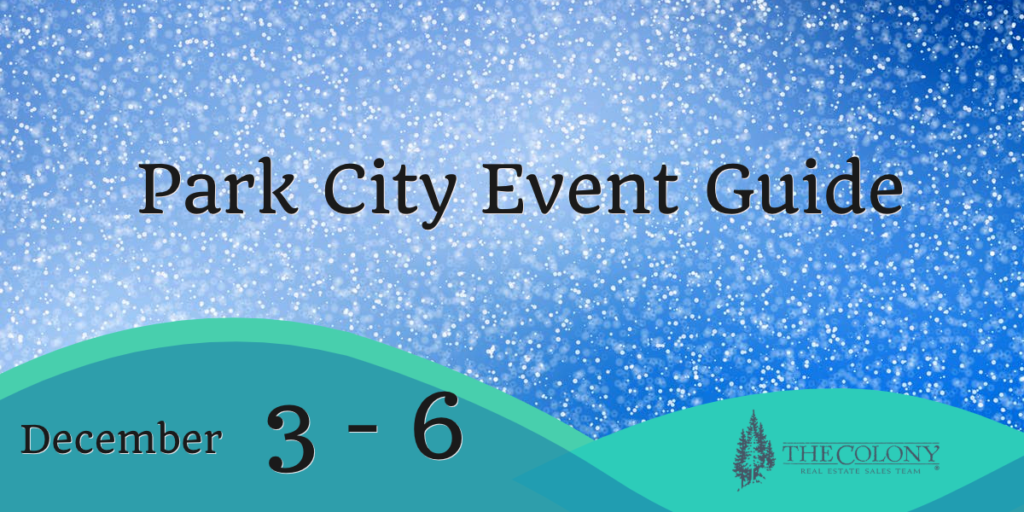 'Tis the (ski) season and visitors are starting to trickle into the lift lines – and into town. Lucky for us, along with the increase in traffic, there is an increase in fun activities! We'll be doing our best to provide an additional event guide – this one for the weekdays – through the holidays. Here's hoping for a happy holiday season – and for more SNOW!
MONDAY, DECEMBER 3
The Art of Movement
6 AM, 7:30 AM, 9 AM
@ The Paint Mixer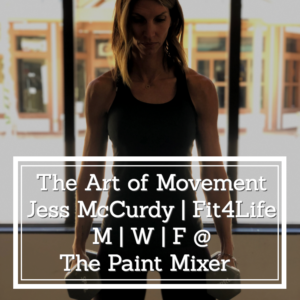 ~Sunrise GRIT45: 6 – 6:45 AM
Start the day with a 45-minute strength and conditioning class at The Paint Mixer!
~ Sweat and Flow: 7:30 – 8:30 AM
A one hour class with 30 minutes of HIIT and 30 minutes of yoga at The Paint Mixer.
~ GRIT60: 9 – 10 AM
A 60-minute strength and conditioning class at The Paint Mixer.
All classes are taught by Jess McCurdy, founder of Fit 4 Life, whom we have profiled here. Jess' mission is to empower people by providing a program to become stronger, healthier and develop a love for exercise as part of the Fit 4 Life community.
~
Little Naturalist
10 – 11 AM @ Swaner EcoCenter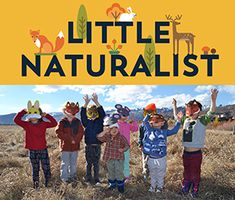 Twice a month, on Mondays from 10 to 11, Swaner Preserve and EcoCenter hosts Little Naturalist. Little Naturalist is a program for 3 to 5-year-olds who are curious about animals, their habitats, the environment, and exploring nature. The group reads a nature-themed book, does some exploring, and finishes a craft! (Be prepared to adventure outside!)
~
Bingo 
1 – 2 PM @ Lucky Ones Coffee
(Park City Library) 
Another fun game to play at Lucky Ones – BINGO! All joiners are welcome each week, and there are even small prizes for winners.
~
The Nutcracker 
6:30 PM @ DeJoria Center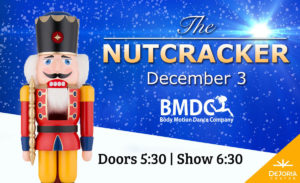 You know this one – it's the story of Clara and the present her odd uncle brings to the family's Christmas party, which becomes the story of the Nutcracker Prince and his fierce battle against the Mouse King. Performances at 6:30 PM on Monday and Tuesday nights by Body Motion Dance Company.
TUESDAY, DECEMBER 4
Park City Toastmasters
7 – 8 AM @ Keller Williams Building 
Each Tuesday morning, bright and early, the Park City Toastmasters Club gathers to improve speaking, leadership, and communication skills. Membership is open to anyone who wants to achieve those ends; interested parties are invited to attend the first visit as a guest, where you will have the opportunity to see how the meetings are run and learn the benefits of being a member.
~
The Idealist Collective 
7 – 9 AM @ HeartSpace 
Plenty and a group of Park City idealists will gather for a "morning of meaning." The group will share a healthy breakfast and explore what everyone is hopeful for. Plenty's co-leaders invite you to connect, awaken, inspire and be inspired. The event is complimentary, but registration is required – visit the website for more information.
~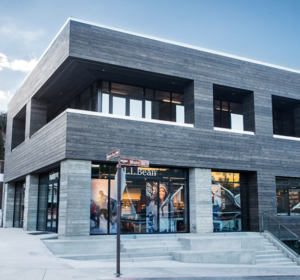 Tent Tales for Tykes
11 AM – 12 PM
Storytime @ L.L.Bean
Join in at the L.L.Bean tent, in the new L.L. Bean store on off Main Street, for storytime! Each story session follows a different nature or outdoor theme, with related activities, games or crafts to follow. Appropriate for kiddos from 3 to 6; caretakers need to stay with them – and are welcome to join the fun or spend the time shopping. Registration is required – head to the website to do so.
WEDNESDAY DECEMBER 5
FIL Junior League World Cup 
December 5 – 8 @ Utah Olympic Park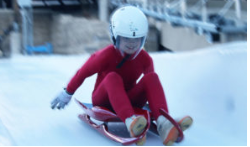 Did you know – sliding events at our own Utah Olympic Park here in Park City are free and open to the public? And one is coming us this week! The FIL Junior League World Cup is an international luge event in which the best up and coming young luge athletes compete! Check the website for the full schedule. 
Tech Tutoring 
1 – 2 PM @ Park City Library 
A lovely service provided by our fabulous Park City Library: you are free to schedule an appointment with a librarian for help with your personal device. Bring in your laptop, tablet, or phone and they will help you navigate tech frustrations during a thirty-minute (!) session. Call the library at 435-615-5600 to schedule.
~
Crafternoons
4 PM @ Park City Library
Each Wednesday, from 4-5 p.m., Park City Library hosts an afternoon of crafting! Attend this free event, make, and then take, your artsy and fun project every week.
~
Santa Skate
5 – 7 PM @ Park City Ice Arena 
Ok – SIGN US UP for this one. Park City Ice Arena is a hidden gem in our community, and they frequently hold free skating events – like this one, with the BIG GUY. Come on Wednesday evening to enjoy complimentary skating –and rentals– during this fun-filled holiday event! Not only do you get free skates and ice time; you also get to enjoy cookies, hot chocolate, and face painting – all of it complimentary.
Be sure to be there by 5 – Santa and his elf have a surprise guest for a special ice performance! Open skate + goodies get going at 5:15, and last 'til 7 p.m.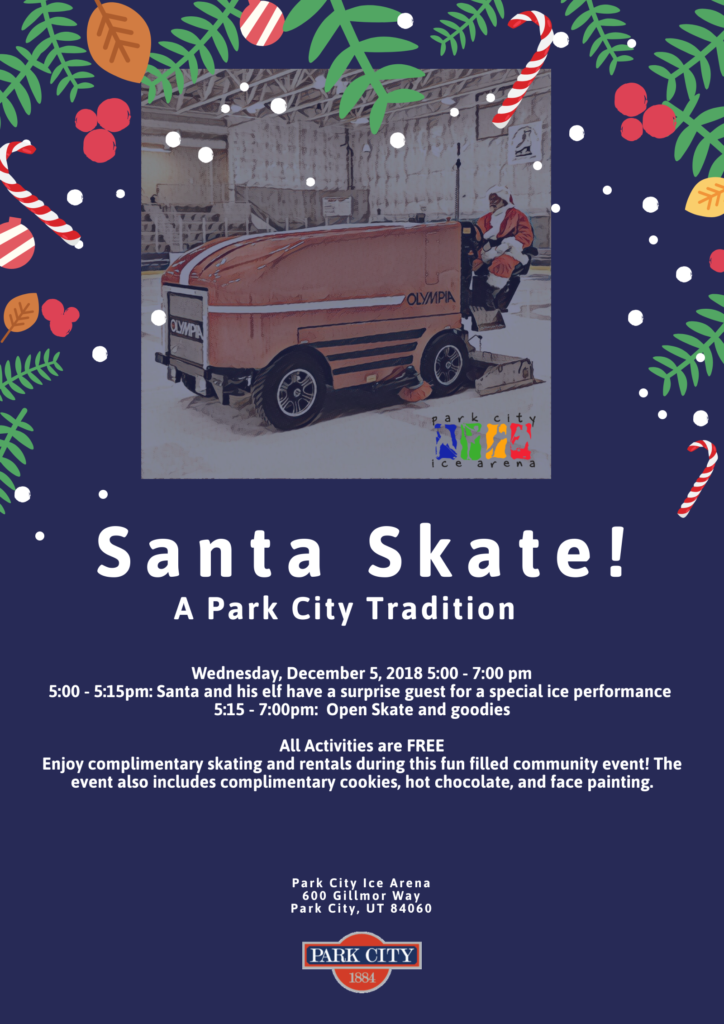 ~
Author Event: Shannon Bahrke Happe
6:30 – 7:30 PM @ Park City Library
Come meet local treasure and Olympian Shannon Bahrke Happe at the Park City Library, as she reads her children's book, "Mommy, Why is Your Hair Pink?" She will also bring her Olympic medals –  Silver and Bronze! – for attendees to get a close-up look.  Books will be available for purchase and signing.
~
Open Studio
6:30 PM @ KIMBALL ART CENTER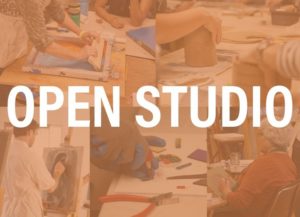 More creation fun at the Kimball Art Center with Open Studio. You have your choice of two out of the five condensed art classes in ceramics, warm glass fusion, screen printing, painting, and drawing. Demos from teachers, all art materials, hors-d'oeuvres, and personalized instruction are all included; a cash bar is also available.
Schedule:
6:30 PM — Doors open
6:30-7 PM Enjoy refreshments, mingle and sign up for the first class (space available on a first come/first served basis)
7-7:45 PM Creation session
7:45-8 PM Refreshment break and registration for second class (space available on a first come/first served basis)
8-8:45 PM Creation session
For more information click here.
~
The Park City Institute Presents: Jaron Lanier 
7:30 PM @ Eccles Center (PCHS) 
One of the pioneers who helped create the world wide web is asking you to delete your social media accounts. 
From the Park City Institute website:
"[Jaron] Lanier is equal parts scientist, musician, writer, and virtual reality entrepreneur, who now devotes his life to finding a better way through the digital culture. He has shared his ideas about where the internet has taken wrong turns, and how to right them—at every TED conference since its inception. You'll want to hear what the author of books including Ten Arguments for Deleting Your Social Media Accounts Right Now, Who Owns the Future?, You Are Not A Gadget, and Dawn of the New Everything: Encounters with Reality and Virtual Reality, has to say about the ways digital life can help—and hurt—society."
THURSDAY, DECEMBER 6
The Next Course: Italian Christmas Feast
1 – 3 PM @ Mountain Town Olive Oil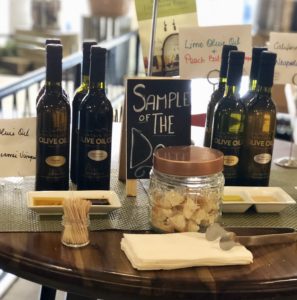 Join The Next Course at Mountain Town Olive Oil, for Park City's best new food and wine pairing class! This week, Italian Christmas Feast with Chef Deanna Fitchat, owner of Deelicious Park City. Thursday's menu:

* Cioppino
* Create an Antipasto Platter
* Stuffed Turkey Breast Roulade
* Spinach & Ricotta Cannelloni

Reservations are required 48 hours in advance; call 435.649.1400 (21 and over).
~
Book Club: Barbara Kingsolver's "Unsheltered"
5 – 6 PM @ Dolly's Bookstore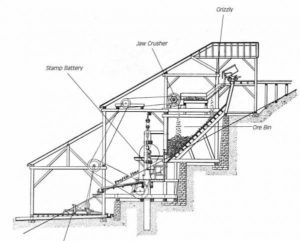 A Brief History & Explanation of Milling and Refining in Park City 
5 PM @ Park City Museum Education & Collections Center 
The public is invited to attend "Shiny Rock to Silver Bars: A Brief History and Explanation of Milling and Refining in Park City" lecture by mining engineer Donovan Symonds. How were the ores mined in Park City turned into silver, lead or gold bars? Why were they crushed and concentrated?
Practical demonstrations and videos will explain the processes involved in sorting the ores into concentrates and tailings. Donovan, a long-time resident of Park City, is a retired consulting mining engineer. He has enjoyed being a museum docent for about 8 years.
Park City Film Presents: "bias"
7 PM @ Jim Santy Auditorium
"If you're human – you're biased. Now what?"
From the Park City Film website:
"bias" challenges us to confront our hidden biases and understand what we risk when we follow our gut. Through exposing her own biases, award-winning documentary filmmaker Robin Hauser (CODE: Debugging the Gender Gap, Running for Jim) highlights the nature of implicit bias, the grip it holds on our social and professional lives, and what it will take to induce change."
This free screening also has a post-film panel with:
– Director Robin Hauser
– Dr. Marco Barker, Associate Vice President for Diversity, Equity and Inclusion and Chief Diversity Officer at Westminster College
– Sadie Ortiz, PCHS Senior and member of Teen Council, Latinos in Action and Bright Futures
– Meghan Zarnetske, instructional coach and social justice teacher at Treasure Mountain Junior High, will moderate.
This screening is part Park City Film's Reel Community Series, the nonprofit's longest-running community program, which introduces films to expand viewers' views of the world – and connects them to other members of the Park City community. "bias" is underwritten by the Women's Giving Fund (a project of the Park City Community Foundation). 
---
UPCOMING EVENTS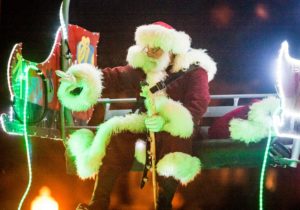 December 7 – 9 → Park Silly Holiday Bazaar @ PC Marriott
Saturday, December 8 → OPENING DAY @ Deer Valley Resort
Saturday, December 15 → Santa Comes Down Town Lift | 5:30 p.m. @ Town Lift Plaza
December 22 – January 6 → Snowfest @ Park City Mountain
Monday, December 24 → Santa visits Deer Valley
Sunday, December 30 → Deer Valley's Annual Torchlight Parade
Saturday, January 26, 2019 → Ski Utah's Learn to Ski Program @ Deer Valley
---
The Colony at White Pine Canyon is the largest gated ski-in / ski-out community in the United States. Our land spans 4600 acres, and approximately 90% of it will always be preserved as open space.
In winter, enjoy exclusive ski and snowboard access to one of North America's largest mountain resorts, Park City Mountain. In spring, the snow melts to reveal an amazing network of hiking, biking, and horseback riding trails, connecting to more than 400 miles of single-track trails throughout the surrounding area.
The Colony is just 35 minutes from Salt Lake International Airport and 5 minutes to Park City's historic Main Street, home to the Sundance Film Festival and world-class dining and shopping.