Park City Nonprofit Event Highlight: Live PC Give PC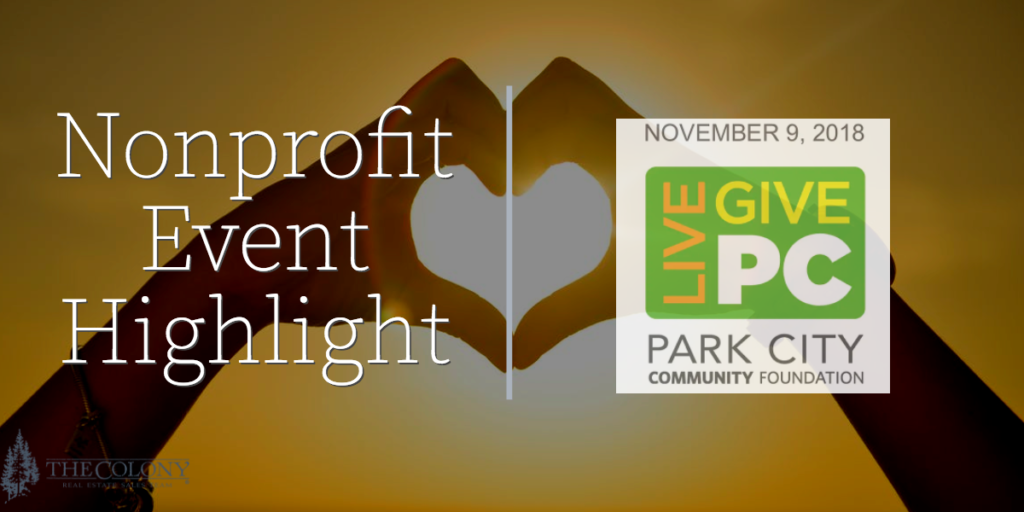 $2,026,917. That's how much money the community of Park City raised last year –in 24 hours!– to benefit more than 100 local charities. That's a lot of money! And the Park City Community Foundation is hoping to top that this year with its annual online giving event, Live PC Give PC, coming up Friday, November 9th.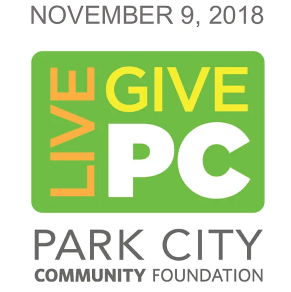 This year, the Park City Community Foundation has a special charge from the city, as it was just named Social Equity Community Convener for Park City. This means – the organization will facilitate between local nonprofits, advocates, and partner organizations, while it seeks out needs within the community, and figures out the most strategic way to meet those needs.
"The goal of this work is to make Park City a community where opportunity is accessible to all. We plan to connect people to this effort in a meaningful way so that we can make real and systemic change. We look forward to uniting Parkites with diverse social, economic and cultural backgrounds in the efforts to create a complete community," says Katie Wright, Executive Director of Park City Community Foundation.
The Foundation began in 2007, and this year marks the 8th annual Live PC Give PC event. In the first year, the 24-hour long event raised more than $300,000 from 1500 donors. Fast forward to last year–$2,026,917 from 4,123 donors. This year, more than 160 organizations are signed up to participate, and the Community Foundation set a goal of 4,500 unique donors.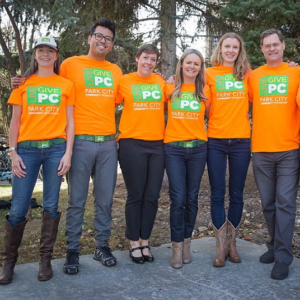 From children's art organizations to sports teams to environmental organizations to animal rescues—there is an organization working towards something you're passionate about. The sheer breadth of organizations is incredible!
Can't decide on *just one* organization? No worries – the Park City Community Foundation this year wants you to spread the love! In the past, the organization had monetary goals for the Live PC Give PC event. This year, it will measure success by how many individual donors participate. AND – the organizations with the most donors will receive grants from local companies. Vail Resorts | EpicPromise |Park City Mountain is offering $2500 to the nonprofit with the most individual donors. 2nd prize–$1500, and 3rd prize–$1250. There are several other organizations that will make your donation go further; you can see those here. 
The Park City Community Foundation works year-round to maximize the impact of Park City's annual day of giving. To ensure participating nonprofits are equipped to participate across all mediums, it offered training on how to secure matching donors, how to best utilize social media, and more. This is information those organizations can use well beyond this Friday to continue to do as much good for their beneficiaries as possible.
And make sure you post to social media to encourage your friends to donate to the groups you connect with most by using the hashtag #LivePCGivePC. Click on that hashtag too, to see which organizations are matching when, and for the notifications for the three "power hours." That means at the announced hour, a Power Hour Booster Challenge will begin, and Vail Resorts EpicPromise and Park City Mountain will add $20 to the next 200 unique donors' online donations – each and every one! Donors who have given earlier but give again during those challenges can still be counted as unique donors. 
Be part of the 4,500 individual donors the Park City Community Foundation is hoping to bring in this year. Go here to see all the participating organizations, and, most important, donate!
---
The Colony at White Pine Canyon is the largest gated ski-in / ski-out community in the United States. Our land spans 4600 acres, and approximately 90% of it will always be preserved as open space.
In winter, enjoy exclusive ski and snowboard access to one of North America's largest mountain resorts, Park City Mountain. In spring, the snow melts to reveal an amazing network of hiking, biking, and horseback riding trails, connecting to more than 400 miles of single-track trails throughout the surrounding area.
The Colony is just 35 minutes from Salt Lake International Airport and minutes to Park City's historic Main Street, home to the Sundance Film Festival and world-class dining and shopping.