Sixteen Years Later the 2002 Olympic Traditions and Cultures Live On!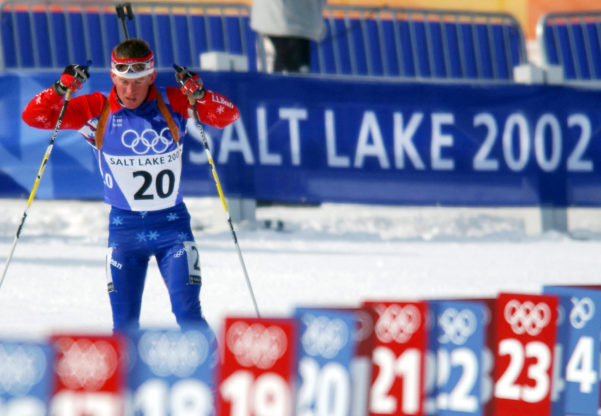 The Park City area played host to most of the alpine and freestyle ski events during the 2002 Salt Lake City Winter Olympic Games. It's hard to believe the Games were held sixteen years ago, as the Olympic tradition lives strong each day in Park City. In fact, you can easily experience many of the venues today to walk, ski and sled in the footsteps of past competitors.
Deer Valley
Deer Valley Resort hosted the freestyle moguls and aerials, as well as slalom, in 2002. Take Carpenter lift from the Snow Park base area and look left: that is Champion, the site of freestyle moguls, and its neighbor Know You Don't, site of alpine slalom. You'll also pass over White Owl, where the freestyle aerials were held (it's the run with the small rope tow/Poma lift). All three of these runs can be skied in their non-competitive form.
Park City Resort
During the 2002 games PCMR hosted both men's and women's GS (giant slalom), as well as the men's and women's snowboarding GS and halfpipe events. The Eagle Race Arena and Eagle Superpipe were used as Olympics venues. Ironically the 22-foot high Eagle Superpipe looms above the First Time (bunny) slope area and is still kept in competition specifications at over 500 feet. The Superpipe annually hosts Grand Prix, World Cup, and other qualifying events.
Utah Olympic Park
The Olympic Park, located in Kimball Junction, was the venue for bobsled, luge, and skeleton, as well as ski jumping. Today, the venue is used year-round as a world-class training ground for Olympic hopefuls, even providing rides with a professional on the bobsled track in both summer and winter if you are up for an adrenaline-inducing adventure!
The Park also houses two museums, the Alf Engen Ski Museum and the George Eccles Salt Lake 2002 Olympic Winter Games Museum. Visitors can see everything from medals to uniforms, as well as an Olympic torch in front of the cauldron.
Soldier Hollow
About 30 minutes away lies Soldier Hollow, host to the all the cross-country events: biathlon and Nordic combined. Due to its hour-plus distance from Salt Lake City, spectators during the Games had the option to arrive via railroad and sleigh ride and were treated to western-themed activities and shows between events. Today, cross-country skiing is available in winter and golfing on 36 holes in summer.
Aiming for something more? Register for the Biathlon Experience, where you'll be coached to shoot a rifle similar to equipment Olympic athlete Sgt. Lawton Redman (featured image above) used the men's 10km sprint biathlon race during the 2002 Winter Olympic Games on Feb. 13, 2002. (U.S. Navy photo by Journalist 1st Class Preston Keres).
Check back this Friday, as we round up our favorite places to cheer on other Park City locals during the Pyeongchang Olympic Games.