Park City Event Guide: November 3 & 4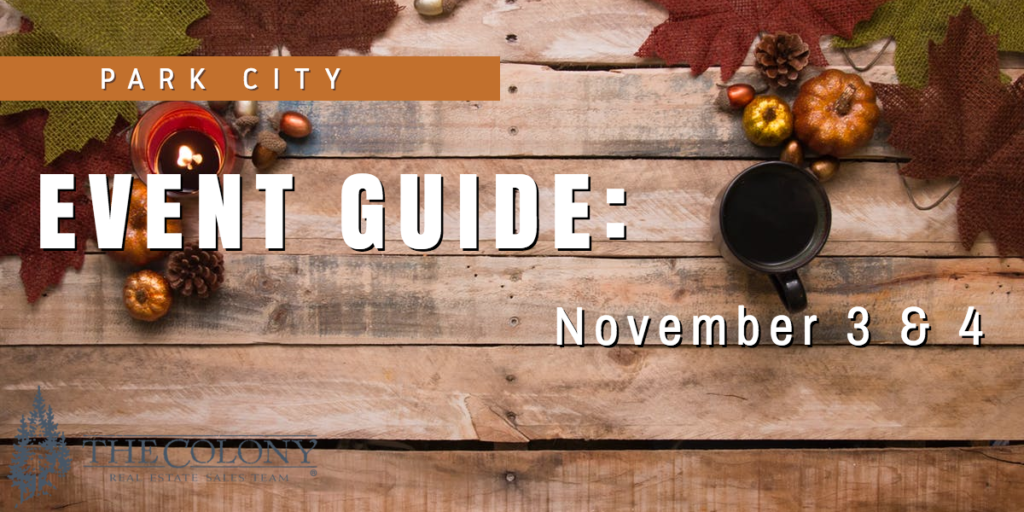 It's official: Chart Data reports that Mariah Carey's "All I Want for Christmas is You" has re-entered the Top 100 on US iTunes, which means – Halloween is OVER and the holidays are coming! With that – there are a few options for gift shopping (whether it's for yourself or for your loved ones – we don't judge) on the activities list this weekend. So get dressed, go grab yourself an eggnog latte, and enjoy the next couple of days in Park City!
SATURDAY, November 3 
MOVE →
Saturday Morning Guided Walk | Snowshoe Tours
8:30 – 10 AM 
Swaner Nature Preserve & EcoCenter 
Time for winter Nature Walks, where you can learn about wetland science, natural plant and animal species, and the history of the Swaner Preserve, search for and identify animal tracks and other signs of animal life.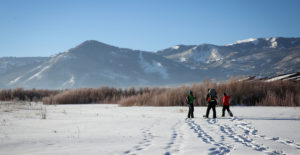 Swaner indicates that the outing is appropriate for all ages and takes place on generally flat terrain with a slight uphill grade – which could be challenging for younger children and some seniors.
Participants should wear sturdy, warm boots, snow pants, hats, gloves, a coat, and bring a water bottle. Snowshoes can be rented from the EcoCenter – $2.50 for members, $5 for non-members.
SWAP →
Park City Ski & Snowboard Swap
Basin Recreation Fieldhouse
10 AM – 6 PM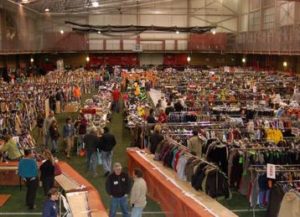 The 46th Annual Ski and Snowboard Swap, held at Basin Recreation, is one of the oldest, largest ski swaps in the United States. Skis, snowboards, boots, poles, clothing, and accessories will be available, and there are some incredible deals to be found! Sunday hours: 10 a.m. – 2 p.m.
To make your experience as successful as possible, here are some swap shopping tips, courtesy of the organizers:
Leave your coat in the car! For security reasons, we must check your coat upon entry into the swap. For a faster entrance and exit, leave your coat in the car.
If you are going to try on some boots, bring the socks you plan to wear with them with you to the swap.
Do your research online for the types of products you are looking to buy.
We have roving assistants who can help you with product information, seek them out if you have a question about bindings, types of ski, snowboards, etc.
SHOP →
Used Book Sale
10 AM – 6 PM 
Summit County Library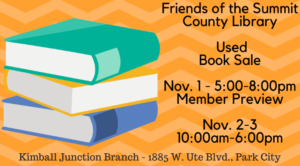 Join the Friends of the Summit County Library at the Sheldon Richins Building for the used book sale. A huge selection of books for kids and adults are priced at $1 – or less! Movies and audiobooks are also for sale. Bring a "friends" tote and fill it up for $15, or buy a new one and fill it for $18.
~
Peace House: Bling Fling Boutique
10 AM – 2 PM
It's that time again – the annual Bling Fling Boutique to benefit incredible community nonprofit Peace House!  Perfect for early Christmas shopping – avoid the panic and the rush, get your list checked off – and all while shopping for a great cause. Your purchase will go to work to help end the cycle of family abuse. You'll find jewelry, designer purses, scarves, unique Park City products, and more – at unmatched prices.
~
WATCH →
Paddington 2
4 PM @ Jim Santy Auditorium 

Part of the Books 2 Movies series in partnership with Park City Library, Paddington 2 will be shown for free in the Park City Library's Jim Santy Auditorium.
While searching for the perfect present for his beloved Aunt Lucy's hundredth birthday, Paddington sees a unique pop-up book in Mr. Gruber's antique shop and embarks upon a series of odd jobs to buy it. But – when the book is stolen, it's up to Paddington and the Bros to unmask the thief.
~
WATCH →
Park City Film Series: "Fahrenheit 11/9″
8 PM @ Jim Santy Auditorium



The film examines the current state of American politics, particularly the presidency and gun violence while highlighting the power of grassroots democratic movements. 
"What gives it its sear is its message of a ruptured country as eminently fixable, as long as wishing and hoping is replaced by organizing and doing." -Los Angeles Times
Show times are 8 p.m. on Saturday and 6 p.m. on Sunday.
~
Foghat
8 PM @ The Egyptian Theatre 
Called a "truly timeless" band, Foghat's "thunderous blend of blues, boogie, and butt-kickin' rock 'n' roll are shaking walls and fans everywhere with a live show as intense as ever." You can catch the shows at The Egyptian Theatre at 8 p.m. Friday and Saturday and at 6 on Sunday. Grab tickets HERE.
~
Giving a Bleep 
8 PM @ The Prospector Theater

Park City is all about nonprofits. So much so – that we have non-profits dedicated to raising money to give to *other* non-profits. One such group is "Giving a Bleep." The organization puts on plays, event, and seminars – and its signature event is a full-length musical comedy written by, for and starring all-volunteer Park City locals. The show plays at 8 p.m. Friday and 10 p.m. Saturday. You can buy tickets for shows HERE.
~
Boo Ball
7 PM – 11 PM @ St. Regis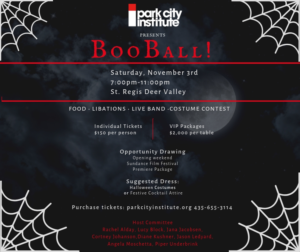 The dogs have been paraded and young ones have trick-or-treated – so it's time for the adults to get into costume and have some fun at the Boo Ball! Admission includes dinner, drinks, and live music; costumes are strongly encouraged – with prizes awarded to the best. AND – there is also an opportunity drawing for a Sundance 2019 Opening Weekend Film Premiere Package. 100% of proceeds from ticket sales and the opportunity drawing go to benefit the community nonprofit Park City Institute.
~
James Beard Celebrity Chef Tour
6:30 – 9 PM @ Riverhorse on Main
Riverhorse on Main hosts the return of the James Beard Foundation's "Celebrity Chef Tour" – when Riverhorse on Main Executive Chef Seth Adams partners with other accomplished chefs to create original recipes for a world-class dining experience.
The Celebrity Chef Tour visits more than 20 cities all over the country to give guests the opportunity to experience what it's like to dine at New York City's historic James Beard House. Each dinner begins with a cocktail reception followed by a one-night-only, multi-course dinner with wine pairings featuring a diverse group of JBF Award winners and local chefs, and ending with a decadent dessert course and a Q&A session with the evening's chefs.
SUNDAY, November 4

SEE →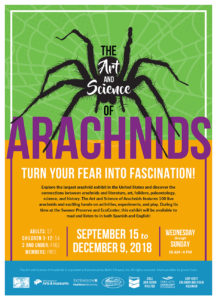 The Art and Science of Arachnids
Swaner Preserve & EcoCenter
Wednesdays – Sundays: 10 AM – 4 PM
This exhibit is seriously catching people in its net – and it just so happens to be the largest arachnid exhibit in the United States.
The exhibit guides visitors to explore connections between arachnids and literature, art, folklore, paleontology, science, and history. You'll see 100 live arachnids (!) and experience hands-on activities – hopefully, the live arachnids are not the hands-on activities, but you'll have to go see it in order to find out. INSIDER TIP: They feed the spiders on Thursdays – so that is a great time to go see some action.
This exhibit is available to read and listen to in both Spanish and English, and is free for members; for pricing and other info, click here.
~
Body and Soul
Kimball Art Center
Through November 4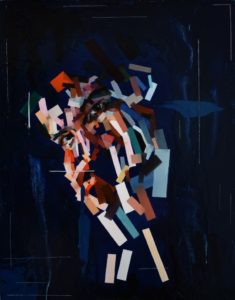 Kimball Art Center's current exhibit, Body and Soul, features 24 Utah-based artists and explores the lasting power of what you could call the "legit-art selfie" genre across contemporary painting, photography, text-based installations, and more. From the Kimball Art Center website:
"Established tropes are both embraced and reinvented, presenting diverse approaches to portraiture as a means of commemoration, reflection, and social critique. From faithful likeness to fantasy and fracture, the power of portraits is that they are about more than what we look like; they reveal who we are." Admission is free; the exhibit will run through November
CREATE →
Open Studio 
12 – 2 PM @ The Paint Mixer 


Whether you want extra painting practice, some alone creative time – or just the chance to make a painting with no guided instruction, Open Studio is a great Sunday afternoon option. Pick any one of the paintings and follow the written instructions – or just do your own thing! Materials are provided; guidance is not. Register for the session here.
~
DURING THE WEEK
MOVE ON MAIN STREET →
The Art of Movement
Morning Classes M, W, F
The Paint Mixer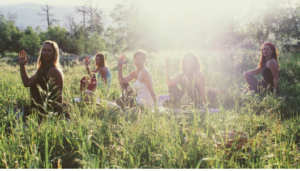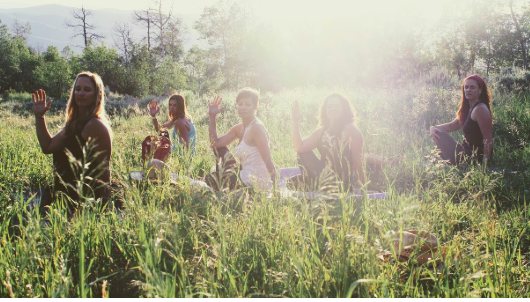 A new partnership in wellness between Park City's The Paint Mixer and local coach and trainer Jess McCurdy, The Art of Movement is a new way to be creative in a space usually reserved for paint and canvas. Join Jess for a focus on mind-body alignment, as she teaches three of her usual classes in a brand-new setting.
Sunrise GRIT 45 (strength conditioning), Vinyasa Yoga, Sweat & Flow (30-minute HIIT & 30-minute yoga), and GRIT 60 (strength conditioning) are offered Mondays, Wednesdays, and Fridays, with classes at 6 a.m., 7:30 a.m. and 9 a.m. (Check the schedule for specifics!) Drop-ins are $20, locals also have the option of a punch pass – which gets you ten classes for $180.
UPCOMING EVENTS
Write these in your calendar:
Friday, November 9 → Live PC Give PC | All day long – all over Park City
Saturday, November 17  → KPCW's Main Street Music Crawl | 7:30 p.m. @ Historic Main Street
Saturday, December 15 → Santa Comes Down Town Lift | 5:30 p.m. @ Town Lift Plaza
---
The Colony at White Pine Canyon is the largest gated ski-in / ski-out community in the United States. Our land spans 4600 acres, and approximately 90% of it will always be preserved as open space.
In winter, enjoy exclusive ski and snowboard access to one of North America's largest mountain resorts, Park City Mountain. In spring, the snow melts to reveal an amazing network of hiking, biking, and horseback riding trails, connecting to more than 400 miles of single-track trails throughout the surrounding area.
The Colony is just 35 minutes from Salt Lake International Airport and minutes to Park City's historic Main Street, home to the Sundance Film Festival and world-class dining and shopping.