Park City Event Guide: September 20 – 26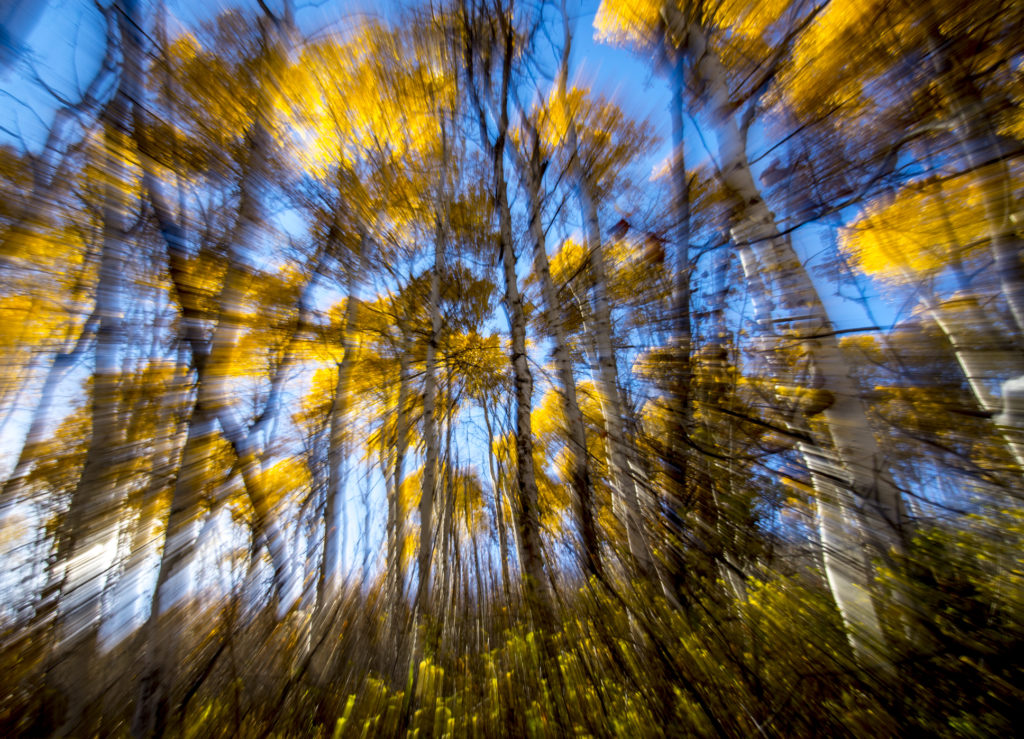 It's time to get spooky! Halloween is just around the corner so get in the spirit with Thriller! By Odyssey Dance Theater at the Egyptian Theater. It runs through October 6th – so prepare to be mystified and mesmerized by a cast of morbid monsters and maniacs.

Always a sell-out, this annual show is a Halloween tradition. Get tickets HERE.

And if that's not enough pre-Halloween spookiness, learn the History of the Glenwood Cemetery at the Park City Museum on Wednesday, September 25th. Glenwood Cemetery is on the National Register of Historic Places and is owned by the Park City Museum.
Barbara Martz will share the history of Glenwood Cemetery as it was established for miners and their families when Park City was a silver mining town. She will also explain the demographic profiles of the deceased in the Cemetery including the years of burial, ages at death, causes of death, etc. Barbara will also tell a few stories of the lives and deaths of the people who are buried at Glenwood Cemetery and finish with a summary of the current status of the Cemetery.
FRIDAY, SEPTEMBER 20

Free Youth Mental Health First Aid Training
9 AM @ Park City Hospital Blair Education Center
Do know how to respond to an adolescent who may be experiencing mental distress or substance abuse? Youth Mental Health First Aid Training is designed to teach parents, teachers and anyone who works with teens how to identify and intervene when necessary.   Topics include typical adolescent development along with anxiety, depression, substance use, and other psychiatric disorders. Learn an easy-to-remember 5-step action plan to help young people in both crisis and non-crisis situations. To RSVP, Email Wendy O'Leary: Resources@connectsummitcounty.org with your first name, last name, email address, and phone number.

Summit Yoga at Montage Deer Valley
9 AM @ Montage Deer Valley Mountain Lawn
Every Friday, an in-house fitness and wellness specialist from the resort will guide an hour-long meditation and yoga session on the lawn, overlooking the Wasatch Mountain Range. 

Yoga on the Patio 
9:30 AM @ Park City Library
Welcome all to a free community yoga class every Friday. Classes will be held outside on the patio or inside the Park City Library depending on the weather. Please bring a yoga mat. This program is in partnership with the Park City MARC.
Artful Afternoon
1 – 3:30 PM @ Kimball Art Center
An after-school program to encourage kids to explore art. Kiddos get to try a variety of fun materials and drop-ins are welcome; the 30 dollar fee includes instruction, supervision, and all materials. Check out our Nonprofit Highlight on all the incredible programming Kimball Art Center provides HERE.

Lego Club
1—2 PM @ Park City Library
An hour of Lego BLISS. The Park City Library hosts this every week for builders of all ages. Duplos for the younger architects, IKOS for the master builders and lots and lots of LEGOS for everyone in-between. 

Jeremy Ranch Cooking Class
1 PM @ Jeremy Ranch Elementary School
EATS (Eat Awesome Things at School) kicks off its schoolyear cooking classes. Students get to learn how to use healthy and delicious ingredients to make healthy and affordable meals they can take home to their families. Go to https://eatsparkcity.org/ to learn more about EATS.
Parents' Survival Night
6 – 9 PM @ The Little Gym Park City
A break from the kids *and* a break from the parents – it's a survival night for all of us. Parents can use the time to enjoy a movie or a quiet meal out while the kids get quality "kid time" in a safe, fun place with trained instructors who lead them through music, games, and fun. As you might imagine, spots fill quickly, so book HERE.

Backcountry x NAC: Stoke Series Live Fundraising Event
5:30 PM @ The Shop, 1167 Woodside Avenue
Stoke Series Live presents an evening of great food, drink, and adventure storytelling in support of the National Ability Center. Ten adventurous souls share stories of empowerment in nature. $35 donation includes an entry for incredible winter adventure gear, gourmet food and drink, and inspiring storytelling.

Opening of "Jim Jacobs: The Imperfections That Render Us Visible"
6 PM @ Kimball Art Center
The Main Gallery exhibit is open September 20, 2019 – November 3, 2019. Intersections fascinate Jim Jacobs. In this body of work, he borrows a technique traditionally used to join two distinct plants, often trees, to make them more productive. Natural tree limbs are grafted to milled lumber, wooden tools, furniture, and even hair. These works—gangly, elegant, contrived, fragile, and at times self-destructive—are reflections on our peculiar relationship with the natural world.
Utah Book Authors Humanities Event:  Local Authors Panel
6:30 PM @ Park City Library
The 22nd Annual Utah Humanities Book Festival is Utah's oldest and only statewide book festival. Meet and celebrate local authors living or writing about the Wasatch Back, followed by a reception. Selected authors include: Bonnie Bedford Park ("Brides of 1941"), Bill Humbert ("Employee 5.0: Secrets Of A Successful Job Search In The New World Order"), Carly Bennett Stenmark ("More than a Manicure: The Nail Files"), Liz Yokubison ("They're Ready. Are You?: A Parent's Guide to Surviving the College Transition"), and Beverly Hurwitz ("A Walker's Guide to Park City" and "Park City Hiking Guide").  
Park City Limits Dinner Concerts 2019
Every Thursday, Friday & Saturday Night @ Silver Star Café
Every weekend, eat some great food while enjoying an acoustic dinner show with singers and songwriters from around the region. Weather permitting, the shows will be on the patio during the summer. Check the music schedule HERE and call to make a reservation.

Park City Film: The Last Black Man in San Francisco
Friday & Saturday, 8 PM; Sunday, 6 PM @ the Park City Library
U.S. dramatic directing award-winner at the Sundance Film Festival, The Last Black Man in San Francisco weaves the tale of two friends searching for home in rapidly changing San Francisco. I saw this film at Sundance this year – and it is a beautiful film.

SATURDAY, SEPTEMBER 21
Saturday Morning Nature Walk
8:30 AM @ Swaner Nature Preserve
Start your weekend off on the right foot! Join a group of weekend-walkers and learn about the Swaner Preserve wetlands while you get some exercise – and look for an abundance of wildlife!

Utah Humanities Book Festival: John Branch
4 PM @ Park City Library
New York Times reporter John Birch's feature article about an avalanche in Washington State, "Snow Fall" won the Pulitzer Prize, and he has been featured five times in The Best American Sports Writing. His latest book, "The Last Cowboys," is an intimate portrait of a Southern Utah rodeo family as they fight for their land and livelihood. 

Homestead Summer Concerts
6 PM @ Homestead Resort
This is the last one of the year! If you've been meaning to go, now's your chance! The Free Homestead Summer Concerts Event begins at 6 PM every Saturday evening.  BBQ and treats are available for purchase.  Bring your chair and enjoy!
Sep 21–Ed Stevens Tribute (Music of the Series Founders)
An Evening with David Hogg & Jaclyn Corin, Parkland School Shooting Survivors & Activists
7:30 PM @ George S. & Dolores Dore Eccles Center Theater 
David Hogg and Jaclyn Corin are survivors of the high school shooting at Marjory Stoneman Douglas High School in Parkland, Florida. After losing friends, classmates, and teachers, they mobilized into action, lobbying state government officials, and planning March For Our Lives—now one of the world's largest youth-led movements. Witness an on-stage interview in which the pair shares their insights on gun violence, social justice, civic engagement, voting, and activism. Get tickets HERE.

SUNDAY, SEPTEMBER 22

Park Silly Farmer's Market
10 AM – 6 PM @ Park City's Historic Main Street
AN HOUR LONGER THIS WEEK!
Every Sunday, local and regional arts and crafts, music and performance art, antiques, imports, and one-of-a-kind finds, delicious gourmet foods, and farmer's market fruits and vegetables all converge on Park City's Historic Main Street. From 10 a.m. to 6 p.m., stroll the streets, eat lots of food and enjoy the entertainment!
This week, on the Park Silly Main Stage:
10:00am – Meg Soul & Messenger
11:00am – 1:00pm: Big Blue Ox
1:00pm – 1:30pm: BBoy Federation
1:30pm – 3:00pm: Streetcorner Boogie
3:30pm – 6:00pm: Superbubble
Swaner's Craft Sunday
11 AM – 1 PM @ Swaner EcoCenter
Kids of all ages are invited to enjoy the complimentary Swaner Craft Sunday! Join the fun at the Swaner Preserve and EcoCenter, and create a nature-themed craft to bring home.

Hike and Photography
2 PM @ Kimball Art Center
Learn the secrets to capturing the perfect shot. Shutter speeds, apertures, focal lengths, and composition will be covered. Must bring own camera, no cellphone cameras.

Climbing Wall
1 – 3 PM @ Swaner Eco-Center
Climb through the EcoSystem from the bedrock all the way to the uplands! The Swaner indoor climbing wall is fun for all ages. A harness is supplied, participants are asked to wear closed-toe shoes.

DURING THE WEEK

MONDAY, SEPTEMBER 23

Park City Film: Margaret Atwood Live
7 PM @ Park City Film Institute
Are you obsessed with The Handmaid's Tale? Well the original book's author, Margaret Atwood, has a new book out called The Testaments. Filmed live from the stage of the National Theatre in London, Atwood will be interviewed by broadcaster and author Samira Ahmed in a conversation spanning the length of Atwood's remarkable career, her diverse range of works, and why she has returned to her seminal handmaid story, 34 years later. With exclusive readings from the new book by special guests, this will be an unmissable and intimate event with Atwood, spotlighting her signature insight, humor and intellect. 
TUESDAY, SEPTEMBER 24

Toastmasters
7 AM @ Keller Williams Building
Ok this is something I had no idea this existed. Since 1924, Toastmasters has been a public speaking group that will help you become the best public speaker you can be. Whether for an upcoming business talk that has you concerned or a toast at your brother's wedding, Park City Toastmasters will help you prepare. It's where you come to practice, get great ideas, find coaching and make friends.

Free Admission to Park City Museum
All Day @ Park City Museum
Enjoy Free Admission to the Park City Museum today! Visit for the first time or revisit your favorite exhibits.

National Voter Registration Day 
10 AM – 8 PM @ Kimball Junction Library Branch
Visit the Kimball Junction Branch Library and Register to Vote! Bring your valid Utah driver's license and one of our staff will assist you in completing the online voter registration application.

Tent Tales for Tykes
11 AM – 12 PM @ L.L. Bean Park City Store
Storytime at Park City's L.L. Bean store on Main Street. Ideal for kiddos 3-6, during each weekly session, they'll explore a different nature theme and then play a game or do a craft. You can join in on the fun or spend the hour shopping but you do have to register!

Apple Tree Pruning 101
6 PM @ St. Luke's Hospitality Gardens
Learn the basics principles for pruning and maintaining apple trees with strategies to improve fruit quality from the folks at Summit County Community Gardens.

Code Club 
3:30 PM @ Summit County Library, Kamas Valley Branch
In this informal educational setting, kids will learn computer-programming skills through a series of tutorials and projects. They will work towards building websites, video games, phone apps, animations and more, all the while, learning how to become better problem solvers and critical thinkers.

Pop-in Plein Air
5 PM @ Kimball Art Center
Every Tuesday, various experts will lead artists through the fundamentals of landscape painting while teaching plein air skills and techniques. These drop-in sessions allow you to work with your own materials in a variety of media.

WEDNESDAY, SEPTEMEBER 25

Wednesday Farmer's Market
Noon @ Park City Mountain (Silver King parking lot)
Stop by and pick up fresh fruit for a mid-hike snack, a bundle of organic vegetables for your family dinner, or locally made jams, jellies, trinkets, or jewelry to take home as a souvenir each Wednesday from 12:00 – 5:00 PM. Not only does buying local food help our community, it also helps our environment by reducing carbon dioxide emissions and packing materials, as well as helping to make farming more profitable.

Crafternoons at Park City Library
4 – 5 PM @ Park City Library
Come left off some creative steam. Make and take your crafty project every week. All ages welcome.

THURSDAY SEPTEMBER 26

Dumpster Days
9 AM – 4 PM @ Recycle Utah
Two large bins will be placed on Woodbine Way for garbage and yard waste. Residential waste only!

Stream and Riparian Restoration
9 AM – 4 PM @ Swaner EcoCenter
Come help build a Beaver Dam Analog—which mimic a natural beaver dam. Dams help improve habitat and water quality! They will have some waders and boots to borrow, but people should bring their own boots if they have them.

Morning Wellness Workshop at Sage Mountain Animal Sanctuary
9 AM @ Sage Mountain Animal Sanctuary
Sage Mountain Animal Sanctuary is holding a wellness event every Thursday at 9:00 am from June 6th through September 26th. Enjoy 45 minutes of fitness followed by 45 minutes of flow yoga. Free, but donations are suggested. 
ONGOING EXHIBITS

Making Her Mark – Art by Women
All Day @ Meyer Gallery
The Meyer Gallery presents an all-woman exhibit of painters, sculptors and even an animator for Making Her Mark – Art By Women.
Walking Tours of Historic Main Street
Every weekday, 2 PM @ Park City Museum
Spend an hour walking down Historic Main Street, learning about the city's growth from a mining town to a ski destination. The tours take place every weekday until August 30th. The tours will leave the Museum every day at 2. call 435-649-7457 ext. 136 to make a reservation. Wear comfortable shoes, bring water, and don't forget your sunscreen!

Patios, Pools & the Invention of the American Backyard
Through November 20 @ Park City Museum
This exhibit, part of the Smithsonian Institution Traveling Exhibition Service, shows the history of the American backyard—from pools to lawns, to BBQ grills. From the Park City Museum "Through rare photographs, historic drawings and period advertisements, Patios, Pools, & the Invention of the American Backyard explores the mid-century backyard of the 1950s from the rise of the suburbs and tract houses and the beauty of postwar garden design to the birth of the environmental movement."

UPCOMING EVENTS
SEPTEMBER
Sept 06 →Matilda! The Musical @ The Egyptian Theater
Sept 07 → Run for Recreation @ PC MARC to Basin Rec Fieldhouse 
Sept 13 → Songwriter Festival @ Main Street
Sept 14 → Hearth and Hill Copper Moose Farm Stand Dinner
Sept 14 → Autumn Aloft @ 2530 Kearns Boulevard 
Sept 14 → Hike for Hunger @ Deer Valley
Sept 15 → Tour de Suds @ City Park
Sept 19 → Storing Root Vegetables @ Summit Community Gardens
Sept 20 → Thriller! by Dance Odyssey Theater @ The Egyptian Theater
Sept 24 → Apple Tree Pruning Workshop @ Summit Community Gardens
Sept 25 → Swing for Sports Golf Tournament Fundraiser @ Canyons Golf Course 
Sept 27 → Run-a-Muk Off-Leash Dog Area Clean Up @ Basin Recreation
Sept 27 → Stream and Riparian Restoration @ Swaner EcoCenter
Sept 28 → Glenwood Cemetery Tour
Sept 28 → Fall Open Barn Days @ Blue Moon Ranch Alpacas
Sept 28 → Scarecrow Festival @ McPolin Farm
OCTOBER
Oct 1 → The Robot Zoo @ Swaner EcoCenter
Oct 3 → Park City Wine Festival @ Canyons Village
Oct 5 → Harvest Fest @ DeJoria Center
Oct 13 → Closing Day @ Canyons Golf
Oct 17 → Planting Garlic Demo @ Summit Community Gardens
Oct 18 → Joshua Radin & The Weepies @ Eccles Center Theater
Oct 26 → Celebrate the Spirits Trick-or-Treat Run | Basin Rec Fieldhouse
NOVEMBER
Nov 17 → Rocky Horror Picture Show @ Egyptian Theater

The Colony at White Pine Canyon is the largest gated ski-in / ski-out community in the United States. Our land spans 4600 acres, and approximately 90% of it will always be preserved as open space.

In winter, enjoy exclusive ski and snowboard access to one of North America's largest mountain resorts, Park City Mountain. In spring, the snow melts to reveal an amazing network of hiking, biking, and horseback riding trails, connecting to more than 400 miles of single-track trails throughout the surrounding area.

The Colony at White Pine Canyon is a layered and complex project, one upon which our sales team members have dedicated themselves to becoming experts.

The Colony Sales Team is passionate about the land of The Colony at White Pine Canyon, its careful and strategic development, and the sales process for those who choose to build their legacy here. The team is here for one purpose: to help you define, understand, and ultimately – enjoy life in The Colony.

360º access – 365 days a year.
The Colony Sales Team shares the Sales Office with Walt Brett, the first and only developer of The Colony at White Pine Canyon.

This means 360º access: the team has attained and is attuned to unprecedented – and comprehensive – past, present, and future knowledge of the development. That knowledge is available to you 7 days a week, 365 days a year.

The Colony is just 35 minutes from Salt Lake International Airport and 5 minutes to Park City's historic Main Street, home to the Sundance Film Festival and world-class dining and shopping.