Park City Event Guide: September 13 – 19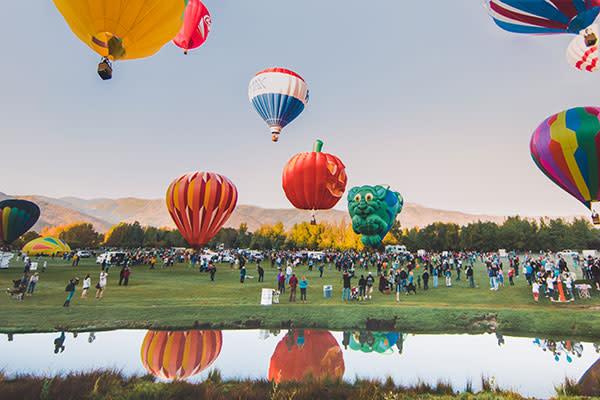 The back to school routine is starting to become well, routine. Luckily, there are a lot of fun things happening this weekend to break the monotony, as we gear up for what the pumpkin spice aficionados call the best time of year — FALL.

In fact, it's already snowed here at least once – so winter really doesn't seem too far off at the moment. Get out and enjoy some crisper temperatures without having to bundle up in a million layers. There are some great hikes, concerts, and, oh yes, this cool hot air balloon festival called Autumn Aloft – all happening in Park City this weekend.

SATURDAY, SEPTEMBER 14
Autumn Aloft
Saturday and Sunday, 8 AM and 8 PM
North 40 Field (Behind Treasure Mtn. Jr. High)

See balloonists paint the sky at Autumn Aloft!

Watching more than two dozen hot air balloons inflate and launch is the stuff kids' dreams and Instagram feeds are made of. And, in addition to the main, colorful launch in the morning, be sure to catch the "Candlestick" magic (choreographed balloon burners spitting fire into the dark sky!) in Old Town in the evening. Main Street shuts down – and turns out all its lights – for this spectacle.

At the main launch, tethered rides may be available on a first-come, first-served basis (but are not guaranteed). And this year, GOBA Springfree Trampolines will have two demo areas, and if you make a purchase, you save $200 – and that money all goes to the Park City Historic Alliance. That's the non-profit organization which puts on the community Autumn Aloft event each year. You can find that promo code HERE.

Event Schedule
Saturday, September 14, 2019

8:00 a.m. – approximately 10:00 a.m.*
Main Launch
The balloon launch is scheduled for approximately 8:30 a.m.
​
2530 Kearns Blvd
North 40 Fields
Park City, Utah
8:00 p.m. – approximately 9:00 p.m.
Candlestick on Main Street between 4th & 5th streets
Sunday, September 15, 2019
8:00 a.m. – approximately 10:00 a.m.
Main Launch
The balloon launch is scheduled for approximately 8:30 a.m.
​
2530 Kearns Blvd
North 40 Fields
Park City, Utah
Hot air balloon events are subject to weather conditions.

Saturday Morning Nature Walk
8:30 AM @ Swaner Nature Preserve
Start your weekend off on the right foot! Join a group of weekend-walkers and learn about the Swaner Preserve wetlands while you get some exercise – and look for an abundance of wildlife!

Park City Songwriter Festival
Saturday-Sunday, 3 PM @ various locations along Historic Main St.
An inaugural, two-day music festival celebrating folk, Americana, country, rock, and soul artists. Park City will host 40+ musicians over two days in five venues located on Historic Main Street.

Hike for Hunger
3 PM @ Deer Valley Resort
Christian Center of Park City's Eighth annual "Hike for Hunger" event, raising awareness of local hunger while highlighting our community's efforts to achieve Zero Food Waste by diverting food to those in need. Food, drinks, music, kids' area and more, with all proceeds supporting CCPC's efforts to fight hunger. Read about CCPC's efforts HERE.

Homestead Summer Concerts
6 PM @ Homestead Resort
The Free Homestead Summer Concerts Event begins at 6 p.m. every Saturday evening. BBQ and treats are available for purchase. Bring your chair and enjoy!

Sep 14–Molly In The Mineshaft (Bluegrass)
Sep 21–Ed Stevens Tribute (Music of the Series Founders)
American Prairie Reserve Celebration
6:30 PM @ High West Distillery in Wanship
Celebrate National Bourbon Heritage Month by enjoying a harvest-style dinner complemented by High West's American Prairie Bourbon. Live music and distillery tours available.
Park City Film: Pavarotti
Saturday, 8 PM; Sunday, 6 PM @ the Park City Library
Park City Film presents an in-depth window into the life of the legend, Luciano Pavarotti. Academy Award winner Ron Howard blends riveting performances, intimate interviews, and never-before-seen footage to pay tribute to the master who truly brought opera to the people. General Admission $8; Students and Seniors $6.


SUNDAY, SEPTEMBER 15

Swaner's Avian Adventures 4
7 AM @ Swaner Preserve
This is the last birding tour on the Preserve in 2019. Legendary Utah birder Kenny Frisch guides an early morning excursion to view and identify local and migratory feathered friends on the Preserve. Please wear hiking shoes or boots that can get wet, and be prepared for uneven soggy ground. Binoculars provided, or bring your own if you have a pair you prefer.

Tour de Suds
10 AM @ City Park
This 7-mile bike race is for everyone. Treat it like a full on competition and go for the gold (read: yes, there are prizes) or just have fun and wear a zany costume. It's a 2,700 incline from City Park to the Skullcandy Party Station aka Finish Line. Head back down to the park for lunch and "suds" from Red Rock Brewery.

Park Silly Farmer's Market
10 AM – 5 PM @ Park City's Historic Main Street
One of my favorite parts of summer is farmer's markets. And this weekend, Park Silly kicks off. Every Sunday, local and regional arts and crafts, music and performance art, antiques, imports, and one-of-a-kind finds, delicious gourmet foods, and farmer's market fruits and vegetables all converge on Park City's Historic Main Street. From 10 a.m. to 5 p.m., stroll the streets, eat lots of food and enjoy the entertainment!
This week, on the Park Silly Main Stage:
11:00AM – 12:00PM: Christian Coleman and the Blue Zen Band
2:00PM – 5:00PM: Lash LaRue
Swaner's Craft Sunday
11 AM – 1 PM @ Swaner EcoCenter
Kids of all ages are invited to enjoy the complimentary Swaner Craft Sunday! Join the fun at the Swaner Preserve and EcoCenter, and create a nature-themed craft to bring home.

Climbing Wall
1 – 3 PM @ Swaner Eco-Center
Climb through the EcoSystem from the bedrock all the way to the uplands! The Swaner indoor climbing wall is fun for all ages. A harness is supplied, participants are asked to wear closed-toe shoes.

DURING THE WEEK

TUESDAY, SEPTEMBER 17

Toastmasters
7 AM @ Keller Williams Building
Since 1924, Toastmasters has been a public speaking group that will help you become the best public speaker you can be. Whether for an upcoming business talk that has you concerned or a toast at your brother's wedding, Park City Toastmasters will help you prepare. It's where you come to practice, get great ideas, find coaching and make friends.

Tent Tales for Tykes
11 AM – 12 PM @ L.L. Bean Park City Store
Storytime at Park City's L.L. Bean store on Main Street. Ideal for kiddos 3-6, during each weekly session, they'll explore a different nature theme and then play a game or do a craft. You can join in on the fun or spend the hour shopping but you do have to register HERE.

Paws to Read
4 PM @ Park City Library
If you have a school-aged kiddo who is dealing with some back to school reading anxiety, this might be the thing for them! Let them practice their out-loud reading skills, reading to the lease judgmental audience, a therapy dog. First come, first served and spaces fill up quick so get here early.

Pop-in Plein Air
5 PM @ Kimball Art Center
Every Tuesday, various experts will lead artists through the fundamentals of landscape painting while teaching plein air skills and techniques. These drop-in sessions allow you to work with your own materials in a variety of media.

WEDNESDAY, SEPTEMEBER 18

Wednesday Farmer's Market
Noon @ Park City Mountain (Silver King parking lot)
Stop by and pick up fresh fruit for a mid-hike snack, a bundle of organic vegetables for your family dinner, or locally made jams, jellies, trinkets, or jewelry to take home as a souvenir each Wednesday from 12:00 – 5:00 PM. Not only does buying local food help our community, it also helps our environment by reducing carbon dioxide emissions and packing materials, as well as helping to make farming more profitable.

Crafternoons at Park City Library
4 – 5 PM @ Park City Library
Come left off some creative steam. Make and take your crafty project every week. All ages welcome.
THURSDAY SEPTEMBER 19

Morning Wellness Workshop at Sage Mountain Animal Sanctuary
9 AM @ Sage Mountain Animal Sanctuary
Sage Mountain Animal Sanctuary is holding a wellness event every Thursday at 9:00 am from June 6th through September 26th. Enjoy 45 minutes of fitness followed by 45 minutes of flow yoga. Free, but donations are suggested.
ONGOING EXHIBITS

Matilda! The Musical
Friday–Saturday, 8 PM; Sunday, 6 PM @ The Egyptian Theatre through the 15th
Roald Dahl's beloved novel comes to the stage with the Tony Award-winning story of an extraordinary girl who changes her destiny with sharp wits and determination.
Walking Tours of Historic Main Street
Every weekday, 2 PM @ Park City Museum
Spend an hour walking down Historic Main Street, learning about the city's growth from a mining town to a ski destination. The tours take place every weekday until August 30th. The tours will leave the Museum every day at 2. call 435-649-7457 ext. 136 to make a reservation. Wear comfortable shoes, bring water, and don't forget your sunscreen!

Patios, Pools & the Invention of the American Backyard
Through November 20 @ Park City Museum
This exhibit, part of the Smithsonian Institution Traveling Exhibition Service, shows the history of the American backyard—from pools, to lawns, to BBQ grills. From the Park City Museum "Through rare photographs, historic drawings and period advertisements, Patios, Pools, & the Invention of the American Backyard explores the mid-century backyard of the 1950s from the rise of the suburbs and tract houses and the beauty of postwar garden design to the birth of the environmental movement."

UPCOMING EVENTS
SEPTEMBER
Sept 06 →Matilda! The Musical @ The Egyptian Theater
Sept 07 → Run for Recreation @ PC MARC to Basin Rec Fieldhouse
Sept 13 → Songwriter Festival @ Main Street
Sept 14 → Hearth and Hill Copper Moose Farm Stand Dinner
Sept 14 → Autumn Aloft @ 2530 Kearns Boulevard
Sept 14 → Hike for Hunger @ Deer Valley
Sept 15 → Tour de Suds @ City Park
Sept 19 → Storing Root Vegetables @ Summit Community Gardens
Sept 20 → Thriller! by Dance Odyssey Theater @ The Egyptian Theater
Sept 24 → Apple Tree Pruning Workshop @ Summit Community Gardens
Sept 25 → Swing for Sports Golf Tournament Fundraiser @ Canyons Golf Course
Sept 28 → Glenwood Cemetery Tour

OCTOBER
Oct 3 → Park City Wine Festival @ Canyons Village
Oct 17 → Planting Garlic Demo @ Summit Community Gardens
Oct 26 → Celebrate the Spirits Trick-or-Treat Run | Basin Rec Fieldhouse

The Colony at White Pine Canyon is the largest gated ski-in / ski-out community in the United States. Our land spans 4600 acres, and approximately 90% of it will always be preserved as open space.

In winter, enjoy exclusive ski and snowboard access to one of North America's largest mountain resorts, Park City Mountain. In spring, the snow melts to reveal an amazing network of hiking, biking, and horseback riding trails, connecting to more than 400 miles of single-track trails throughout the surrounding area.

The Colony is just 35 minutes from Salt Lake International Airport and 5 minutes to Park City's historic Main Street, home to the Sundance Film Festival and world-class dining and shopping.