Park City Event Guide: August 9 – 15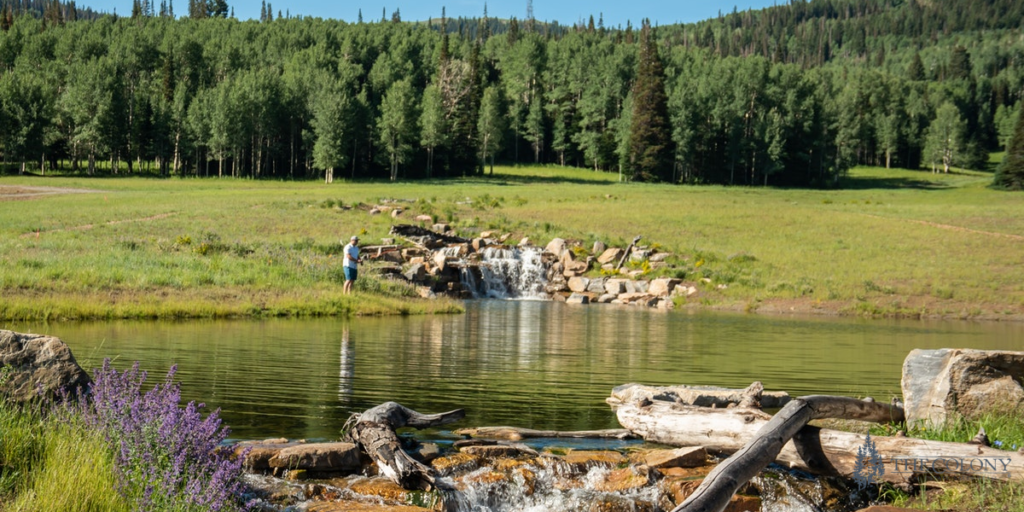 With one week left of summer for Park City School District students, it's time to squeeze out as much fun as possible. Still lots of outdoor concerts, movies, and runs that need to be experienced! Here is what is happening this week in Park City.

FRIDAY, AUGUST 9TH

Summit County Fair
Friday 8 AM –12 PM
Saturday 7 AM – 8 PM @ Summit County Fairgrounds
Enjoy poultry and livestock exhibits, country cooking, pageantry and carnival fun at the last weekend of the Summit Country Fair. Friday highlights include a pie baking contest, dance competitions, live music, rodeo, and teen dance; while Saturday offers an early-bird breakfast, family bike-run-walk event, parade, live music and rodeo.

Tour de Sunrise
9 AM @ Summit County Fair Grounds
Walk, run or ride along the Echo Reservoir in the 5th Annual Park City Sunrise Rotary Tour de Sunrise. 

Park City Horse Kids Camp
9 AM @ High Star Ranch
You provide the kid, Park City Horse Camp will provide the horse. This horse camp for kids is almost filled so sign up quickly. Every day these kids will get hands-on experiences in mindful horsemanship, teamwork, riding, arts & crafts, games, horse care and lots more.

Summit Yoga at Montage Deer Valley
9 AM @ Montage Deer Valley Mountain Lawn
Every Friday, an in-house fitness and wellness specialist from the resort will guide an hour-long meditation and yoga session on the lawn, overlooking the Wasatch Mountain Range.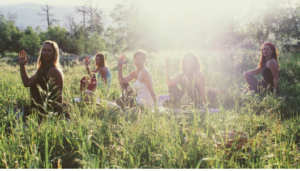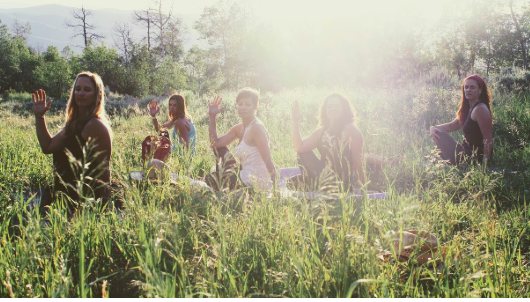 Yoga on the Patio 
9:30 AM @ Park City Library
Welcome all to a free community yoga class every Friday. Classes will be held outside on the patio or inside the Park City Library depending on the weather. Please bring a yoga mat. This program is in partnership with the Park City MARC.

Artful Afternoon
1 – 3:30 PM @ Kimball Art Center
An after-school program to encourage kids to explore art. Kiddos get to try a variety of fun materials and drop-ins are welcome; the 30 dollar fee includes instruction, supervision, and all materials. Check out our Nonprofit Highlight on all the incredible programming Kimball Art Center provides HERE.

Lego Club
1—2 PM @ Park City Library
An hour of Lego BLISS. The Park City Library hosts this every week for builders of all ages. Duplos for the younger architects, IKOS for the master builders and lots and lots of LEGOS for everyone in-between. 

The Next Course: Cool Food for Hot Days
1 PM @ Mountain Town Olive Oil
Learn how to make the following dishes that don't require you to turn on the oven as the temperature rises outside.
Summer strawberry gazpacho
Ahi poke buddha bowl
Cold sesame cucumber noodles with spiced chicken
Crunchy vegetable hummus wraps
Yogurt sorbet sandwiches
Village Live Music: Ryan Walsh
4 PM – 7 PM @ Park City Mountain Village
From PCMR's website: "Ryan sings cover songs that cross over a number of genres, from oldies to new wave, TV Theme songs and stuff ripped form the charts." This concert held on the patio at Legends.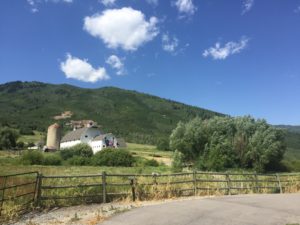 Barn and Farmhouse Tours
4 PM @ McPolin Farm
Learn about homesteading, dairy farming, and life in early Park City while walking on an educational tour of the McPolin Barn and farmhouse. Tickets are $5 per person and tours are approximately one hour. Children welcome, although tours are tailored for adults. Wear comfortable walking shoes. Purchase tickets online or at the PC MARC.

19th Annual Intermountain Mustang & All Ford Stampede Car Show
Friday and Saturday
5 PM@ The Homestead Resort, Midway
Car aficionados giddyup for a gathering open to all Mustangs and classic Ford powered vehicles.

Parents' Survival Night
6 – 9 PM @ The Little Gym Park City
A break from the kids *and* a break from the parents – it's a survival night for all of us. Parents can use the time to enjoy a movie or a quiet meal out while the kids get quality "kid time" in a safe, fun place with trained instructors who lead them through music, games, and fun. As you might imagine, spots fill quickly, so book HERE.

Park City Limits Dinner Concerts 2019
Every Thursday, Friday and Saturday night @ Silver Star Café
Every weekend, eat some great food while enjoying an acoustic dinner show with singers and songwriters from around the region. Weather permitting, the shows will be on the patio during the summer. Check the music schedule HERE https://www.thesilverstarcafe.com/music-show-calendar  and call to make a reservation. 

Sundance Mountain Resort Summer Theatre presents "Mamma Mia!"
Mondays, Thursdays, Fridays, & Saturdays
8 PM| July 18 – August 10
The Sundance Summer Theatre is pleased to present Mamma Mia! in partnership with Utah Valley University. It's music you know and love featuring the ABBA music you know and love. And if you don't….I'm sorry. The exciting tale unfolds on a Greek island paradise where a daughter's quest to discover the identity of her father brings three men from her mother's past back to the island they last visited 20 years ago.

Janis Ian & Livingston Taylor
Friday–Saturday, 8 PM
Sunday at 6 PM @ The Egyptian Theatre
Talented headliners Ian and Taylor perform back-to-back sets and a few songs together for a memorable evening. 

The Music of the Rolling Stones: Circa 1969 with the Utah Symphony
7:30 PM @ Deer Valley's Snow Park Amphitheater
Rock out at a multi-media celebration of the 50th Anniversary of two classic Stones albums—Beggars Banquet and Let it Bleed with the Utah Symphony. 

SATURDAY, AUGUST 10TH

Saturday Morning Nature Walk
8:30 AM @ Swaner Nature Preserve
Start your weekend off on the right foot! Join a group of weekend-walkers and learn about the Swaner Preserve wetlands while you get some exercise – and look for an abundance of wildlife!

Summer Slide
1 PM @ Park City Library
At the summer slide party, kids get to slip and slide, make huge bubbles, enjoy a water balloon fight, and get creative while parents can learn about the dreaded "summer slide" as we get ready to go back to school, already!

Drive-In Movie: Storm Boy
7 PM @ 1920 Prospector Avenue, Lot K
Park City Film partners with Basin Recreation and Prospector Square Property Owners Association to present the 4th Annual Drive-In Movie with "Storm Boy," the timeless story of an unusual and enduring friendship between a young boy and his adopted orphaned pelican.  

Indigo Girls with the Utah Symphony
7:30 PM @ Deer Valley's Snow Park Amphitheater
Soak up an iconic performance by the Indigo Girls with the Utah Symphony. 

Canyons Village Summer Concert Series: Ryan Montbleau Band
6 PM @ Canyons Village at Park City Mountain Resort
Every Thursday and Saturday night, the resort will host a free, outdoor concert. This week, Ryan Montbleau is the featured performer. Montbleau has been pouring his heart out in song since the early 2000's, when he first began performing around his native Massachusetts. He'd go on to collaborate with Martin Sexton, Trombone Shorty, and Galactic among others, and share bills and stages with artists as diverse as Tedeschi Trucks Band, Ani DiFranco, The Wood Brothers, Rodrigo y Gabriela, and Mavis Staples, but it was Montbleau's ecstatic headline shows—often more than 200 of them a year—that solidified his reputation as a live powerhouse and an inexorable road warrior. NPR's Mountain Stage compared his "eloquent, soulful songwriting" to Bill Withers and James Taylor, while Relix hailed his "poetic Americana," and The Boston Herald raved that "he's made a career of confident, danceable positivity."

Homestead Summer Concerts
7 PM @ Homestead Resort
The Free Homestead Summer Concerts Event begins at 7 pm every Saturday evening.  BBQ and treats are available for purchase.  Bring your chair and enjoy!
Aug 10–Music In The Round (Favorite Local Songwriters)
Aug 17–Silver City Pink (Folk/Bluegrass)
Aug 24–Sam Payne (Storytelling Musician)
*Aug 31–The Shane Lee Band (Country Rock)
*Sep 7–Groove Axis (Jazz)
*Sep 14–Molly In The Mineshaft (Bluegrass)
*Sep 21–Ed Stevens Tribute (Music of the Series Founders)

*The last 4 shows will begin at 6:00 pm
Back to School Glow n' Go Run
8 PM @ Willow Creek Park
One good last summer hoorah. Pre-run festivities will begin at 8 p.m. with a DJ and face painting. Runners are encouraged to wear neon colors, LED bracelets, light-up shoelaces, and any items to help light up the night.

SUNDAY, AUGUST 11TH

August Second Sunday at the Gardens
8 AM – 7 PM @ Summit Community Garden

8 AM: Yoga In the Gardens with Oak & Willow register HERE
9 AM: Coffee Talk at the Gardens, Luke Cartin, Sustainability Director PC Municipal
10 AM – 2 PM: Weekly SCG Volunteer Work Day
4-7 PM: Live Music: Basil Catz & Cruz
Swaner's Craft Sunday
11 AM – 1 PM @ Swaner EcoCenter
Kids of all ages are invited to enjoy the complimentary Swaner Craft Sunday! Join the fun at the Swaner Preserve and EcoCenter, and create a nature-themed craft to bring home.

Climbing Wall
1 – 3 PM @ Swaner Eco-Center
Climb through the EcoSystem from the bedrock all the way to the uplands! The Swaner indoor climbing wall is fun for all ages. A harness is supplied, participants are asked to wear closed-toe shoes.

Village Live Music: The Proper Way
4 PM – 7 PM @ Park City Mountain Village
From PCMR's website "Mississippi born Scott Rogers and Utah native Shane Osguthorpe create music that comes from a lifetime of immersion in multiple musical genres. Their traditional bluegrass instrument are played with an eclectic sound. A song that was a rocking/banjo at the last gig may become a mournful piano/mandolin lament at the next. "We play it how we feel it. Right or wrong that's The Proper Way." Concert will take place on the Legends patio at Park City Mountain Village.

Flower by You – Fresh Floral Arrangements
3 PM @ Deer Valley Grocery Café
Join Flowers By You at Deer Valley Grocery Café from 3 to 4 p.m. for a fresh floral arrangement class. Enjoy live music on the patio as well as food and drink specials.

Ben Harper & The Innocent Criminals
7 PM @ Deer Valley's Snow Park Amphitheater
Deer Valley Concert Series presents award-winning singer-songwriter Ben Harper in the mountains of Deer Valley.  

DURING THE WEEK

TUESDAY, AUGUST 13TH

Toastmasters
7 AM @ Keller Williams Building
Since 1924, Toastmasters has been a public speaking group that will help you become the best public speaker you can be. Whether for an upcoming business talk that has you concerned or a toast at your brother's wedding, Park City Toastmasters will help you prepare. It's where you come to practice, get great ideas, find coaching and make friends.

Tent Tales for Tykes
11 AM – 12 PM @ L.L. Bean Park City Store
Storytime at Park City's L.L. Bean store on Main Street. Ideal for kiddos 3-6, during each weekly session, they'll explore a different nature theme and then play a game or do a craft. You can join in on the fun or spend the hour shopping but you do have to register HERE.

Fine Tune Your Fine Art
1 PM @ Kimball Art Center
If you enjoy painting or any other kind of art, you have experienced the dreaded block, where nothing seems to work the way you imagine it! Or even worse, you can't even imagine how to make it work! This class by artist Cindy Biggs will help you learn how to tune, fix and finesse your paintings. 

Hops on the Hill
6 PM @ Stein Eriksen Lodge Deer Valley
Taste the delectable flavors of summer with Hops on the Hill, where you'll experience favorites from local craft breweries and some of Chef Zane's best food pairings on the deck with live music on the lawn.

Pop-In Plein Air – Adult Watercolor Workshop
6 PM @ Kimball Arts Center
Learn how to paint watercolors in an enriching atmosphere as Cindy takes you through her step-by-step painting process. You will develop a deeper understanding of design and watercolor techniques, create with captivating mingled colors, and infuse your paintings with light.

Deer Valley's Tuesday Twilight Series
4 PM – 8 PM, Tuesdays through August 27 @ Deer Valley
Take the chance to experience the mountain in the evenings again this summer with the Twilight Ride Series. Lift-served mountain biking is available on Silver Lake Express, Homestake Express and Sterling Express chairlifts. And if you reserve in advance, you can get some mountain bike lessons as well.

Park City Women's Business Network Meeting
6 PM @ Lucky Ones Coffee
Please join us for our monthly meeting featuring Christy Mattoon speaking on the subject "Connect". Light refreshments will be served outdoors – so dress accordingly.

Taj Mahal Quartet, Marc Cohn and Blind Boys of Alabama
7:30 PM @ Eccles Center Stage, 1750 Kearns Boulevard
As part of the 2019 St. Regis Big Stars Bright Nights Concert Series presents Taj Mahal Quartet, and Marc Cohn featuring special guest vocalists Blind Boys of Alabama. The Institute will present three critically-acclaimed and award-winning musical acts in one night

International Summer Film Series: Seattle International Children's Film Festival Shorts-Through the Rainbow
6:30 PM @ Jim Santy Auditorium | Park City Library
Every Tuesday, Park City Film and the library are offering a free film (and popcorn!) as part of the School Break Film Series. This week, come see the Seattle International Children's Film Festival Shorts-Through the Rainbow. These short films tell big stories and will take you on a trip around the world with stop-motion, hand-drawn, and other amazing animation techniques. During the program, you'll see stories about animal friends, overcoming challenges, deep family love, and learning how to be the best you can be. The program is suitable for all ages.

WEDNESDAY, AUGUST 14TH

Composting Lunch and Learn
12 PM @ Recycle Utah
Did you know, yard and food waste makes up about 30% of the material sent to the landfill each year? Composting uses a small amount of water and oxygen to decompose this waste, turning it into a nutrient-rich fertilizer. This lunchtime workshop will provide information on what materials can be composted and the supplies needed to maintain it, as well as tips to keep compost piles fresh and active.

Music on the Patio: Voices in the Hills series
11 AM @ Park City Library
Voices in the Hills brings musicians from across the state and country. Bring a picnic or get a snack from Lucky Ones Coffee. 

Wednesday Farmer's Market
Noon @ Park City Mountain (Silver King parking lot)
Stop by and pick up fresh fruit for a mid-hike snack, a bundle of organic vegetables for your family dinner, or locally made jams, jellies, trinkets, or jewelry to take home as a souvenir each Wednesday from 12:00 – 5:00 PM. Not only does buying local food help our community, it also helps our environment by reducing carbon dioxide emissions and packing materials, as well as helping to make farming more profitable.

Crafternoons at Park City Library
4 – 5 PM @ Park City Library
Come let off some creative steam. Make and take your crafty project every week. All ages welcome.

Barefoot in the Park
Wednesday-Saturday 8 PM, Sunday 6 PM @ Egyptian Theater
In Barefoot in the Park, newlyweds Corie and Paul Bratter have completed their six-day honeymoon and are moving into their first apartment. Corie is romantic, impulsive, and enthusiastic, while her husband is a proper, careful, even "stuffy" young attorney who is more concerned with his budding legal career than he is with helping to build their love nest and perpetuating the honeymoon atmosphere. Soon Corie and Paul quarrel, Paul questioning Corie's judgment and Corie questioning Paul's sense of romance and adventure.

THURSDAY AUGUST 15TH

Morning Wellness Workshop 
9 AM @ Sage Mountain Animal Sanctuary
Sage Mountain Animal Sanctuary is holding a wellness event every Thursday at 9:00 am from June 6th through September 26th. Enjoy 45 minutes of fitness followed by 45 minutes of flow yoga. Free, but donations are suggested.

Canyons Village Summer Concert Series: Ryan Shupe and the Rubber Band
6 PM @ Canyons Village at Park City Mountain Resort
Every Thursday and Saturday night, the resort will host a free, outdoor concert. This week, Ryan Shupe and the Rubberband is the featured performer. From the PCMR website "Ryan Shupe is roaring back with his new album "We Rode On". "We Rode On" marks a striking career transition and a meaningful evolution in Shupe's songwriting, his life, and the band's sound.  It strongly and deftly combines the rock side of their musical arsenal with the acoustic instruments and virtuosic jamming the band has become known for in their live shows."

Transitioning to Middle School
6 PM @ Park City Library
Prepare your family to meet the challenges of middle school.  Dr. Belnap will moderate an expert panel and will provide tools and takeaways for parents regarding communication and boundaries, how to prevent substance use, the importance of exercise and nutrition, how to foster open communication and how to access resources for support.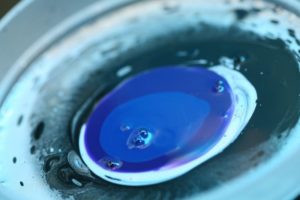 Paint Night
6:30 PM @ DeJoria Center
Painter or not, this class is for you! Come and enjoy a hands-on workshop where you'll create a rustic welcome sign with step-by-step instruction. Come early to enjoy dinner before getting started, or head to the Paint Night room and order right in the Willow Room. Secure your seats 15-20 minutes prior to start time, especially if you're with a large group. Food and drink are available for purchase through the State Road Restaurant and are not included in the ticket price. The garage doors will be open for you to enjoy the Powell Brothers' performance out on the lawn!

ONGOING EXHIBITS

Utah Olympic Park is open for the summer season. You can learn about the park's beginnings in the free museum or take a ride on the summer bobsled. The park's summer experiences include the extreme zip line, zip line tour, alpine slide, drop tower, adventure courses and scenic chairlift rides (not all activities are open early season). Early season hours 10 a.m.–6 p.m. daily. Watch the Flying Ace All-Star Ariel Show every Saturday and Sunday at 1:00.

Pam Bowman and Jacqui Larsen Exhibit: "Things My Mother Taught Me"
Through Sept. 8 @ Kimball Art Center
Featuring installation works by Bowman and mixed-media paintings by Larsen at the Kimball Art Center. From the KAC "In Pam Bowman's installation, six story fragments from her life resonate universally as she addresses the formative issues of character development, individual purpose, and body image, as taught by her mother. Jacqui Larsen's paintings take a metaphoric look at the impossible charge of any guardian to stand as lookout for a child."

Walking Tours of Historic Main Street
Every weekday 2 PM @ Park City Museum
Spend an hour walking down Historic Main Street, learning about the city's growth from a mining town to a ski destination. The tours take place every weekday until August 30th. The tours will leave the Museum every day at 2. call 435-649-7457 ext. 136 to make a reservation. Wear comfortable shoes, bring water, and don't forget your sunscreen!

Patios, Pools & the Invention of the American Backyard
Through November 20 @ Park City Museum
This exhibit, part of the Smithsonian Institution Traveling Exhibition Service, shows the history of the American backyard—from pools, to lawns, to BBQ grills. From the Park City Museum "Through rare photographs, historic drawings and period advertisements, Patios, Pools, & the Invention of the American Backyard explores the mid-century backyard of the 1950s from the rise of the suburbs and tract houses and the beauty of postwar garden design to the birth of the environmental movement."

EATS – Eat Awesome Things at School.
EATS offers community classes and programs to make sure every student in the Park City School District is getting the best nutrition possible—at school and at home. Here's an event to sign up for now: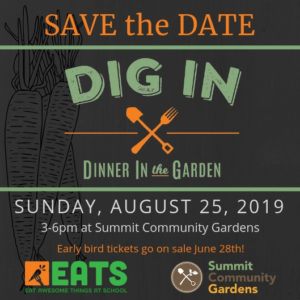 DIG In
August 25, 3 PM @ Summit Community Gardens
EATS and Summit Community Gardens created DIG In to bring people together around food. This community-focused event sells out to 400 guests every year! Held at Summit Community Gardens on August 25, 2019, this is one of the most beautiful outdoor events in town. Tickets are on sale NOW!

UPCOMING EVENTS
Aug 16 → Hearth and Hill Copper Moose Farm Stand Dinner
Aug 23 → Trailside Bike Park Shred-n-BBQ @ Trailside Bike Park 
Aug 23 → Movie in the Park @ Trailside Park (upper field) 
Aug 24 → Art on the Trails @ McLeod Creek Trail 
Aug 25 → DIG In @ Summit Community Garden
Sept 07 → Run for Recreation @ PC MARC to Basin Rec Fieldhouse 
Sept 14 → Hearth and Hill Copper Moose Farm Stand Dinner
Sept 25 → Swing for Sports Golf Tournament Fundraiser @ Canyons Golf Course 
---

The Colony at White Pine Canyon is the largest gated ski-in / ski-out community in the United States. Our land spans 4600 acres, and approximately 90% of it will always be preserved as open space.

In winter, enjoy exclusive ski and snowboard access to one of North America's largest mountain resorts, Park City Mountain. In spring, the snow melts to reveal an amazing network of hiking, biking, and horseback riding trails, connecting to more than 400 miles of single-track trails throughout the surrounding area.

The Colony is just 35 minutes from Salt Lake International Airport and 5 minutes to Park City's historic Main Street, home to the Sundance Film Festival and world-class dining and shopping.