Park City Event Guide: Memorial Day | May 24 – 30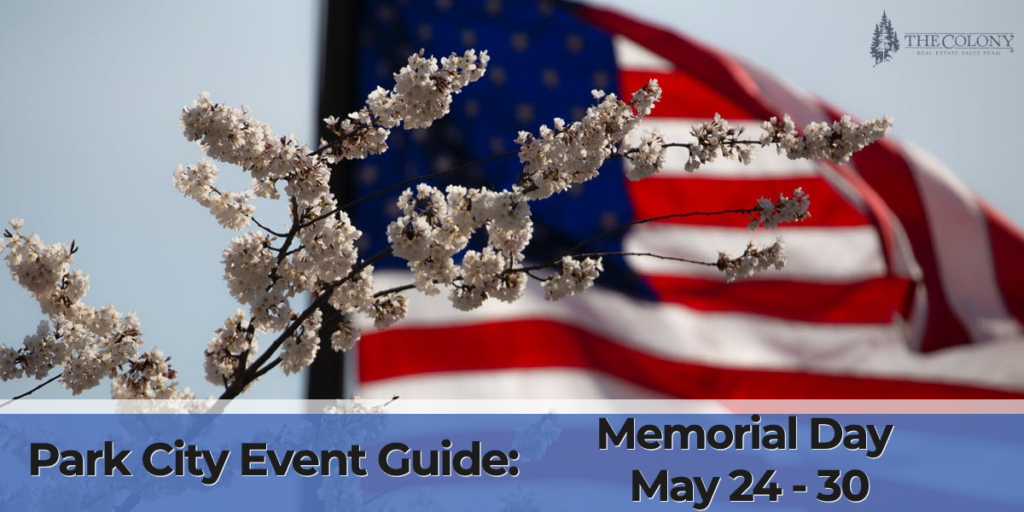 This weekend marks the official start of summer! (Yes, it also snowed this week – but SUMMER!) Memorial Day also marks the start of the 100 deadliest days on Utah roads. UDOT and UHP say that 94% (!!!) of crashes during this time are caused by human error. So, as you get ready to have fun, make sure you're also being smart behind the wheel and helping any of your young drivers create good habits.

There's a ton of stuff going on around Park City this weekend, so take a look, make a plan, and make the most of your three-day weekend!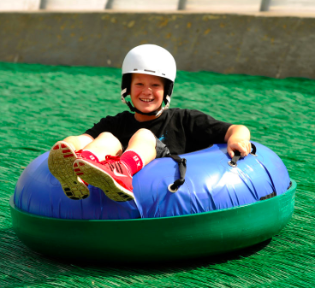 This weekend—Utah Olympic Park opens for the early summer season. You can learn about the park's beginnings in the free museum or take a ride on the summer bobsled. The park's summer experiences include the extreme zip line, zip line tour, alpine slide, drop tower, adventure courses and scenic chairlift rides (not all activities are open early season). Early season hours 10 a.m.–6 p.m. daily. And Park City Mountain Resort opens for its summer season as well! Check out the alpine coaster or brave the mud to discover the mountain's hiking and biking trails. Early season hours 10 a.m.–6 p.m. daily. 
FRIDAY, MAY 24
Artful Afternoon
1 – 3:30 PM @ Kimball Art Center
An after-school program to encourage kids to explore art. Kiddos get to try a variety of fun materials and drop-ins are welcome; the 30 dollar fee includes instruction, supervision, and all materials. Check out our Nonprofit Highlight on all the incredible programming Kimball Art Center provides HERE.

Lego Club
1—2 PM @ Park City Library
An hour of Lego BLISS. The Park City Library hosts this every week for builders of all ages. Duplos for the younger architects, IKOS for the master builders and lots and lots of LEGOS for everyone in-between.

Wild West Days on Heber Valley Railroad
May 24-27 @ Heber Valley Railroad
Head back to the Wild, Wild West on the Heber Creeper. Your ticket includes a 40-minute train ride aboard the historic train. On board, you'll be entertained by Krazy Ani and a western sing-a-long. After the ride, check out a staged gun fight, and a magic show. And Friday and Saturday nights, there will be a free dance. Go HERE to check out the schedule and buy your tickets.

Mary Montana – Spanish Surf and Turf
6 – 9 PM @ Mindful Cuisine
The mountains and the sea come together for this cooking class loaded with Spanish flavor. What will you be making? Buckle up, folks. You'll start with a cauliflower appetizer and a salad featuring spring's favorite veggie, snap peas, with a romesco sauce and mint. And then for the main event "a classic Spanish version of "surf and turf," a dish titled Mar y Montaña (sea and mountains) with chicken, Spanish chorizo, shrimp & mussels, piquillo peppers and seasonal vegetables served with saffron rice." You still with us our have you gone to immediately sign up? Because there is more. Dessert will be a chocolate mousse. Hola! Sign up HERE.

Parents' Survival Night
6 – 9 PM @ The Little Gym Park City
A break from the kids *and* a break from the parents – it's a survival night for all of us. Parents can use the time to enjoy a movie or a quiet meal out while the kids get quality "kid time" in a safe, fun, place with trained instructors who lead them through music, games, and fun. As you might imagine, spots fill quickly, so book HERE.

Screening "Singin' in the Rain"
7:30 PM @ Egyptian Theater
Consistently on the top movies of all time lists from basically every platform, "Singin' in the Rain" is often billed as the greatest movie musical of all time. Whether you've seen it a million times or are introducing the newest generation, what better way to watch this classic than on the big screen in the classic Egyptian Theater on Park City's Main Street? The film chronicles actors in the 20s as the transition from silent films to "talkies." But truly, it has some of the most iconic dance numbers and judging by this weekend's forecast—you may be singin' in the rain too!

Park City Film: "Peterloo"
8 PM @ Jim Santy Auditorium | Park City Library
If you're in the mood for something a little…darker than Singin' in the Rain, Park City Film has the screening for you. The Amazon Studios film is "An epic portrayal of the events surrounding the infamous 1819 Peterloo Massacre, where a peaceful pro-democracy rally at St Peter's Field in Manchester turned into one of the bloodiest and most notorious episodes in British history."

SATURDAY, MAY 25
Saturday Morning Nature Walk
8:30 AM @ Swaner Nature Preserve
Start your weekend off on the right foot! Join a group of weekend-walkers and learn about the Swaner Preserve wetlands while you get some exercise – and look for an abundance of wildlife!

The Next Course: Make Ahead Camping Meals
11 AM – 1 PM @ Mountain Town Olive Oil
If you're planning on camping this summer, your meals don't have to be just hot dogs and s'mores (although any good campout needs at least one s'more. I don't make the rules!) This week's The Next Course class put on by Mountain Town Olive Oil will teach you how to make all these delicious dishes for your next camping trip:
Blueberry peach French toast
Turkey meatball caprese sliders
Campfire spinach avocado dip
Chimichurri flank steak & vegetables with loaded campfire potatoes
Mixed berry cast iron cobbler
You'll learn from Chef Deanna Fitchat as she shares new and different ways to use our oils and & vinegars, as well as helpful recipe hints. You get the recipes to take home as well as a small gift of our products and a discount to shop in the store afterwards. Check out our feature of Mountain Town Olive Oil HERE.

Summer of Love Tie Dye
3 – 5 PM @ Kimball Art Center
Students will twist, tie, and dye their shirts, creating one-of-a-kind wearable art. One t-shirt per person is provided, and participants can bring up to two additional items to tie dye.

SUNDAY, MAY 26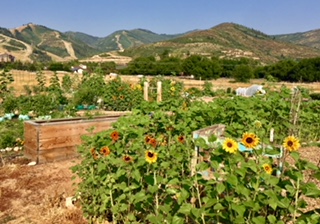 Summit County Community Garden Seedling Sale
10 AM – 1 PM @ Summit County Community Garden
The Summit Community Garden is holding its first annual seedling sale! Buying at the sale will ensure you've got the heartiest plants for Park City's high-altitude mountain climate, as well as the best plants for the season.

Swaner's Craft Sunday
11 AM – 1 PM @ Swaner EcoCenter
Kids of all ages are invited to enjoy the complimentary Swaner Craft Sunday! Join the fun at the Swaner Preserve and EcoCenter, and create a nature-themed craft to bring home.

Climbing Wall
1 – 3 PM @ Swaner Eco-Center
Climb through the EcoSystem from the bedrock all the way to the uplands! The Swaner indoor climbing wall is fun for all ages. A harness is supplied, participants are asked to wear closed-toe shoes.

DURING THE WEEK
MONDAY, MAY 27
Memorial Day in Park City
All day @ City Park
Check out the Field of Flags in the park.

PCHS Memorial 5K
8 AM @ Park City High School
"The National Honor Society's annual PCHS Memorial 5K commemorates members of the Park City community while benefitting the Homeless Youth Center of Utah, outgoing senior scholarships, the high school's humanitarian efforts, and the Bassa School in Mali with the Ouelessebougou Alliance. Check in begins at 8 a.m. at Dozier Field."

Memorial Day Service
9 – 10 AM @ Park City Cemetery
American Legion Post 14 and Park City Museum will commemorate Memorial Day at Park City Cemetery with music from the Summit County Sheriff's Office bagpipers, the Treble Makers and a fly over by the Utah Commemorative Air Force.

Basic Map & Compass Navigation
5 – 6 PM @ L.L. Bean Park City Store
You may have a great GPS system but the best foundation for navigating is still an old-fashioned map and compass. Learn how to stay on course with L.L. Bean's experts. This clinic may be held outdoors so please bring appropriate clothing.

Memorial Day Santa Maria Style BBQ
5 – 8 PM @ Mindful Cuisine
BBQ is a hallmark of Memorial Day but learn a new-to-you style of cooking over an open flame. Santa Maria style BBQ started in coastal California and dates back to the California Rancho days of the 1850s. Here's what's on the menu: "Shrimp & Scallop Ceviche, Grilled Caesar Salad, Santa Maria Pinquito Beans, Grilled Asparagus, Grilled Tri-Tip with Fresh Salsas and Dressed Up S'mores with Homemade Graham Crackers and Strawberry Marshmallows, Ritual Chocolate"

TUESDAY, MAY 28
Tent Tales for Tykes
11 AM – 12 PM @ L.L. Bean Park City Store
Storytime at Park City's L.L. Bean store on Main Street. Ideal for kiddos 3-6, during each weekly session, they'll explore a different nature theme and then play a game or do a craft. You can join in on the fun or spend the hour shopping but you do have to register HERE.

Photography and Hike Adult Class
2 – 5 PM @ Kimball Art Center
Bring your camera! This class will teach you everything you need to know to get that perfect shot. It'll cover shutter speeds, apertures, focal lengths and composition before heading out to a location to practice.

PC Talks "Girl's Night Out" with Terry Sidford
6 – 9 PM @ The Rockwell Listening Room (above OP Rockwell Nightclub)
Live music, appetizers and swag lead up to speaker Terry Sidford. She's a TEDx presenter, author, lifecoach and more. She'll present her talk "COURAGE Find it, Show it, Grow It. Share it."

WEDNESDAY, MAY 29
Crafternoons at Park City Library
4 – 5 PM @ Park City Library
Come left off some creative steam. Make and take your crafty project every week. All ages welcome.

"Happy" Screening
6:30 – 8:30 PM @ Jim Santy Auditorium | Park City Library
"What makes us happy?" This documentary explores happiness through interviews with people from all over the world. CONNECT Summit County is presenting this free screening with a panel discussion moderated by KPCW's Lynn Ware Peek after.

Glass Night Lights Class
6 – 8 PM @ Kimball Art Center
This class will teach you how to work with glass and in a couple of weeks, you'll have a colorful night light!

Park City Breast Cancer Support Group
6 – 7 PM @ Park City Hospital Media Room
Held every last Wednesday of the month, this women's-only support group brings together survivors and those currently battling breast cancer. The meetings focus on mind and body, health and recovery.

THURSDAY, MAY 30
Recycle Utah: May Dumpster Days
All day Thursday & Friday @ Recycle Utah
If you spent your Memorial Day weekend cleaning up your lawn, take your garbage and lawn waste to the Recycle Center at Woodbine Way.

Preschool Storytime
10 – 11 AM @ Park City Library
Enjoy stories, crafts, songs and more while also helping your preschooler learn vital language skills. Designed for kids ages 3 to 6.

Feed the Bees: Perennial Pollinator Class
5 – 6:30 PM @ Park City Nursery 
If you have a teenager, you've probably heard a "save the bees" joke or two. But there really is a lot you can do to help save the bees as well as other local pollinators. Learn what plants honey bees, native bees, butterflies, moths and hummingbirds find most nutritious and how you can build a thriving pollinator habitat with perennial flowers, herbs, trees and shrubs.

ONGOING EXHIBITS
Firefly Exhibit
Through May 30 @ Swaner Nature Preserve and EcoCenter
There are fireflies on the Swaner Preserve! Not only can you visit Swaner Nature Preserve to see them, but you can also visit the EcoCenter to learn about them! Enjoy the "Utah's Fireflies" display, featuring the work of entomologist Christy Bills from the Natural History Museum of Utah.

Parker Jones: From My Seat in the Dirt
Through June 2 @ Kimball Art Center
From the Kimball Art Center website:
Parker is an outdoor-focused illustrator and graphic designer, primarily based out of Park City, Utah. Initially trained as a landscape architect, his design style can be traced back to thousands of hours spent at the drafting table. Regularly drawing en plein air, his pieces are inspired by the landscapes, city scenes, and big rocks he's come across while traveling. Through his sketchbooks, paintings, and hand-drawn collages he seeks to capture the subtly interconnected elements that create a sense of place.


Zhi Lin: Chinaman's Chance on Promontory Summit
Through June 7 @ Kimball Art Center
Internationally acclaimed artist Zhi Lin confronts the lost history of the Chinese workers who built our nation's transcontinental railroads. This exhibition is presented during the 150th anniversary of the Golden Spike, the ceremonial final spike to join the rails of the first transcontinental railroad.

Coney Island: Visions of an American Dreamland
Through May 25 @ Park City Museum
From the Park City Museum:
"The exhibition brings to life the excitement of Coney Island, showing visitors how its magnetic world of attractions has become a touchstone for American mass culture and popular recreation. Adapted from the Wadsworth Atheneum Museum of Art's flagship exhibition Coney Island: Visions of an American Dreamland, 1861–2008, this new traveling exhibition from NEH on the Road will explore America's playground as a place and as an idea, examining its persistent presence in the American imagination."

The Chinese Helped Build The Railroad – The Railroad Helped Build America Exhibit
Through June 1 @ Park City Library
We've just celebrated the sesquicentennial anniversary of the joining of the Trans-Atlantic Railroad in Utah, learn more about the people who actually helped build it. From the library: "The Chinese Helped Build the Railroad. The Railroad Helped Build America" tells the transnational history of that railroad through past and present images of sites on a railroad line that required the labor of thousands of Chinese workers to complete."

UPCOMING EVENTS
MAY → CONNECT Summit County Mental Health Awareness Month Events
June 1 → National Trails Day
June 1→ Park City Cooperative Multi-Family Garage Sale Fundraiser
June 1 → Sail-a-palooza @ Jordanelle State Park
June 2 → Park Silly Sunday Market begins
June 2 → Seeds of Change (Summit Community Gardens Fundraiser) @ Myrtle Rose in Newpark
June 12 → Wednesday Farmer's Markets begin @ Park City Mountain's Silver King parking lot
June 14 → Deer Valley & Canyons Village Summer Opening Day
June 14→Kids Adventure Games @ Park City Mountain ResortJune 15→ Patios, Pools & the Invention of the American Backyard @ Park City Museum
June 19 → Grand Valley Bank Community Concert Series begins
June 22→ Savor the Summit @ Park City's Historic Main Street
June 22 → Summer Color Run @ Willow Creek Park
June 22→ National Backyard Campout @ Trailside Park
July 3 → July 3rd Fireworks & Celebration | Canyons Village
July 4 → July 4th Parade, Celebration, and Fireworks | Park City
July 6 → Canyons Village Summer Concert Series begins
July 7 → St. Regis Big Stars, Bright Nights Summer Concert Series begins
July 17 → Run-a-Muk Clean-Up @ Run-a-Muk Dog Park
July 19 → Basin Recreation Blood Drive @ Basin Rec Fieldhouse
July 19 → Pie N' Beer Mountain Miles Run @ Basin Rec Fieldhouse
July 20 → Basin's Backyard Bash @ Willow Cree Park
July 20 → Movie in the Park @ Ecker Middle School
Aug 10 → Drive-in Movie in the Park @ Prospector Square, Lot K
Aug 10 → Back to School Glow n' Go Run @ Willow Creek Park
Aug 23 → Trailside Bike Park Shred-n-BBQ @ Trailside Bike Park
Aug 23 → Movie in the Park @ Trailside Park (upper field)
Aug 24 → Art on the Trails @ McLeod Creek Trail
Sept 07 → Run for Recreation @ PC MARC to Basin Rec Fieldhouse
Sept 25 → Swing for Sports Golf Tournament Fundraiser @ Canyons Golf Course
COMMUNITY INVOLVEMENT
The Historic Preservation Board is looking for applicants! Each member serves a term of up to four years. The Board meets at 5:00 p.m. on the first Wednesday of each month, meeting an average of 8-12 times per year. Applications are available at the Park City Planning Department at 445 Marsac Avenue and online here.The application deadline is Wednesday, June 5, 2019, at 5:00 p.m

The Colony at White Pine Canyon is the largest gated ski-in / ski-out community in the United States. Our land spans 4600 acres, and approximately 90% of it will always be preserved as open space.

In winter, enjoy exclusive ski and snowboard access to one of North America's largest mountain resorts, Park City Mountain. In spring, the snow melts to reveal an amazing network of hiking, biking, and horseback riding trails, connecting to more than 400 miles of single-track trails throughout the surrounding area.

The Colony is just 35 minutes from Salt Lake International Airport and 5 minutes to Park City's historic Main Street, home to the Sundance Film Festival and world-class dining and shopping.