Park City Event Guide: August 30 – September 5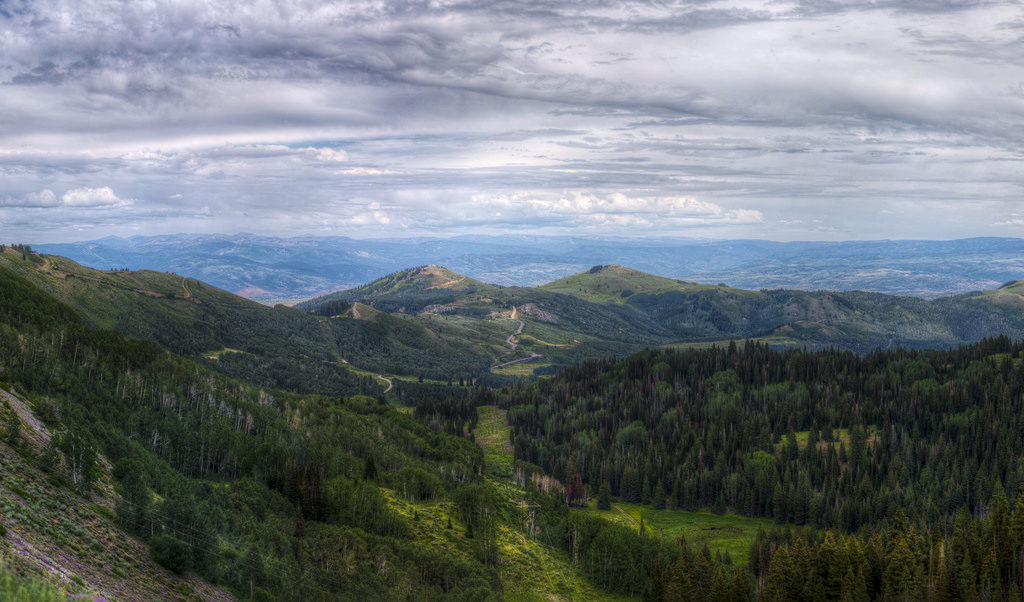 This Labor Day weekend, it feels like one last hurrah before it's officially-unofficially fall. There's a ton going on around the city. Below, you'll find a full line up for Oktoberfest at Canyons Village, Frontier Days at Francis City Rodeo and Miners' Day in Park City!

FRIDAY, AUGUST 30

Soldier Hollow Classic
8 AM – 6 PM, Friday–Monday @ Soldier Hollow Nordic Center
Four days of family fun and competition featuring the world's top sheepdogs and herders. Experience sheep-shearing, herding, agility courses, and dock-jumping, with demonstrations including Earthwings Raptors Showings, bagpipes, and Navajo weaving.

Summit Yoga at Montage Deer Valley
9 AM @ Montage Deer Valley Mountain Lawn
Every Friday, an in-house fitness and wellness specialist from the resort will guide an hour-long meditation and yoga session on the lawn, overlooking the Wasatch Mountain Range.

Yoga on the Patio
9:30 AM @ Park City Library
All are welcome for a free community yoga class every Friday. Classes will be held outside on the patio or inside the Park City Library depending on the weather. Please bring a yoga mat. This program is in partnership with the Park City MARC.
Artful Afternoon
1 – 3:30 PM @ Kimball Art Center
An after-school program to encourage kids to explore art. Kiddos get to try a variety of fun materials and drop-ins are welcome; the 30 dollar fee includes instruction, supervision, and all materials. Check out our Nonprofit Highlight on all the incredible programming Kimball Art Center provides HERE.

Lego Club
1—2 PM @ Park City Library
An hour of Lego BLISS. The Park City Library hosts this every week for builders of all ages. Duplos for the younger architects, IKOS for the master builders and lots and lots of LEGOS for everyone in-between.

Oktoberfest
All Weekend @ Canyons Village at Park City Mountain
Transport yourself to a mini-Munich at the Canyons Village for the resort's inaugural Oktoberfest. The family-friendly event kicks off Friday with the official opening ceremonies, followed by a weekend full of celebration for all. Guests will be invited to enjoy German beer in the Bavarian Beer Hall, explore authentic fare in the Bavarian Market, listen to Oompah and Polka music, participate in traditional dance and stein lifting competitions, enjoy the Kinder Kids' zone and much more. Entrance to Oktoberfest will be free and open to the public of all ages.
Event Schedule:
Friday, August 30: 4 – 10 PM.
Saturday, August 31: 12 – 10 PM
Sunday, September 1: 12 – 6 PM
The Lettermen
Friday–Saturday, 8PM; Sunday, 6PM @ The Egyptian Theatre
Take it back to the good old days as this Hall of Fame Vocal Group delivers favorites from the last 50 years.

Village Live Music: Rose & Thorn
4 – 7 PM @ Park City Mountain Village
Sun's out, outdoor concerts out (That's what the kids are saying, right?) From PCMR's website: "Shannon Runyon and Brooke Mackintosh, two local female powerhouse musicians, make the duo Rose & Thorn. The acoustic artists love collaborating and supporting other musicians almost as much as they do performing. This pair comes together to create a multi-instrumental, mellow, acoustic Indie Mountain Soul vibe." This concert held on the patio at Legends.

Parents' Survival Night
6 – 9 PM @ The Little Gym Park City
A break from the kids *and* a break from the parents – it's a survival night for all of us. Parents can use the time to enjoy a movie or a quiet meal out while the kids get quality "kid time" in a safe, fun place with trained instructors who lead them through music, games, and fun. As you might imagine, spots fill quickly, so book HERE.

Francis Frontier Days
All Weekend @ Francis City Rodeo Arena
Join the celebration during Labor Day weekend for a parade, movie, music, games, activities, food and rodeo events. NEW THIS YEAR! – Friday night light parade, followed by a movie in the park. Also, new this year – purchase your rodeo tickets online HERE.
Friday, August 30
8 PM – Light Parade
9 PM – Movie in the park
Saturday, August 31
8 AM – Breakfast at the Snack Shack
9 AM – Kids activities in the park, Horse games
Noon – 6:30 PM – Live music
7 PM – RMPRA Rodeo
ALL DAY – Vendor booths
Monday, September 2
8 AM – Breakfast at the Snack Shack
9 AM – Junior rodeo, Kids games
2 PM – Barebacks, Broncos and Bull
Park City Limits Dinner Concerts 2019
Every Thursday, Friday and Saturday night @ Silver Star Café
Every weekend, eat some great food while enjoying an acoustic dinner show with singers and songwriters from around the region. Weather permitting, the shows will be on the patio during the summer. Check the music schedule HERE and call to make a reservation.

SATURDAY, AUGUST 31

Saturday Morning Nature Walk
8:30 AM @ Swaner Nature Preserve
Start your weekend off on the right foot! Join a group of weekend-walkers and learn about the Swaner Preserve wetlands while you get some exercise – and look for an abundance of wildlife!

Friends of the Library Annual Used Book Sale
Saturday — Monday @ the Park City Library
Don't miss the chance to find thousands of books at bargain-basement prices. Become a member and join the Members Only pre-sale Saturday, August 31 from 9–10:30 a.m. Doors open to the public from 10:30 a.m.–3 p.m. Saturday and Sunday. Monday is Bargain Day—fill a bag for $10 from 10:30 a.m.–2 p.m.

The Next Course: A Night in Morocco
1PM @ Mountain Town Olive Oil
This week's menu features recipes that are inspired by Morocco.
Zaalouk with Toasted Naan
Citrus Walnut Salad with Carrot and Cucumber
Vegetable Tagine with Chermoula
Olive and Preserved Lemon
Braised Moroccan Chicken with Harissa Spiced Couscous
Orange-Scented Olive Oil Cake with Ras El Hanout
Village Live Music: Fabulous Flynn's Tones
3 PM @ Park City Mountain Village
The Flynn's Tones are a group of veteran players based in Salt Lake City, Utah, who bring together decades of inspiration to spin Funk, Rock, Jazz and Latin, into their own brand of fusion – FRAZZL! You'll hear adventurous arrangements of original works as well as familiar melodies from the illustrious past of jazz and rock, flynnstonized with soul and a deep appreciation for the groove. This concert will be held at the PayDay Pad in the Park City Mountain Village.

Homestead Summer Concerts
6 PM @ Homestead Resort
The Free Homestead Summer Concerts Event begins at 6 p.m. every Saturday evening. BBQ and treats are available for purchase. Bring your chair and enjoy!
Aug 31–The Shane Lee Band (Country Rock)
Sep 7–Groove Axis (Jazz)
Sep 14–Molly In The Mineshaft (Bluegrass)
Sep 21–Ed Stevens Tribute (Music of the Series Founders)
SUNDAY, SEPTEMBER 1

Park Silly Farmer's Market
10 AM – 5 PM @ Park City's Historic Main Street
The Park Silly Sunday Market has just a few more weeks left of local and regional arts and crafts, music and performance art, antiques, imports and one-of-a-kind finds, delicious gourmet foods, and farmer's market fruits and vegetables all converge on Park City's Historic Main Street. From 10am to 5pm, stroll the streets, eat lots of food and enjoy the entertainment!
This week, on the Park Silly Main Stage:
10AM – 11AM: Kristen Cothron
11:00AM – 12:00PM: The Hardy Brothers
1:00PM – 2:00PM: Chad & Kristo
2:00PM – 5:00PM: B.D. Howes Band
Swaner's Craft Sunday
11 AM – 1 PM @ Swaner EcoCenter
Kids of all ages are invited to enjoy the complimentary Swaner Craft Sunday! Join the fun at the Swaner Preserve and EcoCenter, and create a nature-themed craft to bring home.

Climbing Wall
1 – 3 PM @ Swaner Eco-Center
Climb through the EcoSystem from the bedrock all the way to the uplands! The Swaner indoor climbing wall is fun for all ages. A harness is supplied, participants are asked to wear closed-toe shoes.

Village Live Music: Pat Canahan Duo
4 PM – 7 PM @ Park City Mountain Village
From PCMR's website "Come enjoy this local jazz group, who get their influences from Jimi Hendrix, Wes Montgomery, and Jerry Garcia, after a great day on the slopes. Their smooth, funky jams will surely get you off your feet." Concert will take place on the Legends patio at Park City Mountain Village.

DURING THE WEEK

MONDAY, SEPTEMBER 2

Park City Miners' Day
ALL DAY! @ Historic Main Street & City Park
See our full Park City Event Guide for Miners' Day HERE.
7:30-9:30 AM – Miners' Day Breakfast, City Park
8 AM – Miners' Day 5k Run, City Park
10:30 AM – Running of the Balls, Main Street
11 AM – Miners' Day Parade, Main Street
1 – 2 PM – Food Trucks, City Park
11:45 AM – Music in the Park, City Park Stage – Jake & the Heist
12 – 4 PM – Fun in the park kids' activities, City Park
12 – 1 PM – Kids Games, City Park
1 – 5 PM – Music in the Park, City Park Stage – Jake & the Heist
2 -3:30 PM – Mucking and Drilling Competition, City Park (across from library on Park Ave.)
2:45 PM – Music in the Park, City Park Stage – The Electric Moose Band
3 – 6 PM – Skateboard Bowl Jam, Skateboard Park
Park City Miners' Day Parade
11 AM @ Historic Main Street
Fun and funky, the annual Miners' Day parade down historic Main Street attracts marching bands and community floats as Park City celebrates its mining heritage. Put your blanket down on the curb with the kids and be ready for the fun. The parade begins around 11:00 a.m., just after the annual Running of the Balls down Main Street. The parade route runs the length of Main Street, before skipping over to Park Avenue and on down to City Park.
Park City Area Showcase of Homes
2 PM – 8 PM Friday
10 AM – 6 PM Saturday & Sunday
Get to walk through some of Park city's most beautiful homes without breaking in? Sign me up! Visit some of the area's most luxurious homes in a self-guided tour that ranges from traditional mountain style to mountain contemporary, with top of the line amenities including gourmet kitchens, spa bathrooms, home theaters and custom details featuring the latest technology and architectural innovation. Tickets are $15, available online.
TUESDAY, SEPTEMBER 3

Toastmasters
7AM @ Keller Williams Building
Since 1924, Toastmasters has been a public speaking group that will help you become the best public speaker you can be. Whether for an upcoming business talk that has you concerned or a toast at your brother's wedding, Park City Toastmasters will help you prepare. It's where you come to practice, get great ideas, find coaching and make friends.

Tent Tales for Tykes
11 AM – 12 PM @ L.L. Bean Park City Store
Storytime at Park City's L.L. Bean store on Main Street. Ideal for kiddos 3-6, during each weekly session, they'll explore a different nature theme and then play a game or do a craft. You can join in on the fun or spend the hour shopping but you do have to register HERE.

Summit County Community Market
12 PM – 4 PM @ Park City Hospital
The Summit County Community Market is back in its third year with more fresh, local produce! On August 20, 27 and September 3, go to the parking lot of Park City Hospital to purchase fresh fruits and vegetables, attend free health screenings, watch cooking demonstrations and much more! Car seat checkpoints are offered at all three markets.

Deer Valley's Tuesday Twilight Series
4 PM – 8 PM, Tuesdays through August 27 @ Deer Valley
Take the chance to experience the mountain in the evenings again this summer with the Twilight Ride Series. Lift-served mountain biking is available on Silver Lake Express, Homestake Express and Sterling Express chairlifts. And if you reserve in advance, you can get some mountain bike lessons as well.
WEDNESDAY, SEPTEMEBER 4

Music on the Patio: Voices in the Hills series
11 AM @ Park City Library
Voices in the Hills brings musicians from across the state and country. Bring a picnic or get a snack from Lucky Ones Coffee.

Wednesday Farmer's Market
Noon @ Park City Mountain (Silver King parking lot)
Stop by and pick up fresh fruit for a mid-hike snack, a bundle of organic vegetables for your family dinner, or locally made jams, jellies, trinkets, or jewelry to take home as a souvenir each Wednesday from 12:00 – 5:00 PM. Not only does buying local food help our community, it also helps our environment by reducing carbon dioxide emissions and packing materials, as well as helping to make farming more profitable.

Crafternoons at Park City Library
4 – 5 PM @ Park City Library
Come left off some creative steam. Make and take your crafty project every week. All ages welcome.
THURSDAY SEPTEMBER 5

Morning Wellness Workshop at Sage Mountain Animal Sanctuary
9 AM @ Sage Mountain Animal Sanctuary
Sage Mountain Animal Sanctuary is holding a wellness event every Thursday at 9:00 am from June 6th through September 26th. Enjoy 45 minutes of fitness followed by 45 minutes of flow yoga. Free, but donations are suggested.

Water Conservatives Conference
12:30 PM @ Blair Education Center
Come and join other residents and local elected officials to learn how we can save our aquatic landscapes and save taxpayer money by uniting conservation with conservatism. $20 includes entrance & lunch. Hosted by Utah Rivers Council.

ONGOING EXHIBITS

Utah Olympic Park is open for the summer season. You can learn about the park's beginnings in the free museum or take a ride on the summer bobsled. The park's summer experiences include the extreme zip line, zip line tour, alpine slide, drop tower, adventure courses and scenic chairlift rides (not all activities are open early season). Early season hours 10 a.m.–6 p.m. daily. Watch the Flying Ace All-Star Ariel Show every Saturday and Sunday at 1:00.

Pam Bowman and Jacqui Larsen Exhibit: "Things My Mother Taught Me"
Through Sept. 8 @ Kimball Art Center
Featuring installation works by Bowman and mixed-media paintings by Larsen at the Kimball Art Center. From the KAC "In Pam Bowman's installation, six-story fragments from her life resonate universally as she addresses the formative issues of character development, individual purpose, and body image, as taught by her mother. Jacqui Larsen's paintings take a metaphoric look at the impossible charge of any guardian to stand as a lookout for a child."

Walking Tours of Historic Main Street
Every weekday, 2 PM @ Park City Museum
Spend an hour walking down Historic Main Street, learning about the city's growth from a mining town to a ski destination. The tours take place every weekday until August 30th. The tours will leave the Museum every day at 2. call 435-649-7457 ext. 136 to make a reservation. Wear comfortable shoes, bring water, and don't forget your sunscreen!

Patios, Pools & the Invention of the American Backyard
Through November 20 @ Park City Museum
This exhibit, part of the Smithsonian Institution Traveling Exhibition Service, shows the history of the American backyard—from pools, to lawns, to BBQ grills. From the Park City Museum "Through rare photographs, historic drawings and period advertisements, Patios, Pools, & the Invention of the American Backyard explores the mid-century backyard of the 1950s from the rise of the suburbs and tract houses and the beauty of postwar garden design to the birth of the environmental movement."

UPCOMING EVENTS
SEPTEMBER
Sept 06 →Matilda! The Musical @ The Egyptian Theater
Sept 07 → Run for Recreation @ PC MARC to Basin Rec Fieldhouse
Sept 13 → Songwriter Festival @ Main Street
Sept 14 → Hearth and Hill Copper Moose Farm Stand Dinner
Sept 14 → Autumn Aloft @ 2530 Kearns Boulevard
Sept 14 → Hike for Hunger @ Deer Valley
Sept 15 → Tour de Suds @ City Park
Sept 19 → Storing Root Vegetables @ Summit Community Gardens
Sept 20 → Thriller! by Dance Odyssey Theater @ The Egyptian Theater
Sept 24 → Apple Tree Pruning Workshop @ Summit Community Gardens
Sept 25 → Swing for Sports Golf Tournament Fundraiser @ Canyons Golf Course
Sept 28 → Glenwood Cemetery Tour

OCTOBER
Oct 3 → Park City Wine Festival @ Canyons Village
Oct 17 → Planting Garlic Demo @ Summit Community Gardens
Oct 26 → Celebrate the Spirits Trick-or-Treat Run | Basin Rec Fieldhouse

The Colony at White Pine Canyon is the largest gated ski-in / ski-out community in the United States. Our land spans 4600 acres, and approximately 90% of it will always be preserved as open space.

In winter, enjoy exclusive ski and snowboard access to one of North America's largest mountain resorts, Park City Mountain. In spring, the snow melts to reveal an amazing network of hiking, biking, and horseback riding trails, connecting to more than 400 miles of single-track trails throughout the surrounding area.

The Colony is just 35 minutes from Salt Lake International Airport and 5 minutes to Park City's historic Main Street, home to the Sundance Film Festival and world-class dining and shopping.